When one is applying for an executive's job, they need to showcase their managerial skills and experience. Most  simple executives are in charge of a small group of people at the least. The resume should highlight success in managing projects or attaining a sales milestone, etc. Resume examples are given in a format that allows users to show their best skills.
89+ Executive Templates in Word | PSD | Google Docs | InDesign | Apple Pages | Publisher | Illustrator - START DOWNLOADING
Account Executive Resume Template
If you're one of those qualified individuals, looking forward to applying for a position in any company as an account executive, then this is the right resume template for you. The variety of layouts and design elements of this template are so elegant and pleasing to the eyes, that the first impression you create of you in the eyes of the recruiters is picture perfect. Download it now!
Admission Executive Resume Template
If you are an admissions executive or want to apply for a position that works for colleges and universities in terms of student recruitment and communications from a variety of areas, then you are at the right place, use the above template. It is rather important for anyone to have a well-written sample resume, that will catch the attention of your employer easily.
Executive Resume Templates
Are you on the lookout for an Executive Resume? Then, check out Executive Resume Templates for ideas. When you are preparing your resume, you need to write about your personal, educational, and experience details in your resume. The personal information includes your name, address, and contact information. Your educational information should have the details about your studies and the degrees you are holding. And finally, you can write about your skills and experiences you have that are relevant to the work you are applying to.
Admin Executive Resume Template
A resume is not everything, but a good resume can take you to the next level of your career effortlessly. If you are keen on seeking a position as an admissions executive, take this exclusive template today! Going through this resume will be so easy for your recruiters as it is elegant, basic and clean with an eye-easy look. Getting charged to writing a superb resume is not a piece of cake, but getting access to this template turns your most tedious task into a simpler one.
Free Sales Executive Resume Format
A perfect resume template for a sales executive position is here. Download this for free resume template for free and customize the file to create your own personalized resume and impress your potential employers.
Free Senior Executive Resume
A professionally designed resume for a senior executive position that will help you get the job you need is given above. Download this template for free on our website effortlessly and edit it the way you want. Remember to add the best details about you that you think will be a plus point for getting hired.
Creating an Executive Resume:
1. Choose the Perfect Layout
Choosing the right layout for your resume is very important. You need to have an idea of what goes where exactly in the resume, in a proper order firstly. Always have rough drafts of your resume before you make the final one so that you have an idea of what to place where. It should look clean and arranged. Simple and good resume templates will help you create a unique resume.
2. Proper Format
No employer will be interested to read a messy and clumsy resume. So, make sure that your resume stands out so that it catches the eye of the reader and sustains it till the end without fail. Decide on what are the texts and fonts you want to use on your resume. They should be just right and properly eligible to your reader. Make sure that your lines support one another and make sense. Use a proper format to make your resume look professional.
3. Provide the Details Needed
Once you have chosen a layout and created the proper format for your resume, the next step would be to enter all the necessary details that need to be present in the resume, etc. These details are- name, your career objective, your hobbies, what are the skills you have, your past work experiences, etc and arrange them in the proper order you think is the best suitable.
4. Include Qualifications and Skills
Using tables is a wise choice to show all of your educational qualifications, as it keeps your resume elegant and legible. Create a separate section just for your skills and qualifications in your resume, making them stand out and more important than any other information presented in the resume. In case you are stuck in creating a resume for yourself, manager resume templates in PDF will come to your rescue always.
5. Be Creative
Proofread your resume time and again, just to be sure that you have mentioned all the necessary details that are mandatory in a resume. Be creative, as this shows your employers how keen and hardworking you can be. It shows that you are serious about finding a job for yourself, adding brownie points and creating higher chances for your employment.
Free Sales Executive Resume
This modern executive resume template will be of great help to create the best sales resume for you or for a friend anytime, anywhere. Get to craft a resume that shows and points out your skills, strengths, and experience. Downloading this template will save you the burden from creating a good resume from scratch. Try it out now!
Free Business Process Executive Resume
It is very important to have a well formatted and professional resume while you are applying for a job. This template is one of them and also, you can download it for free. This template is specifically designed for those applying in the BPO (Business Process Outsourcing) industry.
Executive Resume Sample for HR VP
Executive Resume Sample for Sales VP
Senior Executive Resume Example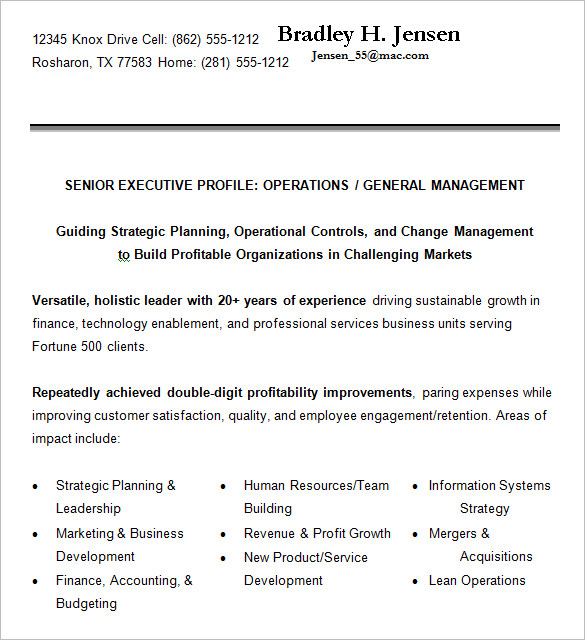 Marketing Executive Resume Example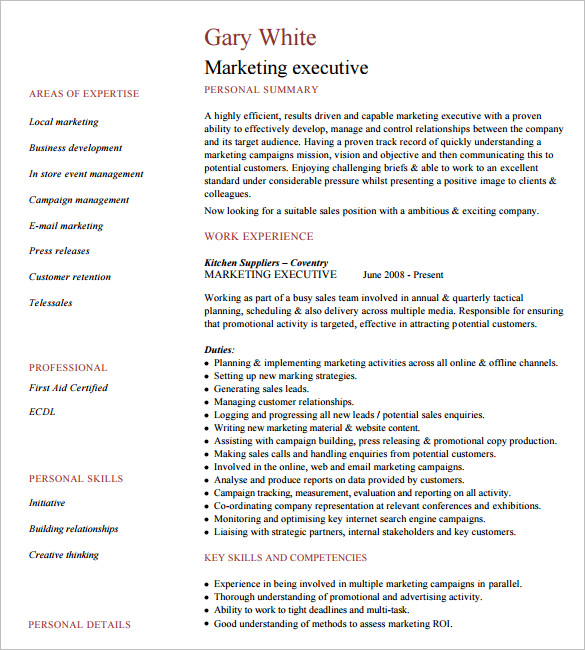 Senior Executive Resume Sample
Free Executive Resume Templates
Executive Resume Format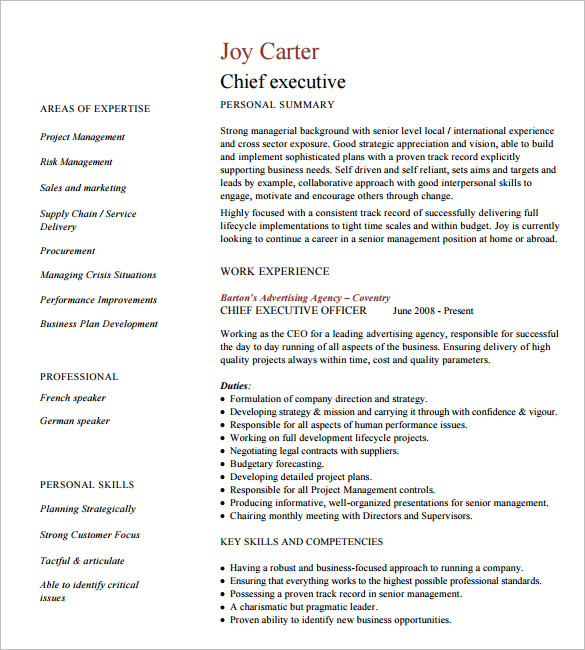 Insurance Executive Resume
Healthcare Executive Resume
Jewel Executive Resume
An executive resume shows a potential applicant's skills in managing projects and responsibility. The person reading the resume samples should get a clear idea of how well a candidate is suited for an executive post. One can download the template online for this purpose.
If you have any DMCA issues on this post, please feel free to contact us!