Resume
6+ Dietitian Resume Templates
A dietitian is a certified professional who is endowed with the responsibility to ensure the most ideal diet for an individual, based on his or her medical condition as well as specific needs. You can also see Animator Resumes.
These professionals are a patent with health care centers, schools, food industry, public health organizations and so on. Are you a dietitian yourself and looking to create a dietitian Resume Templates for good job opportunities? Well, the good thing is that there are readymade templates for doctor resumes that are also tailored for dietitians to make the process convenient.
Registered Dietitian Resume Template
ndsu.edu
If you are a registered dietitian looking to create a fitting resume that can present your elaborate work experience, educational qualification, certification and memberships in the most professional chronological manner, this is the Dietitian resume template for you.
Clinical Dietitian Resume
app.education.pitt.edu
If you are looking for a smart resume to discuss in details about your vast professional experience as a clinical dietician along with appointments and educational qualification, this is the resume template for you.
Renal Dietitian Resume Template
rustnutrition.com
If you have an illustrious career as a renal dietitian where you have published several lectures and presentations and are looking for inspirations on how to create the most impressive resume, look no further than this dietitian resume template.
Entry Level Dietitian Resume
eatrightpro.org
This is a very useful dietitian resume template for any entry-level dietitian as the sample document starts with important tips on what to keep in mind while formatting such a resume, followed by a fitting resume example.
Dietitian Resume Example Template
dayjob.com
You have a very neatly arranged dietitian resume template here that has smartly divided the resume details in 2 columns- the left side is for expertise, skills and personal details while the right space is for your detailed work experience, duties etc.
Sample Resume Example Template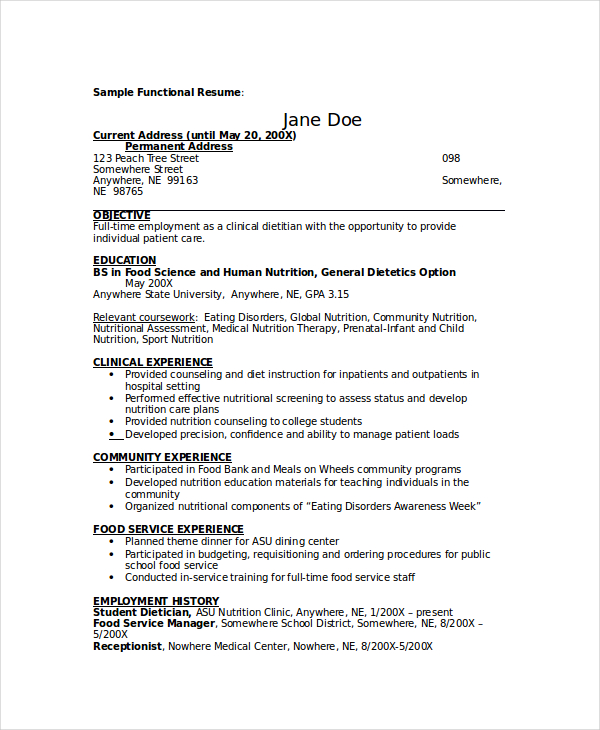 csc.edu
> What are the tips for Best Dietitian Resume?
Your dietitian resume must be packed with action verbs that can present you as a strong candidate. The experts suggest using words like "implement", "generate", "enhance", "improve", etc. Then, you must be really specific with your work experience and details of previous employment. For example, if you are a clinical dietitian, you can mention percentage of tube feeding or that you have worked in trauma center and so on.
If you have worked in public health & community organizations, state the particular demographics you have worked with & also the measurable achievements. Dietitians working in schools should note their participation in programs that helped to promote proper nutrition habits in children. You can also see Software Engineer Resume Templates.
> What to Include in a Dietitian Resume?
A dietitian resume must properly express your previous work experience, educational qualifications -as well as the certifications and licenses you have gathered for your career. If you are a seasoned dietitian, present the resume in a chronological order. Entry-level dietitians and those who are resuming the work after a long hault, must start their resume with a list of their skills and areas of expertise.
Then, the professional resume templates would also include all the related memberships that you hold as a professional dietitian. Besides, if you have given any special presentation or lecture as a certified dietitian, make sure to mention it in your resume.
> What are the Mistakes to avoid in Dietitian Resume?
First of all, make sure there are no spelling and grammatical mistakes in anything you mention on your dietitian resume- get a double check for your memberships, licenses and certifications. Then, do not make the mistake of citing unrelated hobbies in your Dancer resume Templates. Besides, do not use generic words or sentences that cannot get the hiring manager a vivid picture of your efficiency in your previous workspace. Never use multiple fonts as it's just unprofessional. You must only stick to 2 fonts and the font size must not be less than 10 and more than 12. Do not provide any false or inaccurate information.
A nutritionist resume is much needed when you are about to apply for a job as a certified dietitian. Your resume must properly highlight your credentials, skills and experience as a dietitian with measurable achievements. If you need ideas on how to format a proper dietitian resume, go for the pre-structured customizable dietitian resume templates online.