Resume
6+ Forklift Resume Templates
Are you looking to apply for a driver's position? Then you first need a professionally created forklift resume that can let employers get attracted towards your capabilities and driving skills. Creating a resume from scratch will take your major time and you may still find that it has not been created in the way recruiters are looking for. To help you with this, we have brought various driver Resume Samples which will help you in creating a professional and attention-grabbing resume that can fascinate employers amazingly.
Forklift Operator Resume Template
tnstate.edu
Try this forklift operator resume and improve your driver resume to highlight your most relevant experience, studies, certifications and all in an appealing way. This template will guide you through the whole process of resume writing. You may also see Construction Resume Template.
Forklift Driver Resume Template
ames.net.au
This forklift resume template is another wonderful option for you to create a resounding resume for forklift driver's position. Present your capabilities and strengths beautifully with this powerful driver resume.
Professional Forklift Driver Resume Template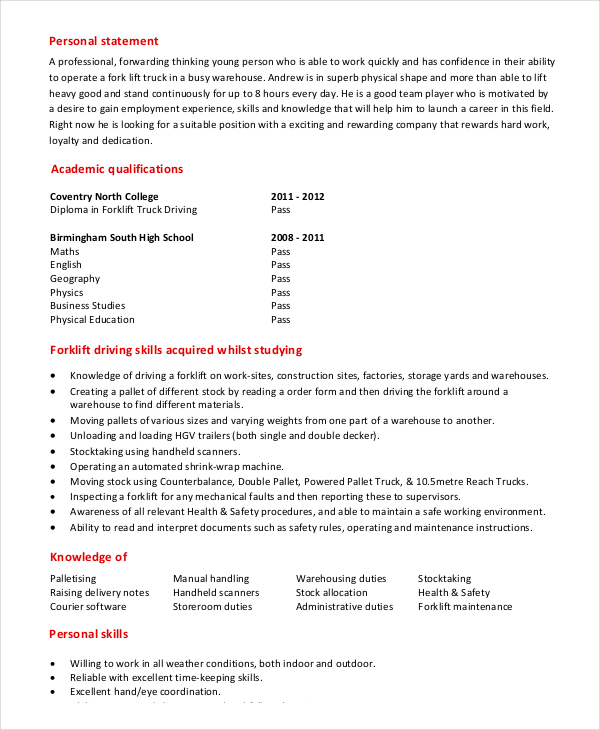 dayjob.com
Download this professional forklift driver resume and create an appealing and resume that can impress the employers. This template includes all the key factors that should be included in a forklift resume.
Certified Forklift Operator Resume Template
thecentre.on.ca
This certified forklift operator resume lets you create a forklift operator resume in such a way that all your key skills may get highlighted and your chances of getting shortlisted may increase. Download this resume format today.
Warehouse Forklift Resume
valeofglamorgan.gov.uk
Warehouse forklift resume is the perfect sample for you if you are looking to create a professional and quality professional resume for forklift operator or driver's position. Get this resume sample downloaded and create a perfect resume today.
Experience Forklift Operator Resume
usenergyemployment.com
1. What to Include in a Forklift Resume?
There are countless things to write about yourself in your resume. But the number of such things are so much that sometimes we even forget to add the most important part. Here are certain things that you need to include in your forklift resume in any case:
1. Summary Statement:
A summary statement is the part of our resume that grabs the attention of an employer very well. This need to be included in a resume as the employer may skip reading the complete resume and may just be looking for the summary to have an idea of your personality and professionalism. You may also see Project Manager Resume Template.
2. Employment History:
Include your previous work history in an organized way but make sure that you are listing only 10-12 years of work history in your resume.
3. Education:
List your education qualification in a clear and properly created table starting from the most recent one.
2. Forklift Resume Tips
Here are a certain important and effective resume creation tips that will definitely help you in creating a professional and attention-grabbing driver resume for yourself. You may also see Retail Resume Template.
Make sure that you are using a logical format of the resume with wide margins, clear typography, and headings.
The application templates of bold italic and underline typefaces should be done selectively so that it can bring the attention of the reader to a noticeable point without making him/her feel irritated or annoyed.
Make use of bullets to put the focus on important points included in your forklift resume.
Avoid usage of technical terms and industry jargons as these are not going to market you at all.
3. Mistakes to Avoid in Forklift Resume?
There are many things that must be avoided in order to get the required attention from the recruiter and make a positive impact.
The most important thing is that don't write lengthy and personal stories in your basic resume as the employer will not have any time to read irrelevant stories.
Also, make sure that you are not writing any negative or dark experience of your work or previous job.

Even if you are right, still the employer will have your negative image in his/her mind.

Don't include your personal information like religion, social security number, etc.
Only include the experiences and work that is relevant to the job profile you are applying for.
Thus, whether you are a fresher or an experienced one, using a forklift resume template is always a good and wise decision as you will have the surety that you have covered all the important points about your key skills as well as work experience. Whether you are looking to create a forklift driver resume, operator resume, mechanic resume or more, get the appropriate template downloaded and open the door of a potential job easily.