Resume
6+ Pipefitter Resume Templates
A pipefitter is a person who is in charge of installing, assembling, maintaining, fabricating and repairing the piping system. To bag a pipe fitting job, you need to have some prior knowledge in the same field. You may also s e Construction Resume Template.
Naturally, you would need a detailed resume where you can list all your qualifications terrace. The technician Resume Templates that you see here would be perfect if you are looking for a similar job as they are professional and customizable in nature.
Pipefitter Helper Resume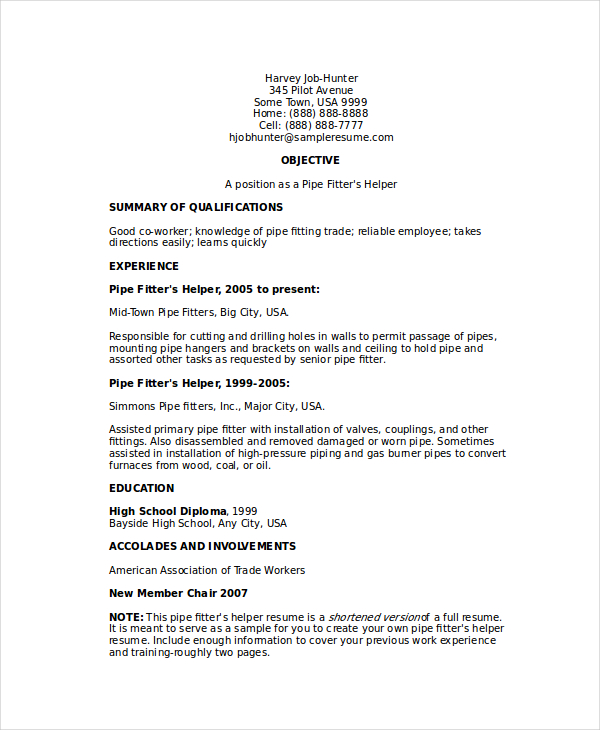 jobbankusa.com
Pipefitters don't usually work alone. To apply for the position of an assistant to a pipefitter, you could use this resume. You can mention all your qualifications and skills here.
Journeyman Pipefitter Resume
postjobfree.com
The pipefitter resume template here comes in an easy to use word format. That means you would be able to download the template with ease and make as many edits as you want to it.
Pipefitter foreman Resume
beyond.com
This template would help you get an edge over the other applicants because it is professional and formal in nature. It comes in a neat and organised layout that is sure to impress.
Pipefitter Apprentice Resume
coverlettersandresume.com
Are you planning to work as an apprentice to a senior pipefitter? Then you could use this template to apply for the position. It has been designed specifically for your post.
Construction Pipefitter Resume
myperfectresume.com
In constructions, only the best pipefitters and welders are hired. If you think you're up for the job, you could apply with the help of this resume. It comes in a word format and is fully editable.
Sample Pipefitter Resume Template
resumeporta.net
>

Who can use the Pipefitter Resume?

The templates that you see here and highly specialised and would cater to people looking for a job in one particular field. As the name suggests, candidates applying for a job as a pipefitter would be able to make use of these templates. If you have experience in the installing, repairing or even maintenance of piping systems, then you are sure to appreciate these templates.

Usually, you start off in this career as an apprentice or an intern before you work your way to the top. If you have come across an intern position that you'd like to try out, then you know where to look! You may also see Retail Resume Template.
>

What to Include in a Pipefitter Resume?

The pipefitter resumes that you see here may be highly technical, but at the end of the day, they are ordinary CVs. Naturally, they contain all the essential information that other resumes contain. For instance, it would include your personal information like name, contact details, address and so on.

Next, you should include your educational details and other qualifications or courses you've taken. If you have had experience in the field, you're expected to mention that as well. Also, one of the most important aspects of your resume would be your cover letter. This letter should be elaborate and well written. You may also see Project Manager Resume Template.
>

Benefits of the Pipefitter Resume Templates
Most of the templates that you see here come in Word format. So once you download the template, you can open them in Word and make any changes or edits to them.
These templates already have the pattern laid out for you. So you wouldn't have to worry about your resume's layout being untidy or haphazard.
You can avoid errors and mistakes because the template mentions all points that such a resume should have. So there's no question of missing out on something important.
All the pipefitter resume templates that you see here come in an attractive, professional and smart layout. They all come in neatly organised files that are easy to use and most of them even contain helpful guidelines so that you don't miss out on anything. All you have to do is get your hands on the right one!
More in Resume