Business
4+ Landscaping Proposal Templates – Word, PDF, Pages
Landscaping is the act of modifying a visible area of land for beautification purposes. It uses plants and animals, natural bodies of water and land. It also calls for the construction of patio, walls, and decks to provide more beauty to the land. Simple Landscaping proposal calls for artistic design and keen knowledge of construction since it involves changing the landscape for the better. You can also see more on Landscaping Proposal in Pages Templates.
Landscaping Proposal Template
Be able to persuade potential clients to make use of your landscaping services by coming up with an effective proposal that is created using our above-shown template. This premium landscaping proposal in word enables you to professionally outline your landscaping services as well as other details such as cost, payment terms, licenses, and so on. Download and customize the content of this template using the compatible file formats to match the needs of your clients.
Before and during writing a proposal, make sure to follow these steps:
1. Interview the client
It helps a lot if you interview your prospective client before you start the project. You will get all the details and be able to meet his/her expectations. Aside from that, you'd know his/her preferences when it comes to style and visuals, and the materials needed for the project. You get to find out important things related to the project straight from the client. With this, you get to visualize his/her ideas for the upcoming landscaping of his land. You may also see sample proposal templates.
2. Visit the site
First-Hand experience and immersion on the site to be landscaped is very important. You will see the areas that your client wants to be improved. The site visit allows you to see what you could do with the land that goes beyond your client's demands. It will also reveal some issues that need to be addressed in the reconstruction process. You can also see more on Simple Proposal.
3. Estimate the cost
This part comes after the interview and site visit. Since you have gathered the details of the project and from your client, you have to make a breakdown of expenses. These expenses include materials, labor costs, and machinery. A budget you and your client will agree on would come out of this. Make sure to inform your client about your estimate.
4. Write an outline
After the estimate is done, start writing the outline of your proposal. This is a detailed plan you present to the client that breaks down the whole landscaping process. When writing, keep it short and simple. Always start with a strong introduction. In the body, be specific in giving out details that cater to the needs of the client. Wrap up with a good conclusion that will convince your client to give your project a green light. You can also see more on Services Proposal Templates.
5. Have it properly checked
Have somebody from the outside, either a friend or a family member, to check your work. Spelling and grammatical errors tend to be unnoticed in the first draft. A final run-through would do wonders before submitting the modern proposal. You may also check out some of our creative proposal examples.
Here are some of the landscaping proposal sample templates you can refer to :
Free Lawn Care and Landscaping Services Proposal

proposalkit.com
There are many options for landscaping. Some want a more tropical feel while others want a more modern one. Whichever you choose, the landscape architect is there to guide you through the whole process. You may also see landscaping estimate templates.
But of course, you cannot go into landscaping without a sample plan. A landscape project normally begins by creating a sample proposal. This written document will detail how you will change the landscape chosen by your client. It is a tough and tedious task, but this proposal will help you get through the landscape project.
Free Garden Project Proposal Template
joncarloftis.com
Free Sample Lawn Proposal Template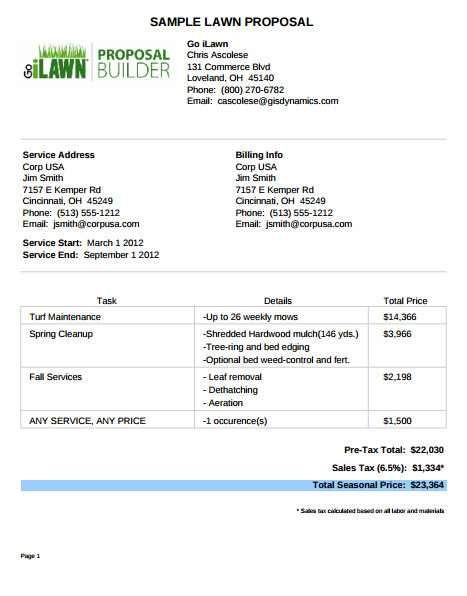 goilawn.goibrands.com
Important Parts of A Landscape Design
A landscape design does not just come out of the blue. There are factors that need to be considered. Some elements should be taken into consideration as well. Every home is different from each other. Being a landscape architect, you need to see what the bare necessities are when it comes to designing aspect. You may also see proposal layout templates.
These following crucial elements can make the landscape design project all the more attractive.
1. Theme
Every landscape design must follow and revolve around a certain theme. The theme is the major key to the overall final design. The design must stand out on its no matter what. When you follow a theme, there is a clear objective as to how the design of the landscape should be. You can also see more on Landscape Brochure Templates.
2. Harmony
The elements and positions of the things to be landscaped, whether in your house premises or some other place, should complement each other. This creates harmony and peace to the landscape architect's perspective when he starts with the design. It also improves the visual appeal of the whole space to be designed. When there is harmony, it will be easier to design and modify the whole space. You can also see more on Landscape Billboard Templates.
3. Focal points
No matter how big or small space is, there is always one thing that needs to be focused. The landscape architect finds something that will be the center of attraction in the whole design. Sometimes a focal point can be an existing structure like a statue. If this draws attention, come up with a complimentary design to match its impact on the people. This will make the statue more appealing. You can also see more on Garden Landscape Templates.
4. Lines, paths, and transitions
Landscape architects create an sample outline of the lines and paths to be included in the design. This is a tricky part as they have to choose between straight or curved lines. Some themes don't follow any symmetry and this can be hard. Paths are optional depending on the designer. If space will have paths, bricks can be put to indicate its existence. Transitions are another thing. These are planned to avoid unnecessary actions when designing. You may also see proposal letter templates.
Benefits of Landscaping
Landscaping helps in increasing the value of your home and making it attractive to prospective buyers. It also helps in decreasing the cooling costs, as the plants give a natural cool feeling around the place. Landscaping gives environmental benefits such as reducing soil degradation, controlling extreme temperatures and soil erosion, as well as preventing floods. You can also see more on Landscaping Flyer Templates.
From a social perspective, landscaping creates an entertaining and relaxing environment. It provides privacy for those who want to relax. Landscaping makes the community more livable. This improves the livability of highly populated cities. Moreover, it encourages families to maintain an active lifestyle. With landscaping, you get to breathe fresher and cleaner air no matter where you are. You may also like design proposal templates.
We hope this information can help you in coming up with a landscaping proposal. Remember that there are no shortcuts when it comes to writing this kind of document. Do your best in convincing your client that you can do the job.
General FAQs
1. What is a Landscaping Proposal?
A landscaping proposal is a written word document that is submitted to a potential client by a landscaper or a landscaping service company. It lays out the scope of the job to be done, timelines, costs, and terms of payment.
2. What Should You Include in a Landscaping Proposal?
You should include the following details in a landscaping proposal:
About us section
Scope of work
Licenses and certifications
Cost and Payment terms
Conclusions.
3. What Services Does a Landscaper Cover?
The landscaper often covers the following services:
Mowing of the lawn
Trimming of weeds
Planting flowers, shrubs, and trees
Trimming hedges and trees
Fertilizing plants and grounds
Design of lighting, patios, decks, and walkways.
4. Why is Landscaping Necessary?
Landscaping is necessary for the following reasons:
It enhances the look of your property
It increases the value of your property
It helps highlight your building or property's architecture
It also attracts new clients.
5. What is the Purpose of a Landscape Proposal?
The purpose of a landscaping proposal is to make your self known to your client so that you build trust and get chosen from the rest in the industry. It also establishes a point of reference for you and your potential client and avoids misunderstanding down the road. You can also see more on Landscape Templates.
More in Business