School budget templates are used to keep track and record of school funds. By this, the school administration can ensure that expenses don't get in the way of the school's educational progress. For this, it is essential at all times, to check the funds and whether they are sufficient for the important activities that must be carried out by the school. If this is kept in check, the school will be able to provide fun-filled activities for students with the funds saved from the otherwise reckless expenditure.
220+ School Templates in PDF, Word, Excel, PSD, Google Docs, WordPress, InDesign, Apple Pages, HTML5, Google Sheets, Publisher, Apple Numbers, Illustrator - START DOWNLOADING
School Budget Template
Elegant Primary School Budget Template
Elementary School Budget Template
Sample School Operating Budget Template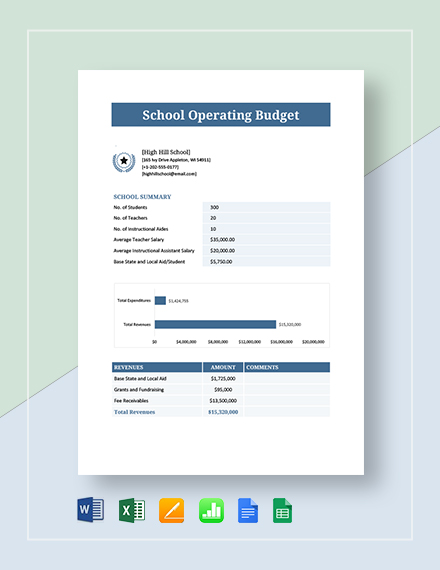 Monthly Budget Worksheet Template in Apple Pages
Budget Proposal Template in Google Docs
Price Sheet Template in Word
Free Secondary School Budget Template
Private School Budget Template
The template illustrates a general overview of school budgets. It is necessary to allocate budgets for private schools as well since it is necessary to account all provisional funds. The template provides information on how one could better organize their school budgets with efficiency and how and where they should be spent.
Annual School Budget Template
This brilliant template includes a monthly to-do list which indicates routine procedures to be done. They have been highlighted and can be carried out accordingly. Contents include featured data, a showcase of distribution and advertising sections. The template also includes deadlines as to when the particular task should be completed.
High School Budget Template
The template includes content on how to handle high school budgets and its importance. There are statistical and graphical reports of the current budget situation. It takes into account the amount spent on teachers' salaries, employees' pension and other non-personal expenditure. It also takes the repairing costs and construction expenditure into account.
Sample Elementary School Budget
This template includes all the costs and expenditure carried out at elementary school levels in excel format. This makes it incredibly easy to keep track of all the funds being spent for various activities ranging from book fairs to end-of-the-year events. This is the best way to tabulate all of your data in the most systematic and user-friendly format.
School Library Budget Template
The template includes school library expenditure that includes tabular data of sections like student resources, equipment purchases, instructional materials, etc. All the expenses are summed up at the end, which better help one in estimating the funds that are required to run the place.
Smart School Budgeting
School Budget Template Sell Sheet
Public School Budget Template
> What are free School Budget Templates?
These templates are used to help organize budgets annually or monthly. These expenses include utilities, rent, employee payment, tuition fees, books, library expenditures, etc. While the process is complex, the templates provided above ensure easy tabulation of data and tracking of expenses.
The activities prescribed by the school must be so designed that they may be fulfilled within the funds they obtained. For this, a continuous tracking of the expenses is a must. Overspending will do no good as they have to keep in mind that the fund has to last the entire year, and hence the use of school budget templates is of utmost importance.
> How to create a Budget Plan for Schools?
To create a budget plan for schools, it's important for all of the administrative staff to sit together and carefully plan out how much funds should be invested in what activity and which activity holds more importance than the others. Creating the budget can be a difficult task, but it can be further simplified by the use of school budget templates.
These templates can be better put to use by the use of proper consideration of the activities that the school holds. Also, it is important to not compromise on the activities that need to be carried out for the students. For this, it is important to not overspend or spend the funds without thorough planning.
> What is the role and purpose of the School Budget?
The basic need of having a school budget is to ensure that funds are not spent recklessly without any thought so that they can be used for more educationally helpful activities for students. Taking into account where the expenditures take place, it will become easier to track the school's progress as well. The school budget can ensure enough resources for better progress of students with resources like fully stocked libraries and fun-filled educational activities.
School budgets are immensely important to track where the funds are being invested and for what they are being used. School budget templates further help to tabulate this data, making it easier for the school administration staff to formulate the budget better.