Organizing for a trip or vacation is the most tedious thing to do. It is important to use a personal budget template PDF to organize expenses before you can travel. Travel budget template will help you determine, in advance, whether you have enough money to spend on your vacation. Budgets that excel in saving money should include the expected expenses such as food, accommodation, leisure activities, transportation and other miscellaneous items.
Travel Budget Template
Travel Budget Worksheet Template
Corporate Travel Budget Template
Annual Travel Budget Template Sample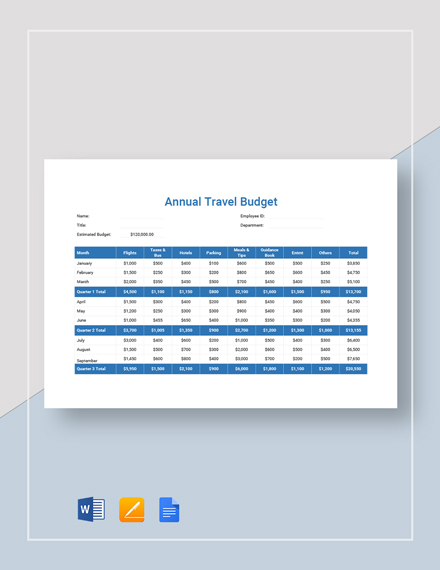 Vacation Travel Budget Template
Travel Expense Report Word Template
Travel and Expense Policy Template
Simple Travel Expense Reimbursement Template
Auto Expense Travel Report Template to Edit
Monthly Budget Worksheet Template in Excel
Business Travel Budget Template PDF Format
amadeus.com
Vacation Budget Template PDF Download
livingwellspendingless.com
Travel Budget Planner Excel Format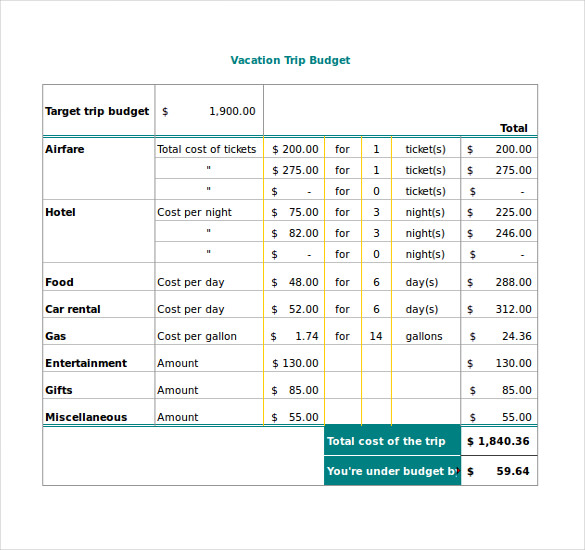 exceltemplates.net
Travel Budget Template Excel
kpu.ca
Travel Itinerary and Budget Template PDF
usatoday30.usatoday.com
Travel Budget Worksheet PDF Format
dollartimes.com
Your Vacation Budget PDF Download
desjardins.com
Overnight Trip Budget Template PDF File
2.ncssm.edu
Domestic Touring Budget PDF Download
canadacouncil.ca
Budgeting will save you the embarrassment of running out of money halfway through the trip. Planning and budgeting will save you money and worrying about being ripped off the pleasure of enjoying your trip. It is important to make you travel plans flexible and accurately with free budget templates. If you have any DMCA issues on this post, please contact us!