Checklist Templates
17+ Printable Home Inspection Checklist Templates
A home inspection checklist template would be essential when you are about to buy a new property. The checklist templates will give you an idea on what areas of the potential home need to be checked to have a proper knowledge of the interior as well as the exterior part of the property. Buying a home is a huge investment, an investment of a lifetime and hence you have to have complete knowledge of the property which you have planned to pass on to your children and grandchildren.
Printable Home Inspection Checklist
Home Inspection Checklist Form Template
New Home Inspection Checklist Template
Rental House Inspection Checklist Template
Professional Home Inspection Checklist Template in Excel
Blank Checklist Template
Checklist Template
Printable Foster Home Inspection Checklist
dshs.wa.gov
You have an elaborate home inspection checklist here which is applicable for foster homes and it covers all important areas like health and safety, fire safety, bedroom, immunization, food or diet etc. You can also see Word Checklist Templates.
Home Electrical Inspection Checklist Template
usscouts.org
This form would be handy for anyone who is looking to have a thorough inspection on the electrical aspect of a home as it covers all major areas to check here.
General Home Inspection Checklist
edgecombecountync.gov
This general home inspection checklist points out all the areas to be checked to get an overall idea about the condition of a home, including both the interior and exterior aspects of a home.
>

What is the Benefit of Home Inspection Checklist?

The primary benefit of the home inspection checklist is that it offers you a clear view of the areas that are needed to be checked while you are planning to buy a home. The focus here would be mostly on the electrical, mechanical, and structural aspects of the property. With a readymade checklist handy, you can easily eliminate the fear of missing out on the major parts to be checked for flaws.

The flaws revealed would further help you in taking an informed decision regarding purchase the property. It's also beneficial for the sellers as this way they will have proper knowledge on what areas to be rectified before the buyer comes for inspection. You can also see Inspection Checklist Templates.
Printable Homebuyer Inspection Checklist
cmhc-schl.gc.ca
This homebuyer inspection checklist not only covers the features of the home to be inspected but also includes tables on the entire breakup of the home purchase cost estimate.
Rental Home Inspection Checklist Template
housing.af.mil
Printable Home Property Inspection Checklist
qbis.com.au
DIY Home Inspection Checklist Template
infraredhomediagnosis.co.uk
Sample Home Inspection Checklist
utsa.edu
Home Safety Inspection Checklist Template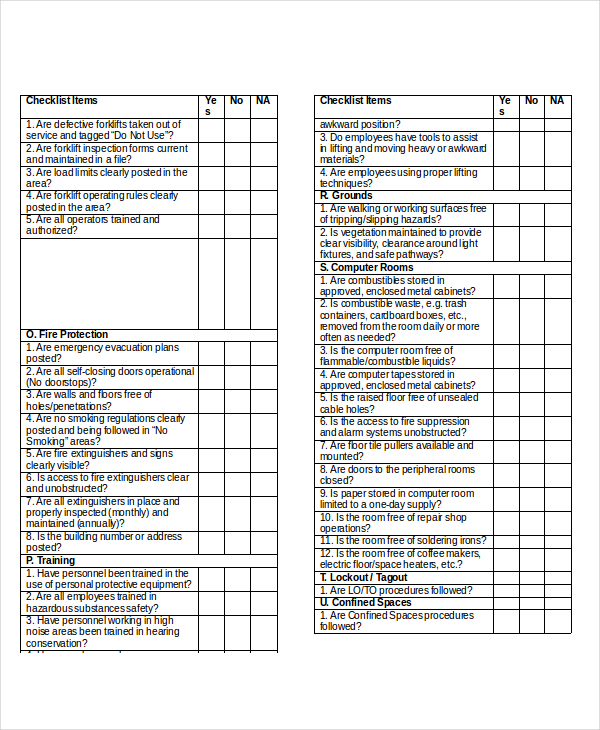 plu.edu
New Home Inspection Checklist
epa.gov
Printable Safety Inspection Checklist
preservationnation.org
>

How does a Home Inspection Checklist Look Like?

A home inspection checklist would generally come up with separate sections for each major areas of a home such as roof, electricity, windows, chimney, floor, plumbing and so on. There would be a separate section for the exterior side of the home and below each section, you will have the mention of all the important aspects of that particular area to be verified.

Then, adjacent to each category, the checklist would feature grading columns where the inspector would mark his ratings as "good" or "poor" or "average", after inspecting the property as a whole. It would help the buyer to arrive at an informed decision on whether or not to proceed with the home. You can also see Travel Checklist Templates.

If you are looking for ideas on how to draft and what to include in a home inspection checklist, the templates mentioned above would be amazingly beneficial for you. The templates here are not only available for general home inspection but also for specific parts of home like the electrical part.