Checklist Templates
New Hire Checklist Template – 18+ Free Word, Excel, PDF Documents Download!
A PDF new hire checklist template is a document that helps every human resource department when hiring new employees. As an employer, you need to start helping your new hire with the transition before he or she begins working for you until they get used to how things are done in your company. You can also see Moving Checklist Templates.
An Excel new hire checklist template will help you choose the best candidate who will work towards achieving the company's goals. You need to create your own Checklist Templates to make the hiring process less stressful and more exciting for both you and your new employee. It will make the transition easier. You may also see Checklist Samples.
New Hire Checklist Template
Restaurant New Hire Checklist Template
New Hire Paperwork Checklist Template
Sample New Hire Checklist Template
Employee Checklist Template
Training Checklist Template
Blank Checklist Template
Checklist Template
New Hire Checklist Excel Format Template Download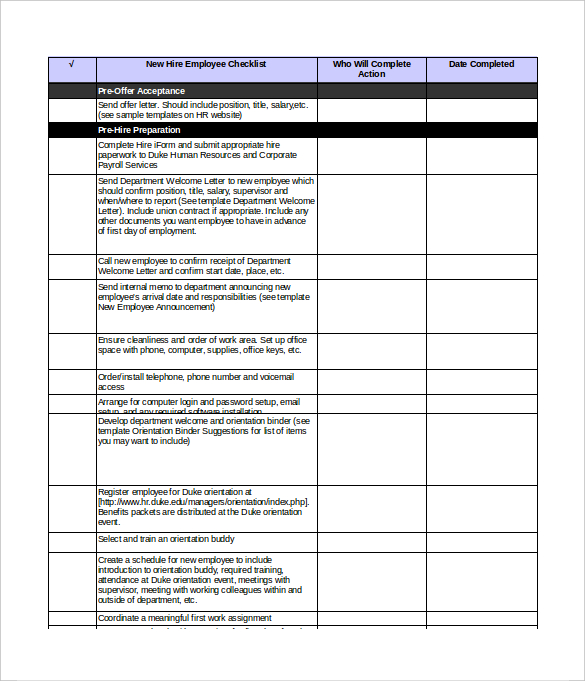 hr.duke.edu
New Hire Paperwork Checklist Excel Format Template Download

hr.4wheelparts.com
Supervisor New Employee Checklist PDF Format Template Download

nova.edu
New Hire Checklist Excel Format Download

smmonline.com
Induction Checklist for New Hire Excel Format Download

gre.ac.uk
New Hire Checklist DOC Format Template Download

schoolwires
Excel Format of New Hire Checklist Template Download

ncdps.gov
Check List for New Joinees Excel Format Template Download

citehr.com
DOC Format of New Hire Employee Checklist Template Download

albertahealthservices.ca
Download New Employee Checklist Excel Format Template

community.pepperdine.edu
New Employee Onboarding Checklist Excel Format Download

honeywell.com