Checklist Templates
8+ Sample First Baby Registry Checklists
Customers who will use a baby registry for the first time in their life can get assistance to such websites offering the said service. They can enter their details as well as their baby where they can start retailing stuffs that can be a gift or belongings that will be used in taking care of a baby. They can also get support from the shopping they will do as the product they will pick can be paid and be delivered in their home as they requested. You can also see Checklist Templates.
Complete Baby Registry Checklist Template
First Time Mom Baby Registry Checklist Template
New Baby Registry Checklist Template
Sample First Time Baby Registry Checklist
squawkfox.com
First time baby registry Checklist Templates as the name itself is an online document that will be provided by any online baby store for beginners of the said program where they enter their details and their purpose so they can buy things online they want to give as a gift; this one is simple and can be followed by anyone who will do the shopping.
Baby Registry Checklist for First Time Mom
babyongrand.com
First time moms will have sometime thinking of what they should buy for their baby before they are born, with baby registry checklist for first time moms they can have the guide that can help them pick the items that is affordable and will be in their babies' side for a long time.
First Baby Registry Checklist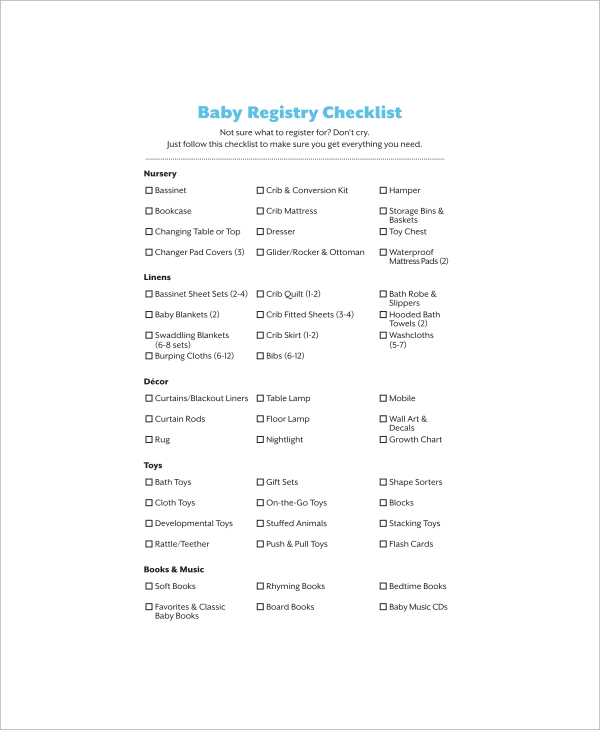 landofnod.com
Excel programs can give you a first baby registry checklist so whatever program you are using for an online trading then this will be compatible to use. It will help the user to make the deals they want with even more features like more tables and layout to choose to make sure that the items is coded with the payment along with it. You can also see Project Checklist Templates.
Example First Target Baby Registry and Product Checklist
assets.babycenter.com
Sample kohls First Baby Registr Checklist
corporate.kohls.com
Must Have First Baby Registry Checklist Example
trus.imageg.net
> Benefits of First Baby Registry Checklist
This will serve as a record whenever an online user will come back for more shopping of goods and their access to such sites. It's like private account where their shopping can be free and be sure that they are trusted customer that will have a real transaction with them; all of their questions on how they can use this checklist will be given by the document where customer assistance will be also in their side to assist them. You can also see HR Checklist Templates.
> Features of First Baby Registry Checklist
You will see this as a registry form where the name of the online shopper as well as their baby can be included. They will get more information of how they will do their purchasing, how they can use the checklist and the mode of payment so they can get the product they want. You can also see Wedding Checklist Templates.
> Tips
Write the facts of your personal information in the checklist as well as your financial accounts so you can get access to such websites with no problems at all. You can also see Training Checklist Templates.
You can get this document in sample format where the function of the checklist can be yours in just a click. It is a requirement to apply this tool in any baby registry for security measure and a fast transaction.