Checklists serve very important functions in each and every major function of the HR department. After recruiting a new employee, you hand them a new employee checklist, so that they know exactly what they need to do during their first days as a part of your organization hr checklist. You can also see HR Survey Forms.
8 HR Checklist Templates Bundle
Every company as its own procedures, but generally, there is some kind of orientation process, during which the new employee gets their ID card and, of course, a welcome letter, submits paperwork such as payroll information and employment eligibility verification, and generally finds out anything else they need to know. And the reason they remember to get all of this done is because they have that Checklist Templates.
Employee Orientation HR Checklist
HR Compliance Checklist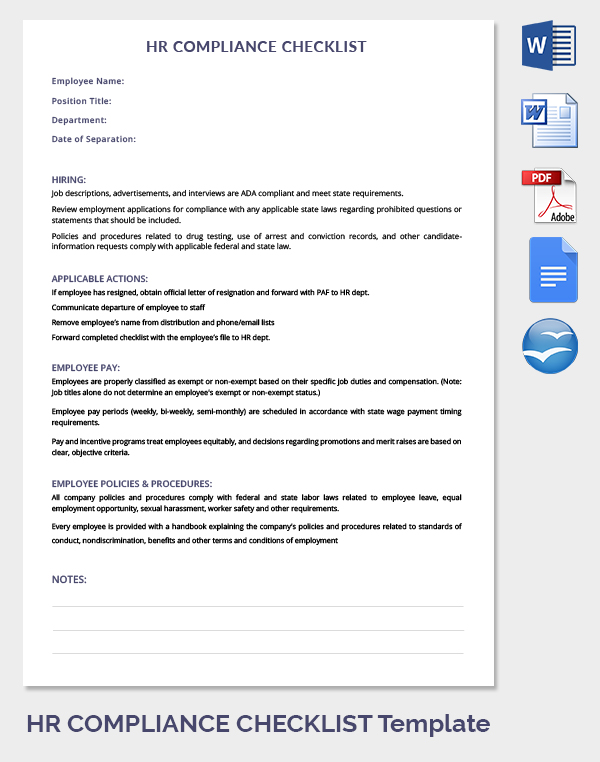 New Employee On-Boarding HR Checklist
HR Checklist Template for New Employee
Template of Employee Business Center HR Checklist
HR Checklist Template for Newly Hired Staff
HR Checklist Template Free Download
New Employee Record HR Checklist Template
The same goes for an internal audit, where lots of different records, such as HR payroll forms, are being examined, or for statutory records and returns (though obviously those checklists look very different). Most business concerns rely on internal auditors for reviews, and a checklist, during this process, can be used to determine whether necessary practices are present, if redundant ones are in place and so on.
Sample Recruitment and Selection Checklist
ucl.ac.uk
Sample New Employee Onboarding Checklist
bu.edu
New Employee Checklist Sample
Sample New Hire Orientation Checklist
New Employee Onboarding Checklist
hrs.colostate.edu
Sample Employment Ending Checklist
Sample Human Resources Employee Separation Checklist
villanova.edu
Sample Supervisor's Checklist for New Employee Orientation
Sample Selection and Hiring Checklist
Sample Performance Management Process Checklist
Sample New Employee Onboarding Business Center HR Checklist
fa.oregonstate.edu
Checklists, during an internal audit, are an excellent way to address any human resource issues within the company.These free checklist templates, available for a variety of different purposes, will give you a better idea of how they should be designed for the best results.
If you have any DMCA issues on this post, please contact us!