Word Templates
32+ Questionnaire Templates in Word Format
Launch the customer service satisfaction survey or create a student research question and answer form with our questionnaire templates in word format. With the prewritten content and layout, your participants can quickly write employee and customer market feedback and write a sample notes similar to an interview. Our survey templates do not simply offer a blank or multiple choice format to a small business or students. You can also find a document design and content for food, training, design, education, product, and event review. Discover other formats below that you can use for future studies.
Sample Interview Questionnaire Template
Free Market Research Questionnaire
Student Question and Answer Questionnaire Template
Free Customer Questionnaire Design Template
Couples Family Questionnaire Template
Free Checklist Questionnaire For Hiring a Lawyer Template
Basic Survey Questionnaire in Word Format
Job Interview Questionnaire Template
Wedding Questionnaire Template
Wedding Planner Client Questionnaire
Business Branding Questionnaire
Buyer & Seller Questionnaire Template
Free Checklist Questionnaire For Hiring a Lawyer Template
Tenant Lease Questionnaire
Student Questionnaire Template
Health Questionnaire Template
Survey Questionnaire Template
How Does the Questionnaire Template Help Various Organizations?
A questionnaire template is an influential tool that helps in knowing the perception of various sections of people like individuals, customers, groups, and companies regarding a product, service or to fetch any reliable and statistical data. They help to gather useful information and customer satisfaction levels as well as important data through feedback provided by the customers.
They help the organizations to improve the quality of their products or services, delivery methods, and product services as well as competitor's details. They help to respond to the customer's reactions that are provided through feedback or sample surveys and improve the company's prospects swiftly.
School Education Questionnaire Template
Need a tool to measure how your products and services meet or surpass customer expectations? Then you are in the right place. The above education template is one such tool. The questionnaire of customer template is easy to edit and customize so that it matches your needs perfectly. It is also printable and can be downloaded on any electronic device effortlessly.
School Multiple Choice Questionnaire Template
Survey Questionnaire for Food Product Business Template
The above template is a questionnaire form template that you can take the help of to gather data for your school so that you have them ready for remarks. Surveys are one of the most important ways to know what others think about your business/organization or institution as well. You can edit the template as it is fully editable and can be easily customized as per your liking. Simple survey questionnaires can be used to get a better understanding of what a questionnaire can contain.
Basic Survey Questionnaire Template
Please Complete the Enclosed Questionnaire Template
Trade Show Exhibit Questionnaire Template
Trade shows are one of the most exciting shows. They bring in different trades all around the place and show people their exhibits. For one such basic survey, use the above template. Collect and analyze trade show effectiveness using this fully customizable and editable template with standard business fonts. You can edit it effortlessly and customize it the way that suits you the best.
Checklist Questionnaire For Hiring a Lawyer Template
If you sample plan on hiring a new lawyer, you need to know and also, make sure he/she is completely qualified. For that, you need the right checklist questionnaire that will help you decide which lawyer to hire. You can use the above template for that. It is easy to edit and can be customized in the way that best suits your needs. Check it out now!
Free Blank Survey Questionnaire Template Word
surveygold.com
How to Create a Questionnaire?
1. Plan Your Questions
Before you start your questionnaire, you need to be thorough with what you are going to ask the audience. Plan your questions properly. Choose whether you want open-ended or close-ended questions in your printable survey sheet. Make your questions in a way that is easier for your audience to answer as well. It should not be tough for them to do so. Check survey templates that will help you create the right kind of survey you need.
2. Target Audience
Once you are ready with the kind of questions you need to ask, make sure you know who your target audience is. This way, you will have a better idea of what kind of questions to ask. You can have more than one target audience needed. Make sure that the questions you are going to ask as a part of your survey are appropriate and not too personal.
3. Draft Your Questionnaire
The next step would be to draft your questionnaire. Also, mention if you offer any special incentives for the people who answer your survey format questionnaires. Make sure you read all the questions before you give your survey basic sheets to others. There are many questionnaire templates in Word you can use to help you create the best questionnaire for the survey you are working on.
4. Review Your Data
Before you hand out the annual sheets, make sure you understand what questions you are asking them first. After you calculate the questionnaires and get the results, you will have a better idea of what was your survey about and whether or not you got the right result you wanted. This way, you can review your questions and change them if needed as improvisation is very important.
5. Feedback
Check if you have any unusual responses to the data you have asked about and decide what kind of response can you give them. Feedbacks are an important part of the survey as you will know what you have to do to get better and be the most unique in the market, no matter which industry you are from. The answers should be limited to making string opinions as well as showing where you can make yourself better. Sample HR survey can be used for further help.
Free Satisfaction Health Questionnaire Template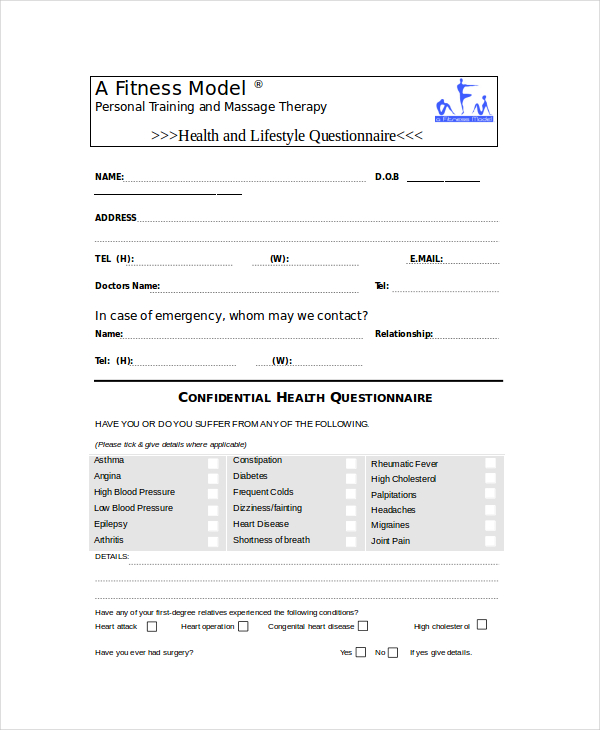 afitnessmodel.com
This satisfaction survey template presents the name, address, contact information, doctor's name, various health information questionnaires like asthma, high blood pressure, heart disease, heart attack, heart operation as well as a lifestyle-related questionnaire. You can also see more on Healthcare Templates.
Free Small Business Customer Questionnaire Template
kugelpompel.at
This customer service form template presents various questions like awareness about the company, knowledge about the company website, online purchase details, promptness in delivery of goods purchased online, an improvement related to packing, and product and satisfaction levels. You can also see more on Small Business Templates.
Free Training Feedback Research Questionnaire Template
hhmi.org
Free Marketing Research Questionnaire Template in Word
limavady.gov.uk
Free Employee Position Analysis Questionnaire Template
hr.utexas.edu
Free Post Event Project Questionnaire Template
depts.ttu.edu
Free Academic Performace Questionnaire Design Template
lboro.ac.uk
How to Use Questionnaire Templates Effectively
The questionnaire template should be data-driven and one should be able to measure the layout of feedback easily. They can be used when an organization wants to introduce new designs for the existing products to know the pulse of the customers. The questions should be simple and easily answerable as well as straightforward.
To obtain the maximum participation of customers in the survey as well as to get their feedback effectively, organizations can offer reward points or incentives. Training surveys can be of great use if you need to make surveys regarding medical fields. One can include a requisition letter when asking for a survey or sample feedback from the customers, this will help in getting a better response from them.
What are the Benefits of Questionnaire Templates?
Some of the benefits of the questionnaire template are –
They enable you to gauge the satisfaction level of one's products and services.
They help in knowing the interests of the customers in the competitor's products as well.
They enable you to improve the facilities of services and the quality of the products.
They give an idea about customers' choices and present trends in the market.
They help the customers to give their opinions and provide opportunities for the organizations to improve their performances.
There are tons of varieties of questionnaire templates available that can be utilized for various situations by making minimum modifications. They provide an easy method of getting feedback on the company's products and services. HR survey in Word helps the hiring managers to know feedback about a training program or new HR policies that are introduced by the organization.
More in Word Templates