Paper Templates
17+ Word Lined paper Templates – DOC
When we were kids in first grade, elementary, and kindergarten, we used a single line paper, notebook, and notepad for handwriting activities or calligraphy work. The lined and dotted lines tell us where to stop and start without writing. Our Lined Paper Templates are famous among kids who want to improve their writing skills and adults who wish to take note-taking into an adorable hobby.
The recent trend made Printable Lined Paper Templates famous in college or any school level. But people do not want a simple four-lined and yellow-lined paper or dotted thirds. They want something decorative, pretty, and cute to motivate them in writing an essay or creating a memorable scrapbook. So we crafted Free Lined Paper Templates in a blank, landscape, A5, and A4 document format with a predesigned border and line customizable below.
Christmas Pretty Bells Writing Paper Lined Template
Christmas Cute Gifts Lined Paper Template
Blank Lined Paper for Kids in Word
atto.buffalo.edu
Lined Paper Notebook with Border Word File
harrietandviolet.com
Elementary Lined Paper for Kindergarten Template
shirleys-preschool-activities.com
Methods to Create Lined Papers in Microsoft Word
Open Microsoft word and click the "Shapes" button. Then choose "Line" which is underlined, group. Now just drag the mouse on the first line of the document to draw a line. Then copy and paste the lines. The now-lined document is ready.
Open Microsoft word and select the "Justify" option from the Paragraph section. In the first line of the document draw a line using the underscore "_" key. Highlight this line and copy and paste to create several lines to create a lined document.
Open Microsoft word and go to Insert Table. Select 1 x 1 tables and a small single box type table is displayed in the document. Just drag the table to the right most of the page. Then by pressing the tab key many lines can be drawn and the lined document is ready. You may also see Ruled Lined Paper Templates
College A4 Lined Paper in Word
diyplanner.com
A5 Lined Paper Word Format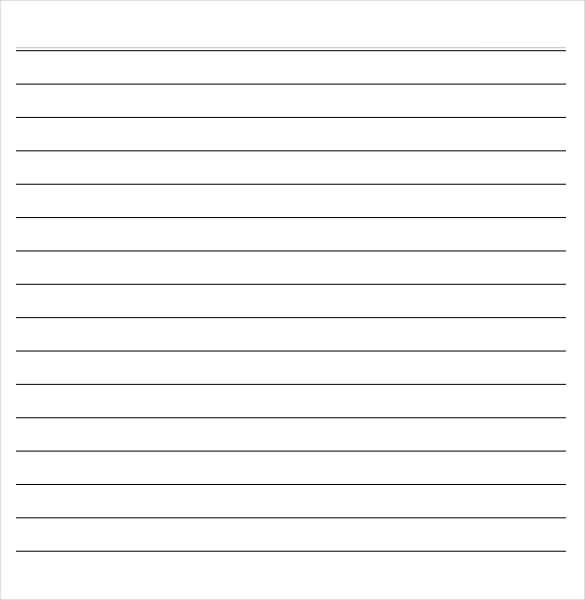 cstein.kings.cam.ac.uk
A3 Lined Paper Word Format
paperkit.net
Decorative Bordered Lined Paper Word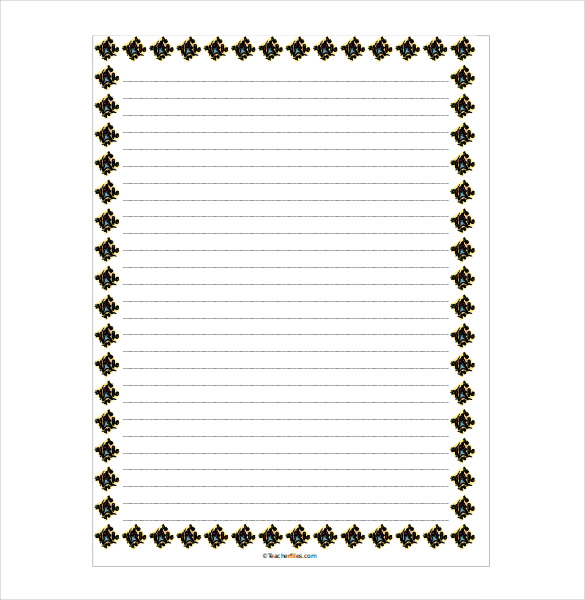 teacherprintables.net
Single Bold Lined Paper Template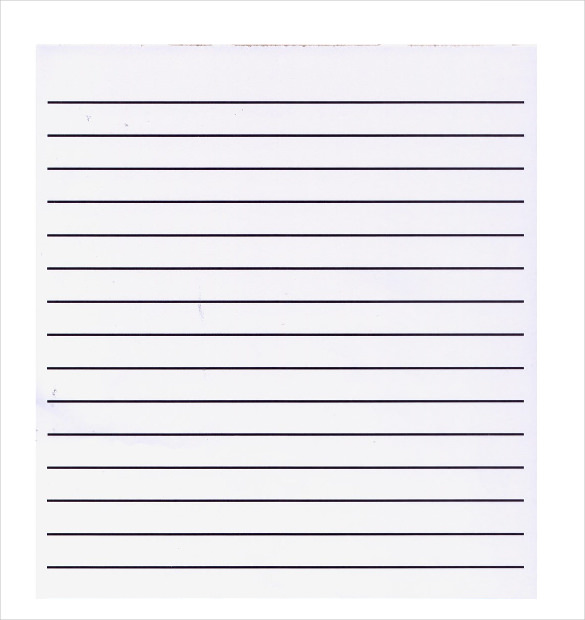 maxiaids.com
Varieties of MS Word Templates
Microsoft Word's online templates help to create lined paper. These templates can be used quickly with the ribbon tools that enhance the look and feel of the document. Rows of thin or solid lines, broken rows of dashed lines, and solid rows are some of the types of templates. These templates are also customizable like changing font color etc., thereby giving more options to change the variety of the lined document. Varieties of readily printable ruled line templates are available on the web which is downloadable and can be utilized. The text can be typed in these templates and can be taken printouts. You may also see White Paper Templates
First Grade Christmas Lined Paper Word Template
activityvillage.co.uk
Colored Notepad Lined Paper Template
School Children Lined Paper Word Format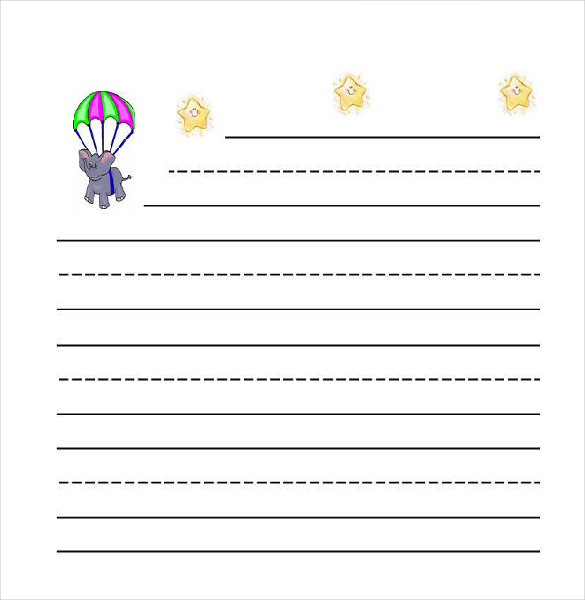 koloringabang.dynu.com
Benefits of Lined Paper in Word
Lined papers in words can save a lot of time and money for the students and professions as well.
Billing books and kid's handwriting notes are considered to be costly and by using the MS Word Templates or newly created templates both the purpose is solved and cost-effective. You may also see Sample Lined Paper Templates.
The varieties and features like spacing between the lines make lined paper creation a special one in MS word.
Kids, students, and professionals enjoy using the various templates, exploring new designs in creating lined paper in word doc.
Calligraphy Handwriting Lined Paper Template
calligraphybybillgrant.com
Dotted Thirds Lined Paper Template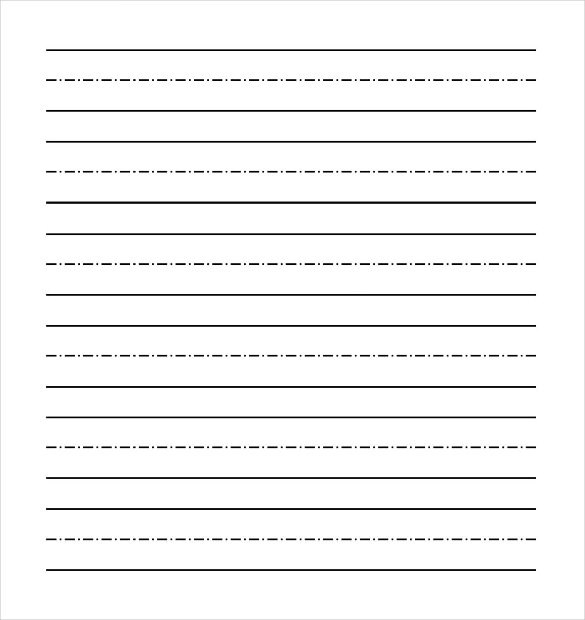 maxiaids.com
Four Lined Legal Paper Word Format
atto.buffalo.edu
Yellow Lined Paper Template
newdaleschool.org
Essay Lined Paper Template
esc12.net
Types of Lined Paper
Even though templates are available in plenty to download and one can create a lined paper on a word document, one should understand their types:
The notebook paper which is used by students varies in size and they are mostly for class notes and examinations.
Graphic Templates have evenly spaced horizontal and vertical lines which help to draw graphs.
Ruled papers with horizontal and vertical lines that are drawn as per the logarithmic scale.
Music manuscript document which is helpful to write musical notations very easily for the artist.
Creative Ways in Preparing Lined Paper
Open Microsoft Word document and type a hyphen "-" three times continuously and then press the Enter key and that's it a horizontal line is created. The line can be copied to create a ruled document. Using Clip Art gallery one can create the lined document. The Stationary list which is a built-in Word can be used to create lined documents. All the paragraph lines can be easily underlined which will give a look at writing on a linked document. You may also see Printable Paper Templates
There are many creative and traditional ways of creating lined documents in MS word that we have seen above. Preferable use the latest version like MS Word 2010 for playing around with these documents. There are copious varieties and free templates available to download and can be redrawn for various purposes. You may also see Templates in PDF.