If you are passionate about cooking and want to see your recipes in a cookbook to gift it to someone or to keep it in your kitchen for reference, then you can download cookbook templates that will help in compiling all your recipes in it. Free PSD cookbook templates in file formats such as MS Word and Indesign have a lot of editing options. You can add high-quality pictures and write your own recipe in a font size of your own choice of notebook paper template.
Elegant Cookbook Template
Creative Cookbook Template
Vintage Cookbook Template
Minimalistic Cookbook Template
Mini Cookbook Template
Create a Cookbook in 5 Simple Steps
Step 1: Decide On Your Content
Before you create a cookbook, decide what type of recipes you want to include in your book. Do you want it to mainly revolve around either dessert, main course, starters, or all three of them? Once you have gained clarity upon that, you can move on to the next step.
Step 2: Create an Outline of the Content
Make an outline of the content so that you'll have a more systematic cookbook in which you can organize your recipes by chapters so that they can be easier to find for the users. You can also categorize the contents from savory to sweet, breakfast to dinner, or from appetizers to desserts.
Step 3: Pen Your Recipes and Tips
If you have many recipes to include in your book, start by sorting your best ones that are worth including in your cookbook. You can write the recipe in steps by listing out the ingredients and procedure in steps. If there is an ingredient that is hard to find, then suggest substitutions for them.
Step 4: Add Images of the Recipe
A cookbook isn't a cookbook without some fun and mouth-watering pictures of recipes. Using a professional camera, take photos of your recipe and meal plan. If not, you can hire a photographer to do it for you. Adding borders and colors will help make your cookbook appear lively and interesting to read.
Step 5: Publish/Print Your Cookbook
After listing your recipes and adding relevant images, you can review the details to see if they're all correctly noted. Next, publish your cookbook by having it printed on a professional printing shop. You may use a glossy finish as it can help in retaining a paper's quality more effectively.
Creative Antique Cookbook Template
Bring out those good old scrumptious dishes to life by penning their recipes in this beautiful antique cookbook template that is well designed and elegant to look at. You can enter several recipes along with their images by downloading and opening this file in any of the available file formats.
Photo Cookbook Template
A cookbook is not a cookbook if it doesn't have mouth-watering pictures of food present in it. If you want to put up aesthetic pictures of food in your cookbook, you can download and make use of this above-shown InDesign template. It has an interesting layout that will allocate the content of your recipes such as the ingredients, images, and procedure in an organized way.
Elegant Kid Cookbook Template
Are you planning to whip up lip-smacking dishes for children? If so, you should absolutely check out this kid cookbook template that comes with eye-catching graphic designs. Insert the recipe images and contents related to the dish by opening this template in any of the file formats.
Kindergarten Cookbook Template
Here's a cute and adorable kindergarten cookbook template that you can instantly download for use. It has fun graphics and layouts present. All you have to do is just enter the recipe details and insert their images in the template using any file format of your choice. Download now! You can also check out our sample recipe book templates.
Simple Journal Cookbook Template
Keep it simple yet real classic when it comes to creating your cookbook. Download this journal cookbook recipe sample template that is elegantly designed so that you can present your dishes in an orderly manner. You can customize its contents any way you want by modifying it in various file formats. Check it out now!
Home Made Cookbook Template
Fundraiser Cookbook Template
Healthy Cookbook Template Design
Italian Cookbook Template
Recipe Cookbook Template for Chef in Word, PSD, and Indesign
Planning to come up with a recipe book? Then, check out this recipe cookbook catalog template, that will help in conveniently featuring all of your favorite dishes and food offerings. Downloading it now will get you instant access to this 16-page document with standard fonts and license. Add high-quality photos in 300 dpi resolution to make your cookbook look all the more attractive and eye-catching. Easily edit this template with InDesign, MS Word, Photoshop, or Publisher for best results.
Kitchen CookBook Template in Word, Indesign and PSD Files
Share wonderful and utterly mouth-watering recipes using this 16-page kitchen cookbook catalog template that comes with standard fonts and licenses. Feel free to edit and insert your recipe images using your preferred software application that is compatible with InDesign, MS Word, Publisher, or Photoshop file formats. You will also be given clear instructions as to where you can place the contents of the recipe. Download and enjoy this beautiful cookbook template now!
Special Kitchen Cookbook Template
Here's a luscious-looking, full-color cookbook 16-page catalog template that you can make use of, for your specialty menu recipes. Insert high-quality recipe photos in 300 dpi resolution and edit conveniently with your chosen app that supports Publisher, InDesign, or MS Word file formats. You can also take a look at our sample recipe book templates.
Kitchen CookBook Indesign and PSD Catalog Template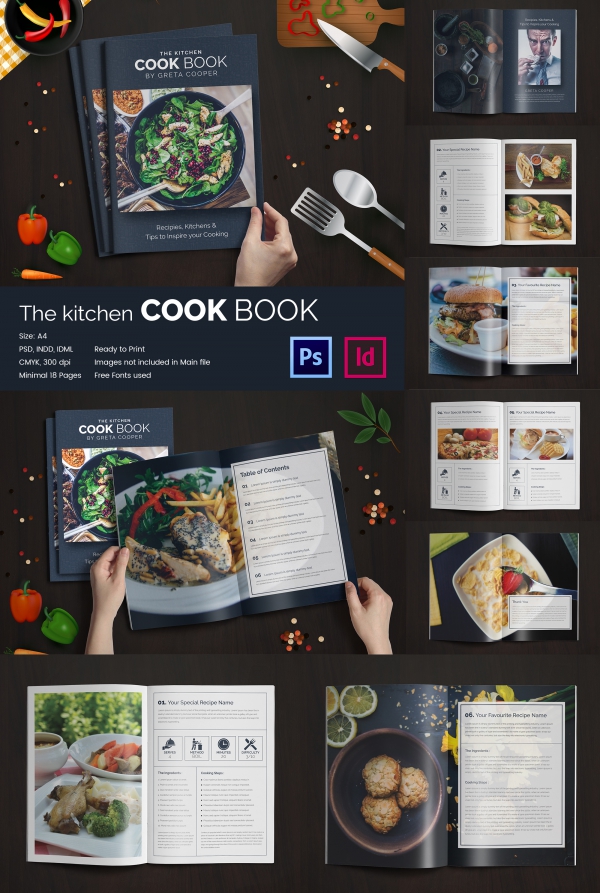 Feel free to download this kitchen cookbook sample that can be easily edited and customized using the available file formats. You can place your contact information at the opening page so your readers can contact you if in case they want to provide any feedback. All images of the recipes can be added on either side of their instructions. Overall, it's an elegantly designed cookbook template that one shouldn't miss out on!
Recipe Cookbook Template PSD Format Download
For all the aspiring food makers and food lovers, Recipe Cookbook Template is just amazing. This recipe template is packed up with features like Sliced PSD, custom pages, advanced theme options and much more. With sleek and innovative design layouts, users find this easy to install and use.
Modern Chef Special Cookbook InDesign Template
Free Editable Hot and Spicy Cookbook Template Download
brighthub.com
The Free Editable Hot and Spicy Cookbook Template is very useful and beneficial for the food and recipe-based websites and restaurants. This template lets the users send/email feedback concerning the recipes presented before them.
Sweet Treats Cookbook Template Free Download
brighthub.com
In order to create some amazing delicacies and preserve them safely, Sweet Treats cookbook Template is the most suitable. This free recipe book template for word has an easy commenting system, live chat facility and Social Options making websites easily accessible for the users. Install the template simply and get down to business.
Cookbook Template for iBooks Author Premium Download
The Cookbook Template for iBooks Author comes with multiple design layouts and patterns in order to attract its users. This template is so designed that it is compatible with MailChimp. With easy to install facility, this template is Printable/editable/customizable without much of trouble. This template has several shortcodes for better functioning.
Soup's On Cookbook Template Free PSD Editable
brighthub.com
In order to illustrate recipes properly along with their ingredients and methods, the Soup's On Cookbook Template comes in handy. One can open this template easily in Word and Excel format. With no such difficulty, it is possible to re-create this template by simply editing them using Adobe Photoshop CS+ software.
Interactive Restaurant CookBook Template Design Download
With advanced theme options, Back to Top Button, Menu Bar hanging at the top of the age, Interactive Restaurant CookBook Template is absolutely user-friendly. This recipe e-book template has many social site advantages like Instagram Board, Twitter Feed and social options to help the website gain the utmost recognition.