If you are good at cooking and want to see your recipes in a cookbook to gift it to someone or to keep it in your kitchen for reference, then you can download cookbook templates that will help in compiling all your recipes in it. Free PSD cookbook templates in MS Word and Indesign have a lot of editing options. You can add high-quality pictures and write your own recipe in a font size of your own choice of notebook paper template.
Creative Antique Cookbook Template
Photo Cookbook Template
Elegant Kid Cookbook Template
Kindergarten Cookbook Template
Simple Journal Cookbook Template
Home Made Cookbook Template
Fundraiser Cookbook Template
Healthy Cookbook Template Design
Italian Cookbook Template
Recipe Cookbook Template for Chef in Word, PSD, and Indesign
Planning to come up with a recipe book? Then, check out this recipe cookbook catalog template, that will help in conveniently featuring all of your favorite dishes and food offerings. Downloading it now will get you instant access to this 16-page document with standard fonts and license. Add high-quality photos in 300 dpi resolution to make your cookbook look all the more attractive and eye-catching. Easily edit this template with InDesign, MS Word, Photoshop, or Publisher for best results.
Kitchen CookBook Template in Word, Indesign and PSD Files
Share wonderful and utterly mouth-watering recipes using this 16-page kitchen cookbook catalog template that comes with standard fonts and license. Feel free to edit and insert your recipe images using your preferred software application that is compatible with InDesign, MS Word, Publisher, or Photoshop file formats. You will also be given clear instructions as to where you can place the contents of the recipe. Download and enjoy this beautiful cookbook template now!
Recipe Cookbook Template PSD Format Download
For all the aspiring food makers and food lovers, Recipe Cookbook Template is just amazing. This recipe template is packed up with features like Sliced PSD, custom pages, advanced theme options and much more. With sleek and innovative design layouts, users find this easy to install and use.
Create a Cookbook in 5 Simple Steps
Step 1: Decide On Your Content
Before you create a cookbook, decide what type of recipes you want to include in your book. Do you want it to mainly revolve around either dessert, main course, starters, or all three of them? Once you have gained clarity, you can proceed onto the next step.
Step 2: Create an Outline of the Content
Make an outline of the content so that you'll have a more systematic cookbook in which you can organize your recipes by chapters so that they can be easier to find for the users. You can also categorize the contents from savory to sweet, breakfast to dinner, or from appetizers to desserts.
Step 3: Pen Down Your Recipes and Tips
If you have many recipes to include in your book, start by sorting your best ones that are worth including in your cookbook. You can write the recipe in steps by listing out the ingredients and procedure in steps. If there is an ingredient that is hard to find, then suggest substitutions for them.
Step 4: Add Images of the Recipe
A cookbook isn't a cookbook without some fun and mouth-watering pictures of recipes. Using a professional camera, take photos of your recipe and meal plan. If not, you can hire a photographer to do it for you. Adding border and colors will help make your cookbook appear lively and interesting to read.
Step 5: Publish/Print Your Cookbook
After listing your recipes and adding relevant images, you can review the details to see if they're all correctly noted. Next, publish your cookbook by having it printed on a professional printing shop. You may use a glossy finish as it can help in retaining a paper's quality more effectively.
Special Kitchen Cookbook Template
Here's a luscious looking, full-color cookbook 16-page catalog template that you can make use of, for your speciality menu recipes. Insert high-quality recipe photos in 300 dpi resolution and edit conveniently with your chosen app that supports Publisher, InDesign, or MS Word file formats. You can also view our sample recipe book templates.
Kitchen CookBook Indesign and PSD Catalog Template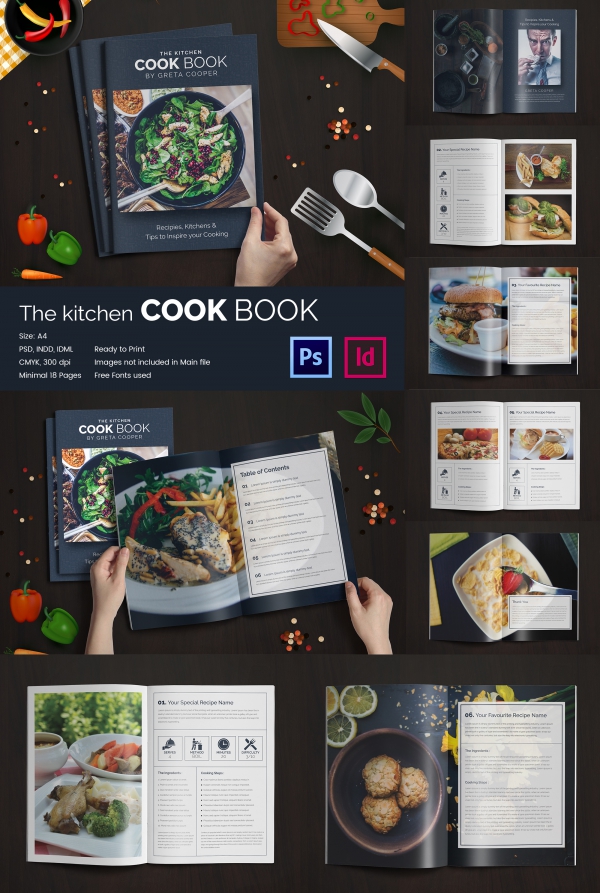 Feel free to download this kitchen cookbook template that can be easily edited and customized using the available file formats. You can place your contact information at the opening page so your readers can contact you if in case they want to provide any feedback. All images of the recipes can be added on either side of their instructions. Overall, it's an elegantly designed cookbook template that one shouldn't miss out on!
Modern Chef Special Cookbook InDesign Template
Free Editable Hot and Spicy Cookbook Template Download
brighthub.com |
The Free Editable Hot and Spicy Cookbook Template is very useful and beneficial for the food and recipe based websites and restaurants. This template lets the users send/email feedback concerning the recipes presented before them.
Sweet Treats Cookbook Template Free Download
brighthub.com |
In order to create some amazing delicacies and preserve them safely, Sweet Treats cookbook Template is the most suitable. This free recipe book template for word has an easy commenting system, live chat facility and Social Options making websites easily accessible for the users. Install the template simply and get down to business.
Cookbook Template for iBooks Author Premium Download
The Cookbook Template for iBooks Author comes with multiple design layouts and patterns in order to attract its users. This template is so designed that it is compatible with MailChimp. With easy to install facility, this template is Printable/editable/customizable without much of trouble. This template has several shortcodes for better functioning.
Soup's On Cookbook Template Free PSD Editable
brighthub. |
In order to illustrate recipes properly along with their ingredients and methods, the Soup's On Cookbook Template comes in handy. One can open this template easily in Word and Excel format. With no such difficulty, it is possible to re-create this template by simply editing them using Adobe Photoshop CS+ software.
Interactive Restaurant CookBook Template Design Download
With Advanced theme options, Back to Top Button, Menu Bar hanging at the top of the age, Interactive Restaurant CookBook Template is absolutely user-friendly. This recipe e-book template has many social site advantages like Instagram Board, Twitter Feed and social options to help the website gain utmost recognition.
Procedure
Vintage Cookbook Ornamental Page EPS Format Download
The Vintage Cookbook Ornamental Page EPS Format is packed with unlimited features like Sample Content, easy drop-down menu, background slider, and gallery slider and can be personalized by making use of the Adobe Photoshop CS+ software. This MS word book template is loaded with several HTML shortcodes which helps the installation process.
Onions Cookbook Template Free PSD Design Format Download
brighthub.com |
The Onions Cookbook Template is packed with features like Advanced Theme Options, Sample Content, Dropdown Menu, and is totally responsive making it compatible with gadgets of any kind and size. This homemade cookbook template has multiple column layouts and allows the user to change the background images.
Free Recipe Book Printables Download
If you are looking for a simplistic cookbook template without compromising on the relevant aura, this template is the right thing for you. It's plain, classy and the cutlery illustrations on one side are a perfect fit.
Cookbook Template for iBooks – $10
If you are planning to create a glamorous cookbook for iBooks, this template here would be really useful. It will allow you to add on the sumptuous pictures of the dishes along with the recipes.
Vintage Cookbook Recipe Book – $9
This cookbook template here oozes every bit of a classy vintage feel with all its patterns & styles- starting from the torn-page outlook to the intricate & broad border to the archaic elaborate font.
Premium Chef Cookbook Elegant Design – $10
Provide all the varied spices and methods for all your favorite recipes in the best possible way by downloading the Premium Chef Cookbook Elegant Design. The recipe cover page template has amazing tools with itself for use like Cross-browser Compatibility, easy drop-down menu, Sliced PSD and much more.
Cookbook Template For Pages Download – $59
The Cookbook Template for Pages has premium widgets making it easier to improvise and produce better layouts. Without much hassles, one can easily go about developing a website as the template has a Bootstrap framework. This cookbook template publisher has a valid semantic coding.
Cooked Printable Journal Recipe Download
Best Design Cookbook Template – $10
Blank Cookbook Template Indesign – $5
EPS Family Cookbook Templates Illustrator – $7
Online Cookbook Word Download – $4
Best Cookbook Vector EPS – $7
Cookbook Template For Mac Word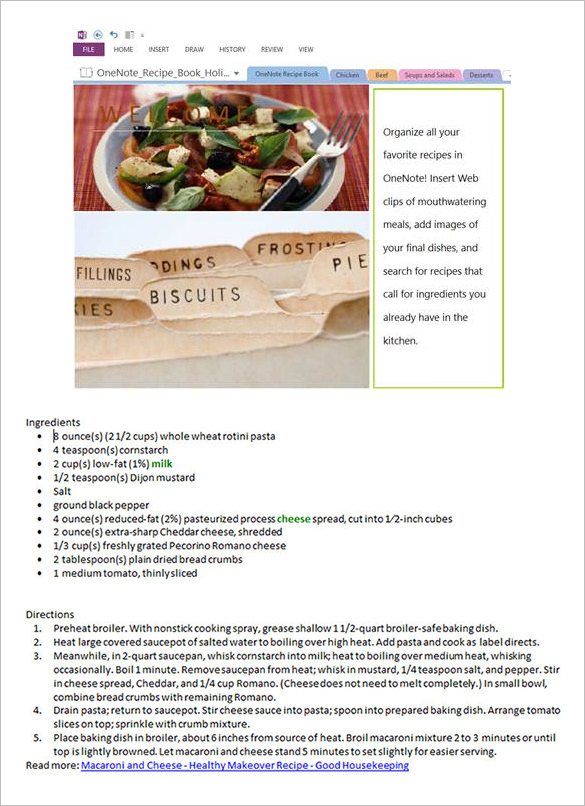 Create Your Own Cookbook Online Cookbook Creator
Modern Cookbook InDesign Template EPS Format Download
Loaded with useful features, the Modern Cookbook InDesign Template is a great tool to use for the recipe makers, recipe creators and so on. This recipe booklet template has features like Advanced Theme Options, Tag Clouds, and Cross-browser Compatibility making the website reachable from any browser of any version.
Awesome Design Cookbook – Kitchen Stories Download
Awesome Design Cookbook-Kitchen Stories is endowed with varieties of features that help it become awesome. Features like Calendar, Cloud Zoom, and Favicon make this online cookbook template so very useful. The template is coded using CSS3, HTML5, Sass, and JQuery and has Social options in order to attract more traffic.
Cookbook Food Brochure Template InDesign Format Download
The Cookbook Food Brochure Template comes with features like Admin Panel helping the users to manage the contents which are displayed in both grid and list views.
Tribeca Cookbook Template InDesign Premium Download
With absolute Search Engine Optimization functionality, the Tribeca Cookbook Template is a great choice for all the expert chefs. The cover page for cookbook has multiple design layouts and colors to choose from.
Cookbook Kitchen Stories INDD Format Download
The Cookbook Kitchen Stories INDD Format helps the users to bring out the best recipes to the viewers. This InDesign recipe template has functions like video and audio integration. The web forms of this template include Contact Form, Newsletter Subscription and are WPML Ready. Get this template online which are coded with CSS3, Sass, and JQuery.
Recipe Book Template Download – $8
The USP of this cookbook template is surely the wood-yellow cover page that evokes the desired feel of a wooden dining table or kitchen slab. It's just a perfect fit for your lip-smacking recipes.
Cookbook Cover Template – $19
This template would be handy if you are looking to offer some expert tips on cooking to your students or children in need of culinary advice from you. The chef-cartoon looks fun.
To keep your valuable recipes preserved, one can very well make use of the cookbook format templates which come in varied designs and layouts. Food lovers or anyone who wants to try their hand at cooking will surely find printable and beautiful cookbook templates quite useful.