Policy Templates
12 Training Policy Templates
If you happen to be a manager, you would be able to use tools like free HR forms that can make your work easier. This is true of a great many professions since it is possible to use different document templates for different tasks. In your case, you may find yourself in need of tools that would make it easier for you to make a consistent sample company policy with regard to simple training your personnel.
In fact, you can find and use different company policy templates to help you work on your organization's various policies. After all, it would be necessary for you to make sure that you have consistent policies in place so that you and your personnel can have a guide for your behavior at all times. In the case of training policies, using policy templates should make it easier to ensure that you can impart your personnel with all the skills they would need to carry out their duties.
Training and Development Policy Template
Download
Faculty Human Resources Training Policy Template
hr.osu.edu
Security Training Policy Template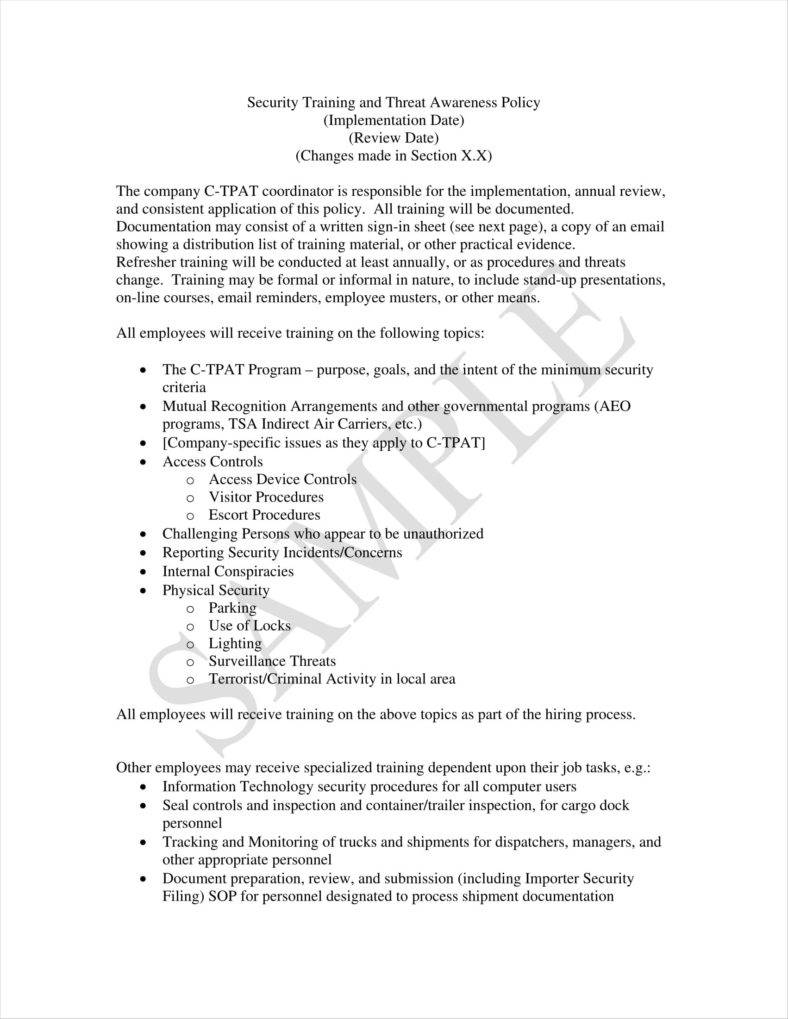 cbp.gov
Sample Employee Training Policy Template
wfm.noaa.gov
Basic Employee Training Policy Template
sandiegocounty.gov
Example of Police Training Policy Template
mass.gov
Sample Supervisor Training Policy Template
personnel.wv.gov
What you can use a training policy for
One thing that would help you make the most of any training policy you may need to make is knowing what you could possibly use it for. While some policies might be self-evident, it would still help to know exactly what they can do in order for you to make the most of them. After all, it is one thing to rely on HR policy templates, but it also pays to know what you can use these policies for so that you can ensure that you are using them properly.
Educating personnel on proper procedure
The most basic function of any training policy is ensuring that you can educate your employees on how to carry out their duties properly. There are other tools like free training plan templates that you can use to help you in determining how to teach your personnel how to do their work. After all, the policy should be your best tool in giving you a framework on how to give your employees the training they need to conform to your business' procedures. While the policy can be used to give yourself a framework, it should also be able to give your personnel an idea of how to do their jobs according to your basic standards.
Making sure that all personnel are informed at all times
Like other examples of policies, having your own training policy should make it easier for you to keep your personnel informed of everything that they need to do. This takes into account the fact that you would likely need to maintain sample training manual templates, for example, so that you could keep all your personnel informed as to what your policy is regarding training within your organization. This way, you can take steps to ensure that all your personal, whether trainers or trainees, know what to expect during the actual training.
Giving yourself a general system for training personnel
The rules and guidelines as listed in your training policy also serve as a way of giving yourself a system to manage the task of training your personnel in the first place. This can make your task easier since you would now have a guide on how to approach training your personnel. Having a policy should make it easier for you to proceed with training your personnel as you should have established procedures for proceeding normally as well as for any issues that might arise.
Coast Guard Training Policy Template
govdocs.rutgers.edu
University Laboratory Training Policy Template
ucop.edu
Sample Policy and Procedure Manual for Training
occc.texas.gov
Law Enforcement Training Policy Template
fletc.gov
IT Security Training Policy Template
das.ohio.gov
Tips for making a training policy
In addition to knowing about the functions of sample HR policies, it may also help you to know some useful tips for making and using them. This can be useful for you in that you might be able to use them to keep yourself reminded of all the things you need to remember when making such a simple policy. In any case, you should have a much easier time of carrying out your work.
Make sure to find a template appropriate to your needs as an organization
Since there are so many different policy templates in Word and PDF for different organizations suited to their different needs, it is vital that you make sure that you find and use a template that meets your organization's particular requirements. This is important since each organization would have different needs regarding what they need to impart to their personnel, so you would need to find an appropriate template to suit your needs.
Be sure to have your policy organized properly
A policy would naturally have different parts in order to stay coherent. With that in mind, you should take the time to have all the parts of your sample policy arranged so that it can stay orderly. This would naturally make it easier for you and others to find different sections in the policy according to whatever you need. This can be made easier if you were to include a table of contents in order to make it easier to find different parts.
Be sure to include all the necessary elements to make your policy effective
Your policy should also include whatever you would need in order for it to do its job. For example, you would need to include sections like the definition of terms, legal justifications to support your policies, and so on. This is necessary precisely because this is what provides all the justifications and support your policy needs in order to be effective. You may also need to include other supplementary elements like contact information and letterhead template so that you can provide some proof that your policy is an official document of your organization.
Be sure to edit the policy as needed
Your policy format is always meant to serve your needs according to the specific situation. With that in mind, you should make sure to have your policy edited according to changing situations. For example, if your methods of training ever need to be changed, then you should make sure to adapt your training policies. This is a necessity with every kind of policy, not just training report policies. In order to get your policy to do its job, you have to remember to make whatever changes are necessary.
These tips will make the work of making and using your training policies easier. So be sure to make the most of them when you create your own training policies for the workplace.
More in Policy Templates