Businesses hold particular events that cover important activities that either promote or sell the vital resources of the establishment. These can be the offered products, services, or both. In order to hold such a big event, you need additional funds to sponsor certain costs. This means that you need an event sponsorship proposal samples other than an event proposal.
254+ Event Templates in PDF, Word, Excel, PSD, HTML5, WordPress, Google Docs, PowerPoint, InDesign, Apple Pages, Google Sheets, Publisher, Apple Numbers, Illustrator, Apple Keynote, Google Slides - START DOWNLOADING
Event Sponsorship Proposal Template
Easy to Edit Sponsorship Proposal Template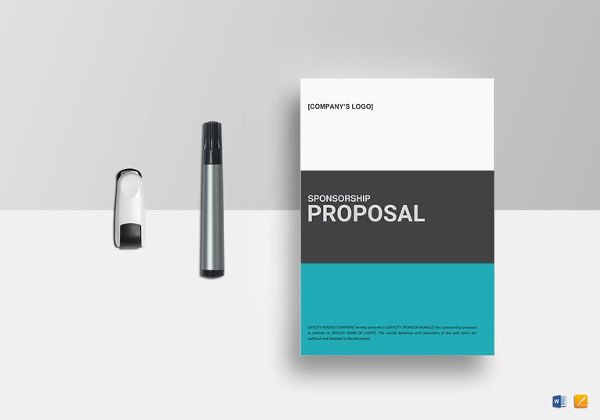 Sample Event Proposal Template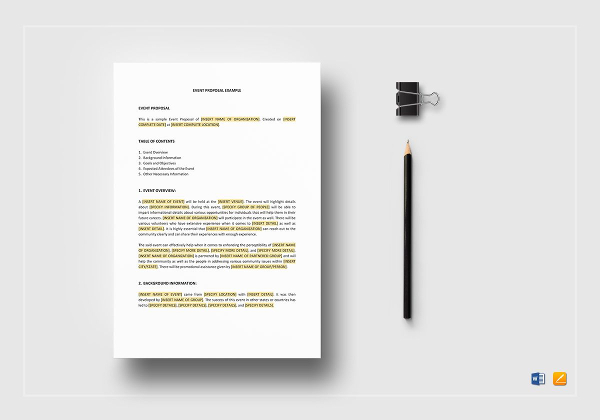 Planning business proposal for an event sponsorship may be complicated since you need to satisfy not only the needs of the business entity, but also the needs of the potential sponsor in order to gain the funds you need. These event sponsorship templates will provide the necessary information needed for your proposal samples.
Sample Proposal Template in Google Docs to Print
Basic Printable Proposal Outline Template in iPages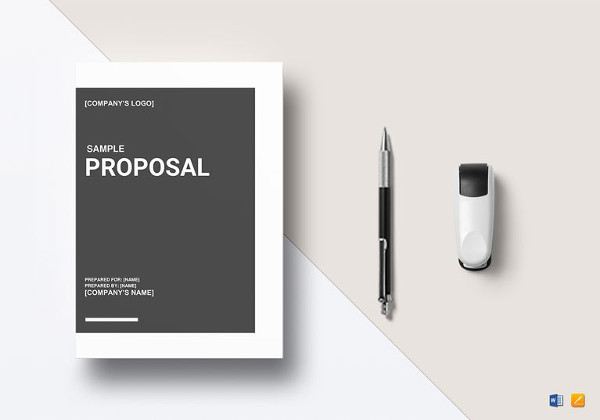 Music Event Sponsorship Proposal
Charity Event
Sports Sponsorship
Free Event
Community Event
Kinds of Event Sponsorship Proposal Templates
The format of an event sponsorship proposal template differ from the event proposal templates and the budget proposal templates due to the fact that the proposal must be impressive and convincing at the same time.
Here are some free proposal templates at your disposal:
Music Event Sponsorship Proposal – This proposal is designed to convince prospective sponsors to shoulder particular expenses for a music event such as a live concert or a variety show.
Charity Event Sponsorship Proposal – Businesses have a duty to provide consumer products and services and to serve the community which is defined, in business terms, as a corporate social responsibility.
Sports Event Sponsorship Proposal – There is always need for sponsorship for sports events that are held regionally, nationally, or internationally. Sponsors can fund certain athletes or the event itself which is the scope of this proposal template.
Free Admission Event Sponsorship Proposal – To cater to the masses, businesses often do free admission events as a marketing tool for the business entity. This template can also be used in best festival events.
Community Event Sponsorship Proposal – Community events are mostly sponsored by one or two business entities. These entities have been offered with a sponsorship proposal.
School Event Sponsorship Proposal – Big school events often need the funds from particular sponsors. Presenting a sponsorship proposal to various entities will help achieve the desired outcome.
Event Sponsorship in PDF
Best Event
Corporate Event
Party Event
Writing an Effective Event Sponsorship Proposal
The following are the tips in achieving an effective event sponsorship proposal for your events:
Always set a meeting. Having a meeting with the potential sponsors entails conversations with them increasing the chances of meeting their needs on your event sponsorship proposal pitch.
Cater to potential sponsor's needs. The proposal must cover the benefits and the needs of the sponsoring entity. For example, as a way of marketing the sponsoring entity similar to marketing proposal templates, the audience of your event must be prospective customers to the potential sponsor business entity.
Make proposal short but on point. Present the event sponsorship proposal in a short and concise manner. All the points you want to stress must be evident on the proposal. Your intentions and desires to partner with the business entity on the event must be elaborated on point.
Unlike service proposal templates, event sponsorship proposal templates are created as a guide for the proposing business entity in their intention of acquiring enough funds from potential sponsors for the event they are preparing. Creating an impressive proposal for an event sponsorship may be less difficult for the business entity with the help of these templates.