Proposal Templates
47+ Free Proposal Templates in MS Word
fbeaIn the world of business, a proposal is a written office document that is handed to the seller, producer, consumer, or any prospective buyer who shows interest in buying a product templates or hiring a service from you. Hence, in layman's terms, it is the seller's way of convincing the buyer to indulge in their product or service. You can submit a proposal for many different purposes, such as video productions, construction sponsorships, business education, consulting services, new positions, mobile app development services , and much more.
Table of Content
In modern business, employees are regularly expected to put forth an innovative and detailed simple proposal that can help improve the company or the organization as a whole. In a proposal document, there are various elements like the cover page, pricing estimate, executive summary, management team, target market, terms, conditions, contact information, timeline, appendix, product information, service information, and any other details necessary to your business purpose.
Proposals are agreements set by sellers to buyers/consumers. It is one of the most effective ways to convince your prospective buyers/customers to buy your products.
47+ Free Proposal Templates
Sample Restaurant Consulting Proposal Template
Free Investment Proposal Template
Basic Startup Investment Proposal Template
Printable Wedding Event Proposal Letter Template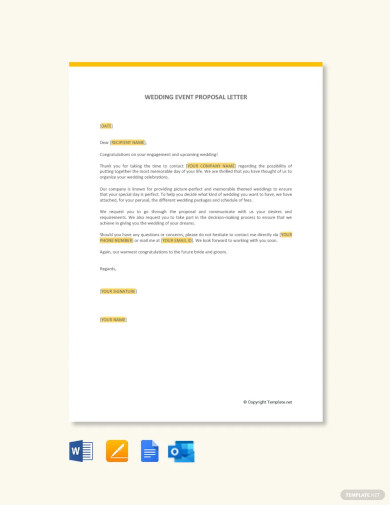 Basic Product Photography Proposal Template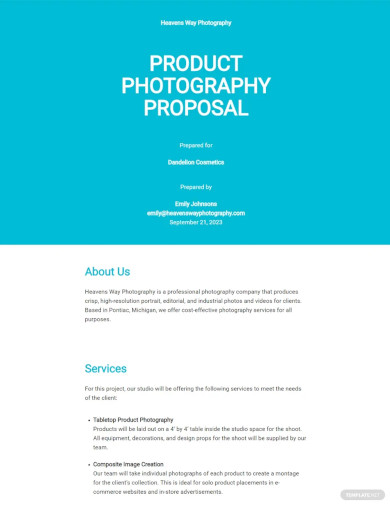 Sample Proposal Template
A proposal is a way to put into action your creative ideas and also come up with a satisfying result. The above-mentioned template is one such proposal that helps you make the best one you need. With the help of this template, you can ensure that you have the best results for your business. It will help you create a professional sample proposal and achieve your business templates. Form new ventures and business proposals by taking advantage of this professional template. For added convenience, it comes in different file formats that you can edit with different editing programs.
Sample Design Proposal Template
This above-mentioned design proposal in word can be of great use to you when you want to design the perfect proposal you need for your business, no matter which industry you work for. Since our small business templates gurus made it, rest assured that its content is of the highest quality. All users will also be delighted to know that this template is available in various file formats, so you can edit it on any electronic device you pick.
Simple Cover Page Proposal Template
The approval completely depends on the kind and type of proposal you are making. Do you have an important proposal coming up? There is no reason to be intimidated by your bosses! There's always a first time. You can easily impress your superiors with the help of a great proposal if you make the smart decision of choosing a proposal in PDF. These samples can act as a guide while you create your proposal.
Basic Small Business Proposal Format
Presenting a new business proposal to a client can be a tough job. Expect that you'll be bombarded with questions when you present them to your clients. The future of a business project depends on how well you make your business proposal and how good an impression you can make about what you do on the minds of your investors. The above-mentioned templates are just the right thing for you. It has everything you need to have a top-notch business basic proposal. Download, edit and view it on any of your devices.
Simple Project Proposal Template
Sample Sponsorship Proposal Template
Offer Letter for Business Proposal Template
Simple Construction Work Proposal Template
Basic Video Contract Proposal Template
Mobile App Development Proposal Template
Proposals are not easy to make, so they have to be very honest. You can make the best proposal with the help of this proposal format, which is mentioned above. It saves you the pain and effort as you do not have to make one from scratch. Present your new project in a systematic and orderly way by adding your details as and when needed n this file. We have made this to be as convenient as possible for you to download and utilize for whatever your small business wants or needs may be.
Free One Page Writing Proposal Template
Free Draft Project Proposal Template
Modern Business Proposal Template
Simple Request Service Proposal Template
Free Education Grant Proposal Template
Sample Editable Proposal Word Template
Basic Proposal Outline in Word Example
Easy to Edit Proposal Word Template
The above simple template will be there to help you to create any kind of proposal for retail business needs you need. It is easily editable and fully customizable using any chosen application or program that supports different file formats. Make good use of this extremely useful template now and be on your way to having your proposal accepted, as it will cover all the important.
Printable Business Proposal Template
An essential guide that outlines the goals and details on how to achieve said goals is mentioned above. That is a business proposal. If you want to make the right proposal in the right way, then this above-mentioned bid proposal is just the file for you. This will help you keep your business running. Another added advantage of this template is that it is available in many file formats, so you can pick the one you like best. Try it out now!
Minimal Proposal Template In Google Docs Example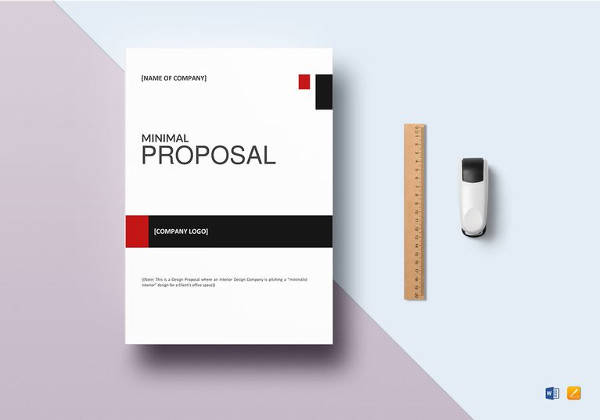 The more effective your plans are, the better your proposal would be. Your proposal should be as simple and effective as possible so that the right message is sent. The above template is one such proposal template. All you have to do is open and edit the template using your favorite IT Software or program that is compatible with it.
General Sales Proposal Template
Free Bid Proposal Template in DOC Format
Free Printable Job Proposal Template
A job proposal is used when you are asking a company to hire you. That could either be by sending them a letter with the relevant skills you possess and attaching it with your resume or through the use of a job proposal. Such a proposal explains why you are fit for a certain position the IT company is hiring for. You can also download this template with ease on any electronic device as it is not just limited to a computer or a PC. Try it out now!
Free IT Software Project Proposal Word Template
Simple Office Cleaning Proposal Template
Editable Investment Proposal Word Template
Easy to Print Budget Proposal Word Template
Word Format Staff New Position Hiring Proposal Template
proposal-templates.com
Business Consulting Proposal Template MS Word Format
Free Bank Loan Proposal Word Template
proposal-templates.com
Free Medical Assistance Proposal Template
proposal-templates.com
Professional Proposal Word 2010 Template
Studnet Science Background Research Proposal Word 2010
proposal-templates.com
Formal Business Proposal Letter Microsoft Word
proposal-templates.com
Full Generic Business Proposal Word Template
MS Word Proposal Contract & Invoice Template
Creative Business Event Proposal Template in Word
Short Word Format Proposal Template
Minimal Professional Proposal Template Microsoft Word
Free Microsoft Word Proposal Brochure Template
Business Problem Solving Proposal Word Template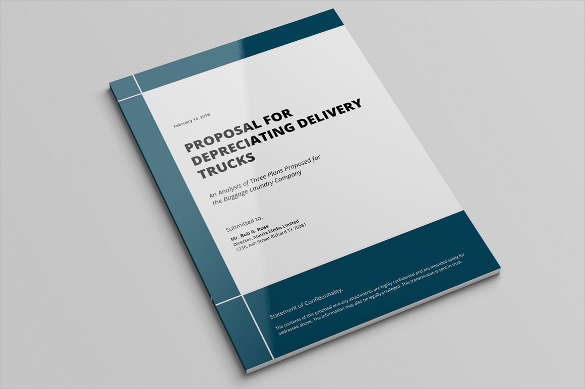 What Is a Proposal?
A proposal can be defined as a written offer from a seller to a prospective buyer. It can also be described as a plan or a suggestion to change the specific price of the purchase of the client. Writing a proposal is not an easy thing to do, but you can make an effective one by using any of the proposal in pages available online. You can save a lot of time and effort as you do not have to write a proposal from scratch.
Statistics show that an RFP's (request for proposal) win rate is usually less than 5%, which means that there is only a little chance for your proposal to succeed.
Nevertheless, having an RFP proposal template at hand will cut your average time in working on the document from 30 hours to 10 hours.
According to CBS, the number one reason for the rejection of proposals is the unnecessary excessive use of jargon or biz-blab.
Creating a Proposal
Step 1: Define Your Audience
The first step towards creating the right proposals relevant is to define the audience you are targeting. Make sure you think about the clients and buyers while you are advertising the proposal. It means that you should know who will be reading your proposal and what it is that they would expect from you.
Step 2: Elements and Details
The next step would be to add all the necessary elements and details to the proposal. These details include the company details, what the proposal is about, the issue you are addressing, and the right solution that you want to give as well. This will make the clients understand the proposal better. Also, check out proposal letter. Explain each detail adequately. Keep the elements in mind-how are you going to convince your clients that you are unique and should be chosen from the rest of the firms available.
Step 3: Introduction
Mention the name, logo, and address of your company. Give a strong introduction to your firm and mention the objectives and goals you are to follow. Remember, your proposal should be useful and purposeful to the person reading it, so make sure it is. Give a little background information about all the details you are mentioning. Give plausible solutions to the issues that you rose in the minds of the reader and explain why it is the right solution too.
Step 4: Schedule and Budget
Adding a schedule of the work you are going to do and the budget is essential. A budget templates helps you keep an eye on the income and expenses of the project, and the schedule enables you to understand what to do when and what is the best way to get the work done right. Your proposal should make sense financially, and also; the schedule should be proper so that it is easy to follow.
Step 5: Edit and Review
The final step in creating a proposal is to edit it wherever necessary. Make sure that you check if you have written all the data right, including the numbers you provide in the sample budget. Check and recheck just to be sure that you are not missing out on any vital information. Check the project proposal for more details. Review it a final time, and then send it to whomever it may concern.
Tips on How to Create Proposals:
The best way to design a proposal would be to pick the template you think fits you best in any file format, add your details and make it your own. Technically, they offer a shortcut and allow you to skip the hassle. These are however a few things you can keep in mind-
You must take into consideration the type of proposal that is being designed. If it is a formal proposal, it will require the utmost care and precision; otherwise, you can keep it simple and informal. There are many consulting proposals available online that you can go through and choose the best out of the lot.
You cannot afford to miss out on any important points in the proposal. The approval of your proposal depends on the points and facts you mention in the proposal entirely. You must be very thorough when it comes to creating this. The editable accounting proposal that is available online can be of great help as they allow you to come up with proposals that can be used for professional use.
The presentation of the proposal is essential. It is the first and foremost thing the recipient will notice, and thus, the impression being formed on your presentation starts from there. While choosing a proposal that will suit you best, you must look at the overall layout of the proposal so that you can pick the one that matches your business line perfectly.
Types of Proposals:
There are essentially three types of proposals that are commonly used in business. They are:
Formally solicited proposals -These are those proposals that can also be in use for business contract. It usually consists of a request for a proposal, which must be followed by a request for a quotation, price, or amount. Aside from that, it also includes an invitation for bid and request for information.
Informally solicited proposals – These kinds of templates are informal and better to use than not professionally. For example, take a casual conversation between a vendor and his/her prospective buyer. The buyer, now interested in a particular product, asks for a proposal from the vendor who agrees. If the proposal is agreed upon, they proceed to the next step of the transaction.
Unsolicited proposals – These kinds of proposals do not require communication between the consumer and the producer. They are, in a way, generic — for example, advertising brochures. There are also proposals put forth by companies and this service to convince users and consumers.
Why Use Proposal Templates?
A proposal is undoubtedly one of the best ways to put forward a particular strategy. But did you know that the best way to create a proposal is to use the simple Word proposal templates that are available online? These are already ready for you, and you just have to download them. Once you do, you can easily edit these proposals and customize them to fit your needs and preferences.
We hope that you have enjoyed the collection of simple proposal we have for you in this article. Feel free to take advantage of them as they are ready-made and designed by professionals. By entering your necessary proposal details in the spaces provided, you can make the perfect proposal anytime, anywhere.
General FAQs:
1. What must be included in a proposal?
A design proposal must catch the reader's attention, making them want to read more. It must also consist of the problem, the solution to the problem, the budget, the plan, etc.
2. What is the purpose of a proposal?
A proposal is a written document that can be prepared for an internal prospect. This can be used to fill an organizational need or solve a problem. It is prepared in an attempt to persuade the proposed to adopt the proposals' solution to a specific problem or need.
3. Why does one need a proposal?
One needs a proposal because a proposal has many other critical functions, and the proposal needs to be of good quality to fulfill all the needs of all the parties involved. It acts as written proof of all the terms and conditions agreed by all those involved in it.
4. List the uses of a proposal.
A proposal is a requested/solicited submission by one party to buy products or services from another. It is not a promise to commit, but if the requested parties accept it, then they are expected to follow it through and negotiate if needed.