When a big project has been bagged, the foremost thing that is to be done is to plan the budget. A proposal is laid out regarding the expenses that to be taking place on the project on different areas of the work involved in it.You may also see proposal templates.
Budget Proposal Template
Simple Budget Proposal Template
Business Budget Proposal
Event Budget Proposal Sample
A budget proposal is a plan that is made proposing the amount of money that is estimated to be spent on the project to the head of the company. It is really important to make a budget proposal and then go ahead with making a project budget template after this is done.
Restaurant Budget Proposal
Easy to Edit Budget Proposal Word Template
Event Budget Proposal Template
Investment Proposal Template in iPages
Simple Bid Proposal Template in Google Docs
Project Proposal Template in Word Format
Real Estate Investment Proposal Template
Easy to Edit Business Proposal Word Template
Easy to Print Proposal Template
Mentorship Project Sample Budget Proposal Template
naccho.org The Sample Proposed Budget Planning Summary Template will include all the details of the product's category and description along with the due date of the event and the document can be named as per the event. The Project Budget Proposal Template is one of the ideal solutions for defining business or project budgets to ensure that your operations never experience a downward curve. All of these templates come with pre-defined headers, sections, and fields to assist you define all your crucial and important goals along with their estimated time completion dates and associated budgets to conduct all of the related activities smoothly.
Travel Budget Proposal Template
The Travel Budget Proposal Template helps you to define, state, mention, and track the amount required for a specific tour, travel, vacation or a business trip. Ideal for schools, colleges, businesses, and even for personal use, all of these templates help you evaluate various factors and undertake study tours to mention the estimated money required to organize trips and tours. You may also see Budget Proposals for a Restaurant.
Sample Proposed Budget Planning Summary Template
iup.edu Mentorship Project Sample Budget Proposal Template contains the relevant information of the annual salary drawn along with the name and designation of the concerned person. This can be created on an excel sheet with customizable features. You may also see Proposal Templates in Excel.
As the name suggests, the Event Budget Proposal Template comes quite handy while organizing, planning, and making arrangements for an event. The template comes with pre-defined headers, sections, and fields that can be customized to meet desired purposes. You can customize the template to enlist all the important items, things, and activities that can make your event a success.
Sample Proposal Budget Template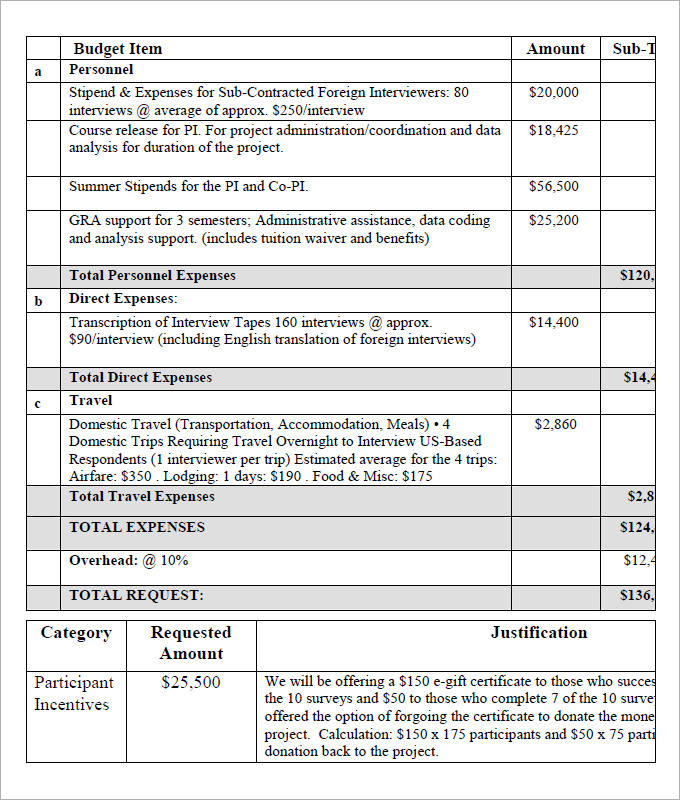 shrm.org Sample Proposal Budget Template will list all the different expenses including travel, personnel, overhead etc. This excel document can be sub-categorized according to the number of expenses you need to list. You may also see Proposal Formats. The Office Meet Budget Proposal Template is one of the easiest and simplest ways to organize small team meets and even business meets within office premises to discuss important business decisions with ease. All of these templates are segmented into various sections and can be customized to help you create a detailed budget proposal, including estimate for food, catering services, sound and equipment charges, decoration expenses, and other vital things.
Project Preparing Budget Proposal Template
un.org The Project Preparing Budget Proposal Template will help to maintain a transparent calculation of the expenses required for training, officers, consultants, refreshments, stationeries, accommodation etc. the source of the fund can also be included in the document. You may also see Program Proposal Templates
Small Business Budget Proposal Template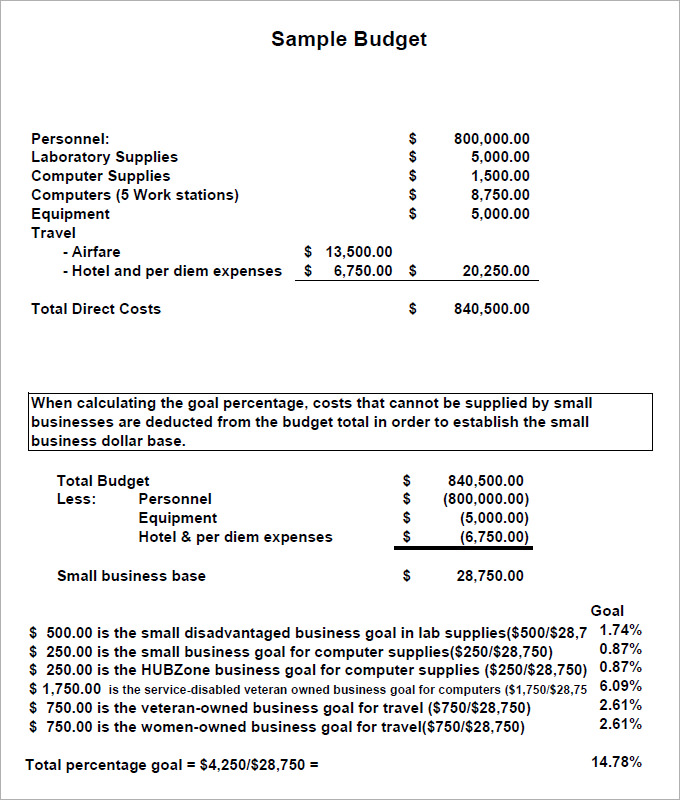 ospa.umn.edu With the Small Business Budget Proposal Template, the total expected budget and the financial viability can be explained on a word document which is essential to track the expenses while setting up a small business
What Does a Budget Proposal Template Usually Consist Of?
A budget proposal plan is designed based on the project's necessity. Before you download one of the sample budget proposal templates that we have got for free, you should know what a plan such as that is usually made up of. Here are all the components of the budget proposal examples listed out for you.
The details of the project for which the budget is being planned.
The project is then divided into parts and the budget of each part is designed.
A proposal is made for this budget plan.
We have collected a wide range of Budget Proposal Templates, hope these templates will help you.
Benefits of Using a Budget Proposal Template
One of the biggest advantages of using a Budget Proposal Template is that it helps you collect all the information about the essential things that are required at a particular place on a define time. Creating a detailed list of stuff you'll require while organizing a meet, planning an event, or even to complete a project enables you to analyze, plan, and quote the estimated cost or expenses that are required to be borne in order to make the desired event or activity successful.
Since all of these templates aim at providing a detailed estimate of money required for the project, event or meet, you can easily analyze the areas where you can cut down the expenses and use them for other crucial things. You may also see Sales Proposal Templates.
Designing a detailed, self-explanatory, and clear Budget Proposal Template can be a tedious task, but taking help of these readymade templates can save a lot of time, money and effort. The templates enable you to define all the expenses in detail to ensure that your business keeps running and make constant efforts to make it more successful. Additionally, defining a budget proposal at the initial stages also saves you from getting overbilled. You may also see Activity Proposal Templates.