It is a proven fact that all businesses apply for loans. Even the most financially stable companies loan funds from banks and other private institutions so that the resources they currently have will not be diminished. Rather, they use someone else's money to fund their own business projects. It is a great simple strategy used by companies to keep the funds rolling in their bank accounts without having to shell out large amounts from their own coffers. You may also see agreement samples.
663+ Restaurant Templates in PDF, Word, Excel, PSD, Google Docs, PowerPoint, InDesign, Apple Pages, Google Sheets, Publisher, Apple Numbers, Illustrator, Apple Keynote, Google Slides, HTML5 - START DOWNLOADING
Loan Agreement Template
Commercial Loan Agreement Template
Restaurant Loan Agreement Stockholder to Corporation Template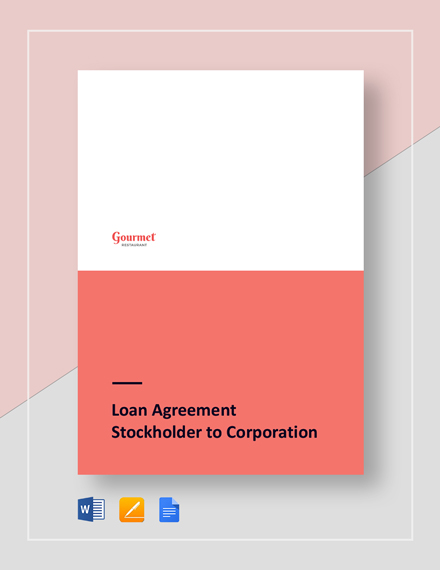 It does not matter if a company is a large multinational corporation or simply a small enterprise employing two persons, loans are essential for a company's survival and sustainability. Generally, Loans are used for a number of functions, namely to fund a new project, renovate an office space, pay for employee salaries, and the like. There is no limit on how these loans are used, as long as the party who avails of the loan will pay it together with the interest fees.
Equipment Loan Agreement Template
Loan Agreement Stockholder to Corporation Template
Restaurant Loan Agreement Template
Loan Application Review Form Template
Loan Calculator Template
Restaurants and Hotels are no different when it comes to procuring loans. Restaurants need to replenish their stocks every day, and sometimes if they do not earn or even break even for a few days, the business suffers. So, they look for loans from different financial institutions in order to stay in business.
If you are thinking of taking out a loan, or offering one, here are some loan agreement templates you can use for your restaurant, cafe, or bakery.
Offer to Loan Customers to Move December Payment Template
Bank Loan Application Checklist Form Template
Checklist Partnership Agreement Template
Tips on how to write a loan agreement
Loan agreements are very common business documents that you can use for various needs. Here are some tips on how to write a loan agreement to make sure both parties will clearly understand all terms and conditions.
List down the payment terms
The payment terms are the most important aspect in any loan agreement, this is to make sure that the other party (lendee) will pay the loan in the time frame discussed by both parties. Both parties can negotiate on the business loan and the payment terms but once the terms have been finalized, placed into writing and have been notarized, then negotiations are off. The lendee needs to abide on what is written in the agreement. You may also see personal loan agreement
List down how both parties can benefit from the agreement
In any general loan agreement, most of the time, the party that can benefit the most is the lendee, especially if the business becomes profitable. This is not always the case, though, as both parties can benefit if both abide by the rules and guidelines of the basic agreement. If you are the lendee or the party looking for a loan, then you should list down how not only you the lendee but also the lender can benefit from the business agreement. The lender can benefit not only from earning interest from the loan, but also from having more exposure in the official market.
Include an executive summary
This is an unwritten rule when it comes to any business document. The executive summary provides legitimacy to the company as the information provided in the executive summary includes the most basic company information such as the company name, products and services, address and online portfolio, business licenses, mission and vision statements, and company goals. Include the executive summary at the first part of the document so that the reader will be given a background on the subsequent parts of the documents.