Resume
7+ Elementary Teacher Resume Templates
A fine teacher resume could take you to the places you've always aimed for or get you that fancy job you have always looked for. When you are an elementary teacher who is motivated to imparting knowledge to children, the reason alone would suffice. Your services are valuable to most of the schools that search for few teachers having determination and involvement. But backed up by a powerful Resume Templates, you can land up in a higher paid profile.
Free Teacher Resume Template
Elementary School Teacher Resume Template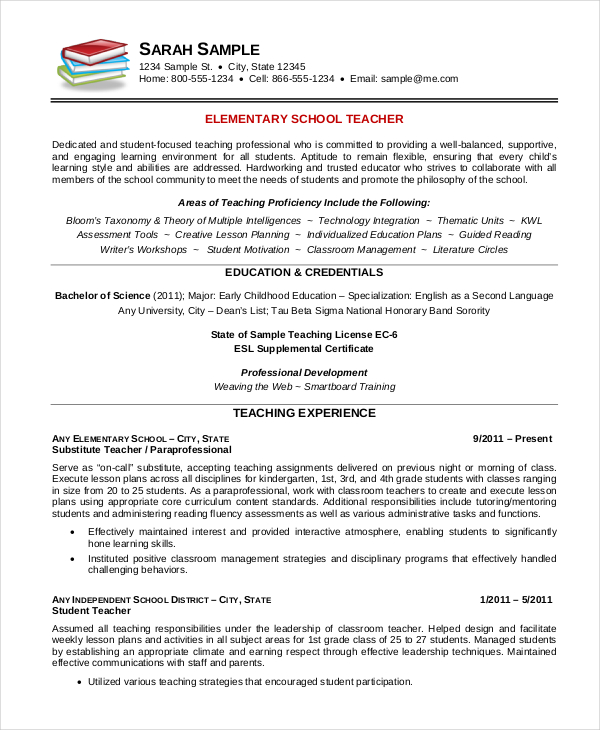 resume-resource.com
As an elementary school teacher, if you are looking for a job in another school, this template aids you by providing a general layout of how the resume should appear. You may also see Executive Resume Template.
Veteran Elementary Teacher Resume
monster.com
Are you a long time, well-versed teacher who is one of the best in the subjects you handle? Then you can portray your gained wisdom and proficiency with this sample resume as a guide.
Experienced Elementary Teacher Resume
niu.edu
If you have cultivated several years of experience in the teaching profession and would like to impose your skills on the new school you are planning to choose, this template would be of help.
First Year Elementary Teacher Resume
calstatela.edu
For your first-year elementary teaching experience, this type of resume would be an ideal choice for developing your resume on. Putting forth your acquired attributes would be the main criteria in this kind of resumes.
Upper Class School Teacher Resume
vanderbilt.edu
When you are looking for being promoted to an upper-class school or when you think you have the required knowledge and experience to take on the upper-class students, you've to produce these type of resumes.
Sample Teacher Resume Template
cms.bsu.edu
Elementary School Teacher Sample Resume
cvtips.com
> What to Include in an Elementary Teacher Resume?
When you are crafting your elementary teacher resume, all essential elements should be in place to make your resume presentable and recognisable. So make sure to include the following, You may also see Cashier Resume Template.
The areas you are proficient in teaching / fields of expertise.
Your educational qualification details in a chronological order.
The impressive teaching experience you have acquired over the years.
Additional achievements or feats which you would want the employers to know about.
> Elementary Teacher Resume Tips
If you follow the below tips in forming your resume, you could have a greater exposure to the person planning to employ you,
Put your accomplishments and experience in bullet points.
Enhance and liven up your resume with the different aspects of your existing career and challenges faced.
Include your certification assets as they also play a major role in the selection of a suitable resume.
The prime focus should be on your key skill set.
> Mistakes to Avoid in Elementary Teacher Resume
Below are the pointers to be imposed to avoid deliberate errors in a resume
Do not involve multiple confusing jargons when trying to explain your area of expertise.
This concept should be clear and singularly important.
Do not emphasise everything or give over importance to all areas in common as this would cloud the employer's vision on looking at your resume.
Do not jumble words and make your resume incoherent.
The greater the need to look for a job, the more important is the need to create a striking resume which would land you the job no matter what. If you already have the required maturity and training for becoming a principal, the principal resumes are definitely worth checking out.