Tutorials
How to Write a Bill of Sale – Tutorial
A bill of sale is required for reported or registered goods, especially for private transfer of motor vehicles. For writing this bill of sale, you don't have to hire a professional because there are already various guidelines about how to write a bill of sale online.
Here are some guidelines to follow:
1. Request Documents
Find the official title of your vehicle. Another helpful document is a receipt or proof of purchase.
Obtain the up-to-date registration certificate. Once you have a motor vehicle, you have to have proof of long-term registration or any related proofs.
Write down your vehicle identification number (VIN). You can find it in the car manual, in the door jamb, near the steering wheel or under the hood.
Write down the details of your vehicle, including the make, the model and the year of your vehicle.
Do some researches about the bill of sale rules in your state. This research will help you creating the right bill of sale because there must be some different requirements in each state.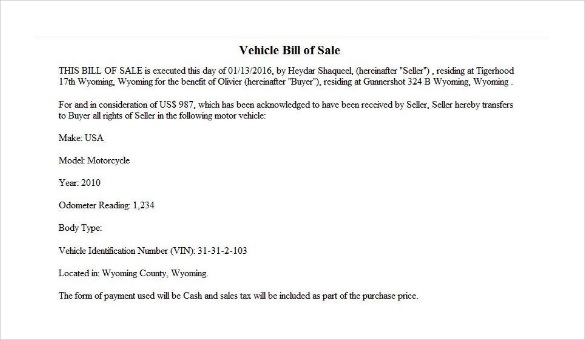 2. Buyer/ Seller Information
You have to request the full legal name and the address of the buyer.
After receiving the full legal name and address, you have to identify it.
(If you are a buyer) You have to recheck the full legal name of the first owner of the vehicle before the seller. It can be very helpful to get more secure sale.
3. Trace the price and other information
You have to determine the agreed price of the vehicle.
You have to discuss and decide the payment that you will make.
(If you are a buyer) Ask any stipulation about the warranties or returns of purchased item. These stipulations will help you minimizing the disadvantages of purchasing item. The stipulation that you may ask, such as by asking some days to return the purchased motor vehicle if something unexpected happens.
4. How to Write a Bill of Sale
You should not write down the bill by hand writing. It must be written by a computer. Before printing it out, you have to proof it and make change if there is something incorrect.
Type "Bill of Sale" at the top of the document as a header, followed by date of issued bill.
Introduce yourself as a seller on a document, such as "I, (your name), of (your address) declare that I am the legal and lawful owner of (your item) and have authority to sell it".
Describe every detail of your motor vehicle on the blanks. Such as mode, make, VIN, identifying characteristics, registration number, and others. These details will be needed for the buyer to make decision whether he deals or not.
Create a statement of sale. Such as, "I, (your name as a seller), do hereby sell, convey and transfer the above-described item for (the price) to (buyer's full name and address).
Separate each stipulation on the document into different paragraph.
Write down the statement of oath. Such as "I affirm under penalty of perjury that every fact stated here is true to the best of my knowledge."
Specify places for your name (as a seller), signature date, your signature, phone number and address.
Do some researches about the state laws and write down to the document.
If necessary, put a place for the Notary Public's name, signature and seal.
5. Final Act: Proofing and Printing
Third party should be asked for proofing your general bill of sale.
Print out your document for 3 copies, which are for buyer, seller and the transfer (DMV).
Sign the document after filling out the information together (between seller and buyer).