Tutorials
How to Create an Invoice on Excel
Microsoft Excel is a marvelous work management tool that can handle many of the financial calculations you make in running your business. Among many other business functions, Excel can also help you in making invoice for your products; i.e., prepare an itemized list of products sold or services offered. You can create an invoice template in Excel by downloading a pre-made invoice template or creating an invoice sample from a blank workbook.
Start-up
Click the Start button on the Windows taskbar. You can see it on the bottom, left-hand corner of your computer's desktop or "home" screen)
The first step of course is to open the file. On the desktop screen, click on the Start Menu, go to Microsoft Office, click on Microsoft Office Excel and open the application. If you have the Excel sheet already saved in your system already, go to its location and open it.
You will now have a blank worksheet of MS Excel open in front of you. Almost all the commands and functions are on top; categorized in tabs, and further organized as groups.
Option1: Downloading a Pre-Made Template
Locating a Template
Click on the tab File, and from the menu underneath it, click New. You will see many a few templates categorized under Available Templates and many more under Microsoft Office Templates. In the latter category, templates for Invoices can be seen.
Selecting the Desired Template
There are many ready-to-use templates available for the user under Available Templates in Invoices. You do not have to open each and every sample before selection; rather if you just click on a template, a preview appears on the right side the Available Template window. This will give you an idea of how the template will look like. All these templates are complete in term of layout and formatting with formulae inserted. And all these templates are completely customizable, i.e. you can change any aspect of the template according to your requirement.
Download the Template
After you have finalized the selection, you can easily download the template. The Download button is given right under the preview. Although the templates are customizable, yet it is advised to gather the required information in choosing the best suitable template for your invoice.
Option 2: Creating Your Own Invoice
Invoice Size
On launching MS Excel, a blank worksheet is shown. So, technically our first step in creating an Microsoft Invoice starts after that. We will first decide on a paper size. The option is available in Page Setup group in Page Layout tab. A dotted line appears to show the height and width of the paper or printable region. These are the paper boundaries and the invoice template word should be created within these dotted lines.
Note: You can also confirm your boundaries by viewing Page Layout in Workbook Views group in View tab.
Invoice Heading Labels
Typically, any invoice header consists of following parts:
Invoice Title: Give your invoice a title that describes what the Microsoft Invoice Template is. For instance, "Invoice" or "Price Quote". The title tells the reader what they are going to look. This comes on top.
Business Title:Use the same font and style that you are using for other stationary items of your business. Adding a company logo creates a more personalized view to the invoice.
Invoice Date: This should be date of creation of invoice.
Invoice Number:It solely depends on your style and your ease. You can go for all-numeric to alpha-numeric number. It can also be created on the basis of nature of business and scope of clientele.
Note: There is no position defined for these entries. These can be placed according to your own requirements and presentation needs.
Sender and Recipient Contact Information
This is the most important information and should come right after the heading. The sender's information precedes the client's information.
Sender's business information includesthe name of authorized personnel for accounts receivable, company's street address, phone, fax, and email.
Similarly, client's information includes the company's name, authorized personnel for accounts payable, street address, phone, fax, and email to contact.
Billing Information
Now, it's time to actually prepare the 'body' of the invoice. For the basic invoice, we will require the following columns: Quantity, Description, Unit Price and Total Price. The Total Amount to be added in the end.
Start off by inputting a formula which will calculate the total price for each item on the list. In columns A, D and E type Quantity, Unit Price and Total Price respectively. To calculate the total price, you'd need to multiply Unit Price and Quantity. To do so, enter the formula =A20*D20in cell E20.
To calculate Total Amount, simple enter the formula =SUM(E20:E34) and press ENTER. This is the auto-summation formula that will calculate all the prices in column E under Total Price.
Additional Tax
If there are taxes applicable on the Total Amount, you'd have to type it under 'Applicable Tax'. This is will be go in just below the 'Total Amount' and 'Total Payable'. Next, proceed with specifying the Tax percentage as well. The formula to input for this calculation is as Total Payable =E35+(E35*E36)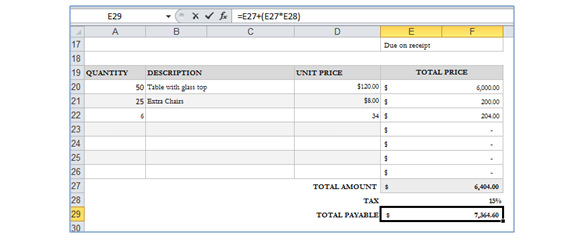 Terms of Payment and Other Notes
To finish off, don't forget to include the terms and conditions of payment, which is generally inserted just above the billing invoice details. The common vocabulary used to specify payment terms are as follows: "Due on receipt," "Due within 14 days," "Due within 30 days," or "Due within 60 days."
Further notes or information related to invoice or payment can be included at the bottom of the invoice. This could include a memo for accepted methods of payment, or just a thank-you note.
Save Your Invoice
Save your invoice with a namerelevant to the client and/or your product or service. This will help you in remembering what the invoice was made for. Some examples could be your company name, your Product or service nameor clients name and the type and number of invoice.