Tutorials
How to Create a Family Tree Chart in Excel, Word, Numbers, Pages, PDF – Tutorial
If you are looking forward to becoming your family's genealogist, creating a family tree should be one of your significant steps towards achieving that. It would be sheer fun presenting the whole family tree to your relatives. This is because tracing your roots, extended family, cousins, or any 10 generation relatives is more of detective work. You just get some leads to uncover more relationship and ancestry information. Carrying out this task can be tedious, but it will be worth the trial in the end.
Microsoft Excel can produce complex family tree charts and can be used for the longest time as new generations come. Whether for a school project, history, preschool, or English classes, our free and fillable genelogy charts will help you complete the work in no time. Download blank copies and start following steps to guide you in creating a family tree.
Free English Blank Family Tree Chart Template
Family Relationship Tree Chart Template
ngsgenealogy.org
Family History Family Tree Chart Template
courts.ca.gov
Genealogy Family Tree Chart Template
cf.ltkcdn.net
10 Generation Ancestry Family Tree Chart Template
marthastewart.com
Fillable Family Tree Chart Template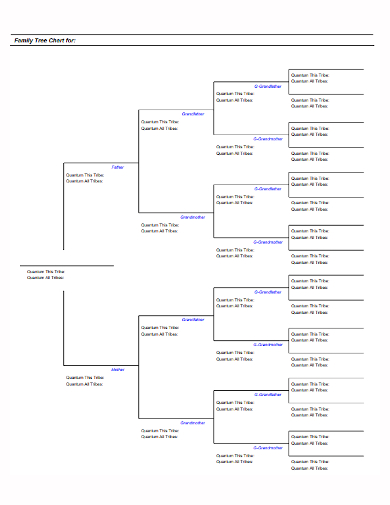 klamathtribes.org
Extended Family Relationship Tree Chart Template
mymcpl.org
Cousins Family Tree Chart Template
uab.edu
Pre School Project Family Tree Chart Template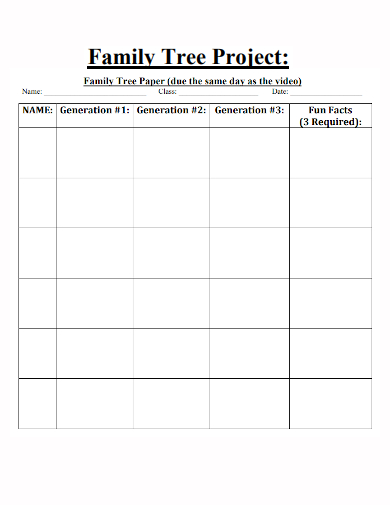 azwestern.edu
Step 1: Create a New Spreadsheet
Launch a new Excel document by clicking the start button, and then click on Microsoft Office to select Microsoft Excel Templates. Once all that is done, click File from the menu and click New to select a template to create a family tree. In some versions of Excel, the options are different where a new pane is opened where you choose from various templates categories.
Alternatively, once you have opened a new spreadsheet, click Insert at the top of the menu bar or on the ribbon menu. Then, click Shape to choose the exact shape you want on your family tree sample. You can select between circular, triangular, or rectangular shapes.
Step 2: Insert the Shapes in the Spreadsheet
Next, hover the mouse on the shapes and make a selection of the desired shapes that you would like to insert in the family chart. After you have selected, drag the shapes into the Excel spreadsheet templates. In case you want to alter the shape and make it better, press Shift and drag the shape down in the Excel worksheet.
Step 3: Enter Text in the Shape
In the lowest shape on the spreadsheet, enter the family name or your own name. Then adjust the color, font size, and any other style that you want to be included in the name.
Step 4: Insert more Shapes into the Family Tree
There are a few techniques that you can use to add more shapes to the family tree. The easiest is by copying and pasting the shapes. Click on the shape that is already created. Right-click on the shape and select copy or alternatively press CTRL + C to copy and CTRL + V to paste repeatedly until you achieve the number of shapes you want.
Arrange the shapes you have created in order depending on the hierarchy you have set. You can choose to typically place two or more shapes above the shape at the bottom which comprises your name. However, this depends on the family you want to create. For a basic family, it is easier to place the shapes on top of others.
Step 5: Insert Joining Lines
Click again on the Shapes menu to select your ideal line. A zigzag line is mostly used to join or connect two shapes to each other. You can click on the zigzag shape every time you want to connect two shapes. Drag the line on the shape and adjust it to fit between the shapes. Copy and paste the zigzag line every time you add a shape to connect it.
You can choose to give more details on your family tree; birth dates, names, photos, hobbies among other details. This will give you an opportunity to study more about your family members
You can choose to write the details within the shapes or in a cell within the spreadsheet. Excel gives you a chance to get more creative in creating amazing family tree charts.