It's never a cakewalk to organize a party. There are guests to invite, decorators to call up, caterers to look for and so on. It's not unnatural that the entire affair would start getting on to your nerves and in such situations, it's best to opt for a wedding agenda template for any party. The agenda will note down all the important activities of the party beforehand.
How to Organize s Party
Throwing a party means a whole lot of work to be done. Preparations have to be made left and right. Everything has to be ironed out smoothly to avoid minimal mistakes. In organizing a party, adequate planning is really needed to pull it through.
Decide on a Theme
Your theme should depend on the kind of party that you have and the age bracket of your visitors. If it's a children's party, you can go for a fairy tale theme. If it's for adults, go for an EDM-themed party. EDM stands for electronic dance music, which is a common trend nowadays. If you can't decide on a theme, you can just make a simple announcement of gathering. Let the guests, and you as well, enjoy the company of each other.
Make the Budget
Set a budget for the kind of party you have. Ask yourself how much you are willing to spend. Take a look at your finances and see how far you can go or how much of it that you'd be willing to spend for the party. As you begin to organize your party, you realize that there is too much or lack of money to cover the costs. Be faithful to your budget and stretch it as much as you can, if necessary.
Set the Date
Choose a date that's convenient for you and the guests you want to invite. Some of them might not make it, but that's okay as long as it falls on an ordinary day. Setting the date of the party on a holiday might result in a low visitor turnout since people have their own plans for that day. Having the party on a weekend is the most convenient time for most people to attend.
Pick a Venue
Choose a venue that can hold the number of visitors you plan to attend. Make arrangements with the staff of the venue and inquire how much you will have to pay. If you plan to hold the party in your house, clean the whole place in advance and prepare enough utensils for the visitors. If needed, rearrange some furniture to make more space for the visitors to walk around on. Give them enough seats but a lot of space for them to go around.
Prepare a Guest List
List down the people you want to invite to your party. Having a guest list enables you to control the number of people that you want to celebrate with you. It helps you estimate how much food you have to prepare and the other things that you want to give them.
Make and Send Invitations
After determining the people included in the guest list, begin designing the invitation. If it has a theme, conceptualize a design that suits the overall vibe of the party. You can go for a simple design if you don't have a theme for the party. You can also print the invitations and have a soft copy of it so it can be sent through email. Another way of informing and inviting people to your party is through social media. It has become easier for people nowadays to do just that.
Prepare the Food, Music, Decoration, and Games
Prepare more than enough for the guests. It should be complete with the appetizers, main course, and desserts. If you plan on sharing a drink with your guests, be generous with alcohol but keep it to a minimum. Decorate your house that suits the theme of your party. Make sure it does not intimidate the guests. For the music, create a playlist on Spotify that's mostly composed of dance music. Music makes the party more alive than ever. If you are at a certain venue, hire a disc jockey to take charge of the party's music. Have some games for the visitors and a little program to keep the party alive and going.
Take photos
To have a remembrance of the party, take as many photos as you can. Your guests will take photos as well but it's better to have your own photos. You can post it on social media or just store it on your computers. It's always good to have something to remember later on. You can also set up a photo booth and hire a photographer to take the photos. Have them printed and give them to the guests a few days after the party.
Be Responsible for their Safety
As the host of the party, you are responsible for your guest's safety at all times. Get their keys and keep it for a while if they are drinking too much alcohol. If they have already sobered up and eaten breakfast, you can give them back the keys. Be aware and careful of the minimal danger that might arise in the party. Be quick in providing solutions to ensure everyone's safety.
Give a little token at the end of the party
Purchase keychains or make a personalized token that you can give to your guests after the party. It's a simple way of thanking them for spending their time with you. Tokens don't have to have to be expensive and overly designed. It should look good and conveys your sincerity and gratefulness. Wrap them up in a paper box and tie a lace around it. It makes the token look better. When you have an agenda template before you, you always know the steps to be taken, one by one. Thus, the tension eases to a great extent and the agenda also eliminates the chances of missing out on any action unmindfully.
Goyder Tourism Working Party Agenda Template
goyder.sa.gov.au
Amend House Party Agenda Template
movetoamend.org
Wedding Party Agenda / Itinerary Template Free
dynamicweddings.ca
Office Party Agenda Template Download
aauwaction.org
Sample Bachelor Party Agenda Template
sarasmiamiweekend.files.wordpress.com
Free Dinner Party Agenda Template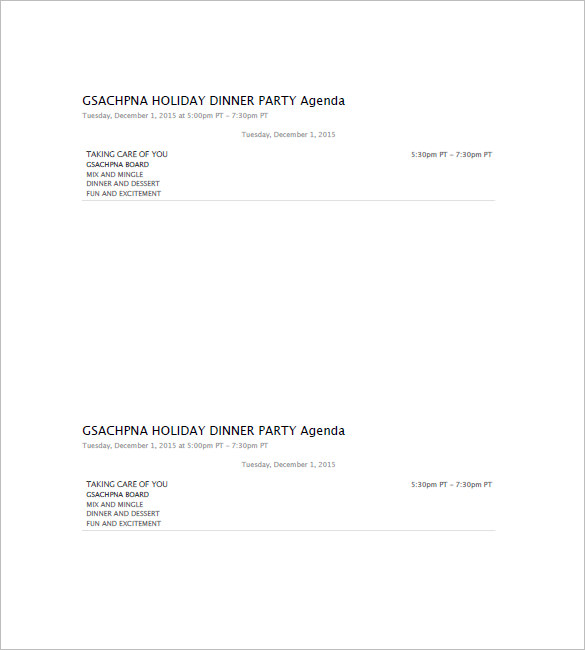 gsachpna.nursingnetwork.com
Printable Retirement Party Agenda Template
Holiday Party Agenda Template Example
specialevents.com
Free Christmas Party Agenda Template Download
downloads.bbc.co.uk
When you have an agenda template before you, you always know the steps to be taken, one by one. Thus, the tension eases to a great extent and the agenda also eliminates the chances of missing out on any action unmindfully. If you have any DMCA issues on this post, please contact us!