Agenda Templates
A Complete Guide To Making An Agenda
As a kid, have you ever wondered what it's like to be a president of a big company, sitting at the head of a table full of men and women in formal suits? If you were a kid born with a silver spoon in your mouth, you've probably watched your dad preside over a meeting and was in awe with how he presided it smoothly and with ease. What you didn't know then was that your dad had an agenda to guide him by in those meetings.
In every meeting, be it in a classroom between officers in a student council, to local officials in a town hall meeting, and even in large corporations where big business executives decide the next step in sales and marketing, an agenda is needed to guide each member in the steps of the meeting and which areas to discuss. Since the same principle applies to every form of assembly, we're giving you this applicable guide to making an agenda. This is a complete guide filled with different types and uses of an agenda. This guide is very helpful to readers who need to know about the structure and design of an agenda and how to make one to fit a meeting's purpose. This is a useful business tool as well as a helpful guide for making agendas in an instructional, easy-to-understand manner.
Basics of an Agenda
What is an Agenda?
In every organizational function, issues and topics to be discussed can often overlap with each other. When this happens, a meeting becomes chaotic if no guidelines are set in place. Since everyone has a concern to bring up when a meeting takes place, it's important to set a schedule for each item to be discussed to make a function as orderly as possible.
In a formal meeting, an agenda is set to discuss the issues and topics of concern from each of the participating members. For this reason, setting an agenda is very important and should be foremost on a meeting's schedule calendar. So what is an agenda?
An agenda lists all the functions and propositional activities in a meeting, be it in a corporate, government or private setting. It lists the order by which these functions are to be taken up, with one or more specific items that need to be acted upon. Although it's not usually a requirement, an agenda may include specific times for a single or several activities. An agenda usually begins with a call to order followed by a listing of the order of business and ending with an adjournment.
Oftentimes, an agenda is printed and distributed to participants of the meeting prior to the holding of the meeting itself. This way, the participants can prepare accordingly for topics to be discussed. Besides a corporate or school setting, an agenda may be used in a workshop, and most importantly in parliamentary procedures for organizations, civic groups, and of course, government parliamentarians.
Purpose of an Agenda?
An agenda is primarily used for business meetings and meant to list and outline the order of business meant to discuss important topics. The three main purposes of an agenda are the following:
To outline the primary and critical issues with the most impact on the organization that should be on top of the discussion. This way, participating members can prepare ahead of time.
To let members know all possible minimum information about the topics to be discussed. Also gives them time to gather and prepare all necessary questions and inputs they can contribute regarding all the topics in the discussion.
To keep them informed of the tasks and goals that need to be achieved to make the meeting successful.
Without these three important principles in an agenda, a meeting would become useless and very little accomplishment will be achieved. Worse, the meeting would become an exercise in futility, with the possibility that the members will end up fighting. To keep order and prevent chaos from happening, an agenda is necessary to make the meeting as productive as possible. Having an agenda especially in a business meeting will help accomplish the following:
Ensures the meeting stays on track
Keep the meeting orderly and in productive function
Make the meeting more efficient and get more things done
Make information sharing more accessible
Plans are developed more swiftly
Progress can be easily documented
Members can have more clarity in the meeting
Decisions can be done easily
Special projects and operations can proceed on schedule
Make all members function as an effective team
Planning an Agenda for a Meeting
Planning an agenda for a meeting doesn't have to be complicated. If your boss asks you to plan one for a corporate or business meeting, here are several tips that will guide you make an agenda as effectively as possible:
Plan and Prepare. Develop an agenda by preparing and planning for a meeting ahead of schedule and in advance. As the meeting planner, you may contact the attendees for their inputs and contribution to the agenda items. By reviewing the agenda in advance, the attendees can prepare their reports and all necessary documents for the meeting. You should also review any additions to the agenda just before the meeting starts in order not to miss out any relevant topics.
Controlling the Flow of the Meeting. Make the agenda in such a way that everyone can have a greater sense of control during the meeting. This is the main reason why an agenda must be sent out to members in advance. Everyone involved will know what to expect and would be prepared. You can decide in an agenda the members who would be reporting specific information during the meeting. You can also time the meeting to be within the specific time frame to make sure it wouldn't go too long and will have time for every issue to be discussed. When each member knows that their issues are on the agenda, they would less likely interfere during the course of the meeting and patiently wait for their turn to speak.
Promoting Productivity. Plan and make the agenda in such a way that every participant will be productive by concentrating on areas that need immediate action where decisions are needed as soon as possible. Oftentimes, companies suffer from backlogs of any actionable issues that have yet to be acted upon. Members leave meetings knowing they still have a lot more to discuss during the next meeting. To prevent this, make your agenda clear enough for members to act on any actionable items and those who are responsible for resolving them.
When planning an agenda, make sure you will ensure a smooth flow of the meeting in order to achieve results and accomplish its objective. Be sure to put the objective of the meeting on top of the agenda so that participants will know the primary reason for the meeting. Since an agenda is a checklist to ensure all important topics are covered, be sure to put only the most important ones that need to be discussed.
Step By Step Guide to Creating An Agenda
Since meetings can be quite tasking if done frequently, make sure your meeting will be as productive as possible in a clear, decision-oriented agenda that will focus on your desired goals.
To help you accomplish the desired goals and objectives of your meeting, here's how to make an agenda in a step by step process for easy reference
1. Title of your agenda.Since an agenda is considered an important document, your meeting agenda should have a title so participants and everyone concerned will know what the meeting is all about and what important items are to be discussed. Make your title as direct to the point as possible since it's a business document. Use a font most commonly used for formal business documents like Times New Roman, Arial or Calibri in size 11 or 12 font.
2. The participants and their roles.Send out and distribute your meeting announcement containing the names of all meeting participants and their responsibilities in the meeting. As previously discussed, make sure to send the meeting announcement well ahead in advance so that the participants can prepare what they need to discuss, carry out any preparations like preparing reports and other important documents, and clear their calendars to make room for the meeting.
3. Date, time, location and the duration of the meeting. Never forget to include the three important "W's" in the information header of your agenda. These three W's are the "What", "Where" and "When" information necessary for participants to be aware of the details of the meeting. Besides these three W's, your agenda's header should include a brief general information about the meeting without going into full details. Basically, the main pieces of information you should add in your header are the following:
– The date and time of the meeting
– Precise location of the meeting (which building, department, room, etc.)
– Participants/attendees. You may put job titles but these are optional
– Special guests and speakers (if there are any)
4. Statement of the meeting's objectives. After your agenda's header section, you may put a subheading for objective or purpose. Under this, write a brief description of the meeting and a statement of its objectives. This is called a meeting's abstract or executive summary. This is basically giving information about the meeting's discussion without going into comprehensive details
5. Schedule of main topics of the meeting. Oftentimes, business meetings overshoot their allotted time schedules due to conflicting ideas and too many topics on the agenda. To correct this, give your schedule a bold title with corresponding time for each topic so participants will be aware of the time frame interval needed for each one to be discussed
6. Allocate time for scheduled guests. If there are any important guests coming over to discuss specific topics of the meeting, you may need to dedicate a sizable amount of time for his slot. In this case, each of the meeting's regular participants will have to contend with a single schedule entry even if they have several topics to discuss to give way to the guest
7. Include time for Q & A. No matter how well a meeting's topic is discussed, there will always be participants in the meeting who need additional clarification on certain matters of the discussion. As a final entry in your agenda's, you may include a Q & A portion for any clarificatory topics to avoid confusion. However, if you think there are no additional topics to discuss or clarify, it's always best to end your meeting early
8. Check agenda for errors before distribution. Always be mindful of the details of your agenda and check for any embarrassing errors especially since participants and attendees are important persons in the company. Always proofread your agenda and correct all necessary errors before distributing copies of the agenda to each of the meeting's participants.
Agenda Format
Structure of an Agenda
Company meetings form the backbone of every successful achievement and objective. They are a perfect way to evaluate progress and correct past oversights. Since most companies ideally hold meetings once a month, making a well-written agenda for every meeting ensures the sessions flow smoothly and efficiently with each member working in the same direction. For this reason, it's essential that an agenda is well-planned to guide each member on which steps to take and what topics to take up.
While it's usually the president who does the call and chairs the meeting, it's usually the secretary's job to write an agenda based on the company president's suggestions. If you're the one tasked to make an agenda, you should write it in a standard formal format that is easy to read and comprehend. Remember that you need to distribute copies of the agenda to committee members. To make sure your agenda is made in the correct format, here's a guide to making the correct structure of a proper agenda and related things to consider:
An agenda generally includes the following:
The Title of the Meeting (e.g., Quality Assurance Evaluation Meeting)
Date, Start and End Time of the Meeting
Venue of the Meeting (building, room or conference number,etc.)
Issues to be Discussed in the Meeting
Such as:
– Main and important items to be discussed
– Review of activity from the previous meeting
– Approval of the minutes of the previous meeting
– Any other business
Things to consider:
Date and Time
Setting a regular timetable for your meeting, be it monthly or weekly, will let members prepare and free their calendars in anticipation of a scheduled regular meeting day. This is meant to surmise a table wherein members will be made aware of the schedule, prevent absences, and promote regular attendance.
Venue
Most big companies have meeting and conference rooms where they conduct their regular meetings. But what about those businesses or organizations who don't have extra space to conduct meetings? The solution here is to book a room in venues that are conducive to holding constructive meetings. Most hotels and restaurants have function rooms where meetings can be held over lunch or dinner. Make sure to book your venue in advance before issuing copies of the agenda.
Sending Out the Agenda
It's very important that you send out copies of the agenda to the members at least a week prior to holding the meeting. This is so that members will be reminded and can prepare reports and documents relevant to the items that will be discussed during the meeting.
Any Other Business (AOB)
Anything which isn't on the agenda can be brought up here, usually towards the end of the meeting. It's an opportunity for members to bring up items they deem important to raise but are not included in the current meeting. Be cautious when including AOB on the agenda however, since a member might drop a bombshell which can totally disrupt the meeting. Even the most professionally-run business meeting have been known to be disrupted when some members took the opportunity to raise something controversial after taking advantage of AOB in a meeting. To prevent this, the following options should be considered:
Do not include AOB in the agenda
Include AOB on condition that it should only be used to raise issues for future discussions in a meeting
You may decide to set this rule in a meeting by meeting basis or as an agreed meeting ground rule.
Number Each Item on the Agenda
Numbering each item on the agenda makes it easier for the secretary to keep track and take minutes of the meeting. A well-structured agenda also keeps members keep track of what's happening even if they're distracted by other concerns that may crop up from time to time.
Here's an excellent example of a Business Meeting Agenda Template from Template.net :
sheeo.org
Designing an Agenda for a Perfect Meeting
Even in the most professionally-run business meeting, there are still problems that occur. It may not be intentional, but the trademarks are there for a keen observer to see when a poorly-designed agenda shows. Too many times, meetings have been hampered by team members going off-track, going off topic, or worse, ending the meeting on a sour note due to arguments that suddenly arose along the course of the meeting. These are precisely the reason why an effective, well-designed agenda is a must in every meeting. A well-designed agenda gives time for team members to prepare, makes everyone stay on-course and manages the time effectively.
In order to have an effective meeting that sets clear expectations from participants, we offer the following tips to ensure you have an efficient, well-designed agenda:
Get proposals and recommendations from team members. A meeting is not a one-sided session and should reflect the needs of every member of the organization or the company as a whole. It's imperative that you get the input of all team members. Ask each one of them to suggest items of concern that can be included on the agenda and addressed in the meeting. Company or organizational goals can only be achieved through a team effort, so it's important that each member's concern should be addressed in the meeting.
Select topics relevant to the entire organization. Meetings are often expensive and time-consuming. For this reason, it's very important that meetings should discuss issues that are relevant to the entire organization and need everyone's actions to solve them. Your agenda should be made in a way that the participants coordinate their actions and issues that are interdependent would need collective action to solve.
List agenda topics as questions. Instead of listing agenda items as phrases, be more creative and instead make agenda items into a question that will pose a challenge to each participating member. For example, you may list the question, "How do we implement cost-cutting measures?" instead of just listing "cost-cutting measures" on the agenda. Questions like that encourage team members to come up with their own solutions and prepare, instead of attending the meeting and not having any ideas on hand.
Be clear on the purpose of each topic. Make each topic on the agenda an opportunity for members to participate effectively through sharing of information, helping you make a decision, or suggest ways to solve a problem. You may present a topic for members to reach a consensus and decide on the best possible solution. The items on the agenda therefore can be divided into topics that need a decision, topics that need information, or topics that need collective input to solve.
Allocate a reasonable amount of time for each topic. This is intended so that the meeting will not drag on for a long time and wear the team members out. For each topic, you have to do a calculation to make time for each one to accommodate questions, resolve differing opinions, generate solutions and agree on potential actions. Depending on how many members there are in a meeting, you may have to allocate a sizeable time for each member's concerns. To solve this and to make each member be aware of the time allocated, the timeframe for each topic must be listed. This is an effective way to make everyone aware of the time slot for questions, suggestions and discussions.
Make a process to address each item. Devise the steps for each topic to be discussed for the team to make a discussion or decision. Agreeing on a process significantly cuts the meeting time and make decision-making efficient and effective. Write the process for agreeing on a topic in the agenda and seek agreement by suggesting members follow the process.
Prepare members for the meeting. Distribute the copies of the agenda to each member several days before the meeting. This way, members can prepare their questions and discussions and whatever documents they need to present at the meeting.
List the name of presenters for each topic. Besides the president who leads the meeting, there may be other presenters who are responsible for a particular agenda item. They may have the expertise and knowledge of the certain topic and can present reports and documents during the discussion. Identifying each presenter next to the agenda item will give them time to prepare days before the meeting starts.
Include changes and modifications on the agenda topic. More often than not, there are always topics from previous meetings that have not been resolved. Even if you've already made an agenda for the meeting, allocate some time to make any changes especially if there are major developments in the meeting that need urgent action. By doing this, you can prevent backlogs and make the meeting more efficient by being flexible when there are last-minute changes in the meeting.
End the meeting with a plus-delta. A plus-delta in principle calls for positivity when looking back and reviewing what went well for each meeting and what needs to be improved. In this aspect, it's good to allocate time for reviewing meeting procedures and improve on parts where the meeting wasn't so productive. Plus-delta calls for positivity and you should encourage all members to give their opinions and suggestions on how to conduct a more efficient meeting next time.
7 Steps to a Perfect Meeting Agenda
There are proponents of those who think meetings are a waste of time, especially if no clear agenda is set in place. Besides being time-consuming, discussions, could end in arguments and no clear objectives are accomplished. While most CEO's and managers spend more than 2 days every week for a business meeting, it does have its purpose since most decisions are done in meetings that affect the whole company's organization.
To make a meeting more effective and productive, a clear meeting agenda must be put in place to make members and participants realize the importance of meetings. This will also get them to become more focused on achieving the meeting's objective.
Here are seven effective tips for a perfect meeting agenda:
1.Preparation. It's very astonishing to know that most startup companies have no clear agendas when holding meetings, resulting in ineffective and negative outcomes. Oftentimes, this is because members are unprepared and more often than not, an agenda is to blame. This is because most agenda items listed are too generalized, often confusing team members on the exact nature of the topics in the meeting. To prevent this, make your agenda clear and actionable. For example, instead of putting "marketing strategy" on the agenda, try putting in more details like "Finding ways for good and effective marketing strategy". This will help prepare team members and the meeting will become more productive as inputs from team members are being put forward and explored during the meeting.
2.Details. Follow simple details like sending copies of the agenda at least three days in advance. You may distribute copies on print or email to ensure each member is prepared and knows what to expect. Simple details like which members are attending, what time the meeting would start and venue for the meeting ensure everyone is prepared and will help the meeting become more productive.
3.Objective. Make sure you have an objective to achieve in the meeting, otherwise it's an exercise in futility if nothing good comes out of it. You may summarize the objective on your agenda so that members will grasp the importance of what the company or organization is aiming to obtain. Prioritize your list of topics from the most important one down to the least important of all topics so that important issues will be tackled first and members will have an idea on the urgency of each listed item.
4.Time. Each topic should be within a realistic time frame for discussion. Over scheduling or under scheduling a topic will not set realistic time schedules for meetings. Instead of following the usual 30-minute time block for each member's default calendar, try to let each topic's discussion dictate the course of the time flow.
5.Topics. Keep the number of topics to a minimum unless there are plenty of important things to be discussed. In that case, you may have to postpone less urgent topics until the next meeting to keep discussions focused on the important items on the agenda. The maximum topics you can realistically discuss would be around five topics, otherwise you'll be spending more than two hours in a meeting.
6.Direction. Take control of the meeting and be careful not to let members overindulge on one topic, otherwise the meeting will not be productive and other members will feel they have been left out. Take proper control of the meeting, making sure each member's concerns are heard and each topic are taken up in an efficient and productive manner.
7.Results. An effective meeting means it's being clearly conducted with defined results, otherwise it's a waste of time and the objectives are not accomplished. In order to achieve the desired results in a meeting, assign each task that requires action to a team member. That way, each project's responsibility falls to a member who must make sure of its success, otherwise he or she would be accountable for each task not properly implemented.
Difference between New and Old Business on Meeting Agenda
Every company, business or organization holds a professional meeting to tackle either new business for activities that have yet to be started, or old business that are carryovers from a previous meeting. This emphasizes the importance of having an agenda for each meeting. Besides outlining the flow of the meeting and points of discussion, an agenda also distinguishes between new meeting topics and old business that needs to be taken up by committee members.
Here are several points distinguishing new and old business in a meeting agenda:
Activities in Progress. Some activities, tasks or projects can last for more than a few days and can drag on even for weeks. These are ongoing activities that are still being taken up in meetings, with each member tasked to implement them reporting on the progress from time to time.
Planned New Business. Some projects, proposals or topics are determined ahead of time to prevent backlogs and to keep them on schedule. Other things like an activity, new policy or procedure being proposed can be listed under a planned new business on the agenda.
Unfinished Business. Any topics from a previous meeting left unresolved falls under the category of unfinished business. When a team or committee member brings up a topic or proposal at the end part of the meeting, it becomes an unfinished business. This is often deemed interesting enough to be made into a good topic for discussion at the next scheduled meeting. There may also be topics or activities that require further discussions and need to be taken up at the next meeting.
Unplanned Business. To make meetings more productive and encourage members to actively engage in the meeting, new topics and ideas may be presented by members who are asked for their inputs. This is meant to encourage productivity and inject fresh ideas into considerations for production or marketing ventures in the company. This becomes an unplanned new business that may be carried over as a new item on the agenda for further discussion.
Types of Agendas
What are the Different Types of Agendas
Despite having a set of well-defined goals and the right participants, there will be a lot of things that can potentially go wrong if the meeting lacks proper preparation and organization. That is why you obviously need an agenda to set the meeting on the right track. As we already know, using an agenda guides you to effectively address critical topics and issues, as well as come up with sensible solutions to your company's problems, if there are any.
However, it is important to know that agendas come in different types. Choosing the right agenda type can guarantee you a successful meeting. In this section, we will help you learn the different types of agendas and how each type can affect the success and effectiveness of the meeting.
Formal Agenda. If you are holding a major company meeting, you will need a formal meeting agenda to address certain topics that affect the overall well-being of the company. A formal meeting agenda is often used to solve some issues/concerns and/or take advantages of certain opportunities that are beneficial to the organization. It must always follow a formal agenda format. Its format should always include the following information: date, time, and location, type of meeting, the names of the attendees and facilitators, and the list of items to be discussed. A standard meeting procedure should also be observed: call to order, roll call, approval of last meeting minutes, discussion of open issues and/or new business, adjournment.
Informal Agenda. Unlike the first type of meeting agenda, this type is not of formal existence. Although it doesn't follow a formal format, an informal meeting agenda usually involved the presence of stakeholders and stockholders of the company in the process of making any final decisions and strategies beneficial for the development of the organization. Although the items are thrown together at the last minute, an informal agenda is less arduous and intense.
Prioritized Agenda. As what the name implies, a prioritized agenda follows a priority system. It lists down items hierarchically according to its importance of the meeting.
Timed Agenda. This type of agenda usually sticks to the timeline set for the meeting. It will require a timekeeper to keep track of the time.
What are the Different Meeting Agenda Formats
One of the key elements to a successful meeting agenda is choosing the right format. It is important to understand that your meeting needs can be effectively addressed with the right agenda format. In this section, we will guide you on how to stay organized by choosing the appropriate agenda format for your next meeting.
Formal. As discussed earlier in the previous section, a formal meeting agenda needs to follow the standard business format. The document should include the date and location, name list of participants, and list of prioritized items. Additionally, the names of the person tasked to discuss certain topics are also listed. It should also contain details on what are to be discussed for each subtopic, as well as possible and relevant questions. However, you must make sure that each topic and subtopics discussion are within the set time frame.
Informal. Unlike formal agenda format that screams and exudes seriousness and criticalness, an informal agenda format is oftentimes light and flexible. It does not require the same level of seriousness in its details. Although you will still need to include the date, time, location, names of the facilitators and leader, and the topics/items, an informal agenda does not set a timeline for the topic discussion.
Adjustable. Considered as the most lenient format, this agenda basically contains a quick and rough meeting outline. Just like an informal agenda format, it does not follow a timeline. What makes it different from the other formats is that its final date and time is listed in the minutes.
Project. This agenda format is extremely detailed and focused on the entire project. The topics that are to be listed must have relevance to the project. The format should include the date, time, name of the project, process of the project, and the time frame.
Presentation. Unlike other types of formats that are commonly limited to work and school purposes, the presentation format can be used effectively for any purposes. Its format is similar to a formal agenda (although its details will slightly vary), it usually incorporates images to add to its aesthetic appeal.
Types of Agenda Items
Meetings without proper agendas can be disorganized and lack coherence without achieving anything solid and concrete goals being accomplished. On the other hand, leaders have brought up items to be discussed expecting a lively discussion only to be met with silence as if they didn't grasp anything being said. To prevent this, make your agenda in such as way that they are labeled so members can be guided accordingly and can prepare accordingly. These four types of actionable agendas are the following:
Informational Agenda Item. When a decision has been made on relevant topics, an informational agenda is meant for members to be informed of all developments for tasks and projects being implemented. This item in the meeting agenda is meant for compliance and intended as a For-Your-Information (FYI) item whose discussion is for clarification purposes only. While this item sounds like a one-way presentation, this may be tasks that have been previously discussed in meetings and finally implemented after all necessary parameters have been met.
Advisory Agenda. Before a task or project can be undertaken, an advisory item on the agenda may be listed. This is intended to seek advice and warrant further discussions over tasks which need to be implemented but whose parameters have not yet been met. The presenter may give an overview and background information of the item for information purposes. Participants may then be asked to share their opinions but these are not meant to arrive at a consensus or make decisions. Once the members arrive at a decision, it is then labeled as an informational item on the agenda.
Problem-solving Agenda Item. Most large companies or organizations have complex problems that need a group's collective action to solve. Such issues need a group's decision and solution. The participants' individual opinions are also encouraged since each one may have an input that's unique and can help solve the problem at hand. This type of agenda item may take several meetings to resolve and may require a consensus or votation. Heated discussions are usually expected in this kind of item but the final decision reached must be one which makes each participant satisfied.
Help Request. If a member happens to have a task or project at hand that's deemed too overwhelming for him or her to handle, this agenda item is a great opportunity to ask help from other members in the group. If you happen to be the member concerned who needs help from teammates, make use of this time on the agenda to present the problem and its scope and the tasks needed to achieve the company's objective. Most team members are more than willing to help knowing that they can count on you also when the moment comes that it would be their turn to need help.
Developing an Agenda Sample
How to Develop an Effective Meeting Agenda
Obviously, not everyone enjoys attending company meetings. Oftentimes, a lot of employees view meetings as a boring event, while others consider it as a total waste of time, especially if it doesn't have a clear purpose or objectives. So how do you ensure an efficient and productive meeting? How do you capture the full attention of your attendees? The answers to these problems lie on the effectiveness of your meeting agenda.
In this section, we aim to help you develop not only an effective meeting agenda but something that will also ensure engagement all throughout the event:
Determine the Goals or Objectives. A meeting without a clear objective is like driving a vehicle without any destination. Setting an objective(s) keeps the meeting on the right track towards your goals.
Seek Input from the Attendees. Before finalizing your meeting goals and objectives, it's recommendable to seek input or opinions from the meeting attendees to ensure that the items to be included in your agenda reflect not only to the needs of the company but their needs, as well.
Prioritize the Topics. Each attendee may have a different set of topics they want to be discussed at the meeting. However, you'll need to choose and prioritize the topics according to its significance to the meeting.
Assign Topics to Participants. Since it will be impossible for you to discuss all the topics, make sure to choose participants whom you think are able to discuss clearly a particular topic during the meeting. Ask them how long it will take them to discuss their assigned topic.
Propose a Process on How Each Topic Should be Addressed. When proposing for a method/process on addressing each topic, you should also consider other opinions and inputs. Working together in decision making can put the members of the organization on the same page.
Allocate an Extra Time for Questions and Answers. After the all the topics have been discussed, there is a huge possibility that some of the meeting attendees have questions on their mind. Being able to provide them with answers can give them clarity and understanding on certain issues.
Checklist for an Effective Meeting Agenda
Crafting an effective meeting agenda doesn't have to be as complex as rocket science. With just a spoonful of common sense and a dash of creativity, you'll surely have a productive meeting agenda. However, your main problem lies in how you can keep the interest and engagement of the attendees throughout the meeting. It's important to understand that a meeting doesn't just have to be productive, but it should also be informative and leave the attendees energized and satisfied that they have accomplished something at the end of the meeting. So how are you going to do that? You don't have to look far and wide for answers because we have the best solution for you. Below is a checklist to keep in mind when creating a meeting agenda:
Preparation:
Identify and define the goals you want to accomplish
List down the attendees
Assign specific roles to selected attendees (facilitator, scribe, timekeeper, contributor, expert)
Set the date, time, and location of the meeting
After deciding on the topics to be discussed, distribute the agenda at least 2 weeks ahead of the meeting schedule
Provide materials and supplementary documents to the presenters
Actual Meeting:
Start the meeting on time
Stay on track by following the items on your meeting agenda in order
Take down notes of the new topics/issues/concerns you want to discuss at the next meeting
Summarize all the tasks and decisions made at the end of the meeting
Distribute a copy of the minutes to the attendees as soon as possible
Best Tips and Practices for an Effective Agenda
Writing a not-so-well-thought-out agenda just for the sake of writing can defeat the purpose of the meeting, as well as the accomplishment of goals. This will only lead your meeting nowhere and its end result will be senseless. Instead of accomplishing your meeting goals, the attendees will more likely be confused and less interested in attending the next meeting. To avoid this scenario, we have provided several tips and practices for an effective agenda:
Set Expectations. When an agenda isn't able to set a clear expectation, attendees are more unlikely to be on the same page because they don't have any ideas what to anticipate before and during the meeting. Set expectation by providing the attendees a well-defined purpose, items, and goals that you all need to accomplish at the end of the event.
Stick to Your Scheduled Timeline. Nobody wants to attend a long meeting. Long meetings can be painfully boring while short meetings can be less informative and issues aren't potentially addressed properly. So, make sure to start your meeting on time and don't be a minute late.
Make an Action Plan. A well laid-out action plan is an essential key that helps keep the meeting running on the right track. A great action plan should include the purpose and goals your company/organization intend to accomplish. It acts as your guide in accomplishing your goals and addressing certain issues.
Communication. Keeping the communication lines open between you and the rest of the attendees is key to effective agenda. It helps prepare them for the upcoming event.
Breakdown Your Main Goal into Small, Achievable Objectives. There are instances when your main goal is too complicated and may seem difficult to accomplish. Subdividing it into smaller objectives makes achieving it a lot easier.
Agenda Planner: What It Is and How to Create One
An agenda planner is a great tool that you can use in planning your activities well ahead of time. If you're leading a busy life, then you should own an agenda planner to help you organize and prioritize the things you need to accomplish whether on a daily, weekly, monthly, quarterly or yearly basis. Thus, a good agenda planner can be considered as a vision journal that allows you to stay on the right track, as well as monitor developments. Using the agenda planner also helps you to easily determine the goals and objectives for your upcoming meetings.
In this section, we'll provide a step-by-step guide on how to create your own agenda planner:
Decide on the time period. An agenda planner can be daily, weekly, monthly, or yearly. Once you have determined which time period to use for your agenda planner, the next step is to decide on the range of date. You must make certain that the time period suits your schedule (so that you won't be wasting a lot of space on your planner) and what you'll need your planner for.
Label columns. When labeling the column, the first column should be labeled with the date, week, or month you start using your agenda planner. Make sure to label them in order for an organized look.
Download Agenda Templates. If you want an easier and more convenient way, there are a lot of professional agenda planner layout which can be downloaded online. Template.net is a great place to start looking as it offers a vast library of different agenda planner layouts, designs, and formats which are available for free download.
Print and Cut the Pages. Whether you've decided to design your own agenda planner or use a template, have the pages printed out. Using a double-sided printer is an economical way to save paper. If the pages don't fit your binder, use a paper cutter to cut down the page so that they will be the same size with the binder.
Punch Holes into the Agenda Planner Templates. Stack multiple pages together. Make sure the edges are perfectly aligned before punching hole into them.
Use Binder Tabs. Binder tabs are used to separate months so that you can easily browse and access the dates in a more convenient manner.
Agenda Tools and Apps: 15 Best Tools for Shared Agendas
A meeting is a great tool that you can use in discussing the current status of your company, new ideas, and issues. However, it can also be the number one cause for wasting a tremendous deal of time in the office. Although your reason for holding a meeting is to plan for the future of your company, but if you failed to push the agenda forward, it will do no favors for your company and the attendees.
In this section, we have listed down the 15 best tools that are perfect for planning, scheduling, and sharing meeting agenda:
Use this app to share crucial information with the rest of the meeting attendees.
It can be easily integrated with Google calendar and Outlook.
It allows you to customize one-time meeting agendas.
It can be used to effectively set the standard in daily or weekly discussions.
It lets you add private information.
It boosts the quality of the meeting by keeping track of the time, people, and type of meetings you have. However, its full feature will cost you $10/month.
Worklife/Cisco Spark M?eeting Notes (Web, iOS)
It allows you to run meetings and collaborate with the participants in real time.
Use it to create agenda templates.
A convenient way to scan, add, and review different agendas for any upcoming meetings.
It features real-time note taking to keep everyone on the same page.
It keeps your calendar up-to-date because this tool automatically syncs with your Google Calendar and Microsoft Outlook.
Although it is free to use for unlimited projects, the Business Plan feature will require you a fee of $6/month.
Meetin.gs (Web)
This app is perfect for simplifying and scheduling meetings, taking down notes, and managing tasks.
It features live communication tools for easy video or audio communication. It also comes with built-in teleconference services, such as Skype, Google Hangouts, and Lync calls for easy and quick online conferencing solutions.
It lets you add, upload, and share topics, files, and notes relevant to the meeting.
It automatically integrates and manages your calendar(s).
It comes with a built-in address book so that you can easily send invites to the meeting participants without browsing their contact details.
It uses cloud storage system, such as Google Drive to export and import meeting materials.
It automatically summarizes the action items taken and emails them to the participants at the end of the meeting.
The Pro Plan costs $12/month for unlimited meetings and participants.
Agenda Planning Apps
Minute (Web, Android, iOS, Windows)
This app allows every participate in collaborating with other members of the meeting in creating and design a meeting agenda.
Each agenda comes with an attachment either documents from Google Drive or notes from Evernote.
It lets the participants take down notes, as well as create and assign tasks and deadlines using the attachments.
It allows you to keep track of the decisions and actions taken so that you can take them up at the next meeting.
It allows you to write private notes.
The first month is free of charge, but you will be charged with $3/month for the Light plan.
Solid (iOS)
This free app is the perfect option if you are planning your own meeting.
Use it to ensure effective and productive meetings.
It creates an organization by allowing you to categorize related items together under one section.
It integrates and synchronizes your main calendar with Google Calendar or Office 365.
It features an "Action Item" tab that lets you check unfinished tasks.
It provides a detailed analysis on the total amount of time you spent on meetings, as well as the location and the people involved.
It keeps the meeting on the right track by providing you the number of minutes left and the items that are still to be discussed.
MeetingKing (iOS, Web)
It is the perfect app choice for one-off meetings.
This app allows you to prepare, create, and send agendas through email.
It lets you organize agenda into topics, as well as assign tasks to different people.
It features a parking lot that prevents runaway discussions.
Meeting participants can use this app for free, but the organizer is required to pay $9.95/month for the Pro Single Plan.
Minutes.io (Web)
This app ensures quick and effective note taking.
It allows you to take note of the meeting minutes during the meeting, not after.
It features practical hotkeys for smooth multitasking.
It lets you stay connected so that you can take down new meeting notes despite being offline.
It instantly sends meeting minutes to everyone.
Although this app is free to use, its Monthly plan for custom branding costs $9/month.
Agenda Maker (iOS)
It has a drag and drop feature that allows you to organize your meeting agenda items in order.
What's great about using this app is that it automatically calculates and allocates the meeting minutes according to the items you drag and drop in your agenda.
It allows you to directly email and share your agenda to the participants.
It also lets you send agenda in Text, HTML or PDF format or print copies of your agenda before the meeting starts.
You can purchase it at $1.99 on the App Store and add meeting attendees and minutes at $0.99.
Less Meeting (Web, iOS)
This app is perfect if you want to present a visualized agenda timeframe. It features keyboard shortcuts to systemize the process of taking the number of meeting minutes.
It allows you to create your meeting agenda using Google Apps and Outlook plugin.
It allows you to monitor all the to-do lists of the whole team in one place.
It features automated email follow-up to keep you stay focused and on the right track.
It syncs all your notes and tasks once you're back on the Internet.
The 1 Pack plan starts at $12/month.
Minute-it (Web)
This app makes meeting preparation a lot easier and more convenient.
You will need to integrate it with Google Calendar or Outlook, and agendas for your scheduled meetings will be automatically generated.
It features a built-in timer to help you stay focused on the different items listed on your agenda.
It allows you to add notes, attendees' comments, and assign actions easily. It will automatically send your meeting notes to each attendee after the meeting has adjourned.
A single user is free of charge, but the Startup Plan (a maximum of 3 users) costs $27/month.
Lucid Meeting (Web)
This app is the perfect choice for advanced meeting agendas.
What's great about this tool is that it can help you handle and manage different types of meetings.
It allows all participants to add their notes while the meeting is still in place.
It is a one-stop-shop that integrates all your calls, note taking, and screen sharing.
It is free for personal use; however, it will require an organizer to pay $19/month for the plan.
Apps/Tools Perfect for Productive Meetings
Meeting Ticker (Web)
This free app allows you to understand the meeting on a more personal level.
By integrating this app with Google Calendar, it will provide you a visualization of your meeting habits. It generates stats on the number of hours spent meetings and its average length.
Team Meeting Checklist (Web)
Team Meeting Checklist is a free app/tool used to make the process of collaboration go smoothly.
It features a clear and well-defined checklist to help organizers set expectations for participants.
The checklist does not only include meeting preparations, but also covers essential things after the meeting, such as sending a follow up to participants in the next 24 hours, and the topics to be discussed at the next meeting.
Team Meeting Timer (Web, Android)
This free app allows you to set the length of duration of your meeting, as well as keep track of the minutes.
It sends you a signal to sum up key discussion when the meeting is close to ending.
Although not everyone wants to attend a meeting, but you can make it effective and productive by using the following apps to streamline your meeting and keep everyone on the right track in achieving your objectives.
Agenda Templates
How to Design an Agenda Template
We have already discussed how an effective agenda can make a meeting productive. Surely, it lets you list down a couple of key items you want to focus on your meeting agenda. Soon you will have to distribute the agenda to the participants to give them a heads-up on what to expect.
However, there are instances when you want to impress the participants and make them anticipate into coming to the meeting. You might think that incorporating artistic designs into the agenda template can make it look visually interesting, but it won't. It is important to understand that when designing an agenda template, it should maintain a clear and easy-to-read layout so that the participants can focus on the key items and not on its design. But if you're looking for some designing tips, we'll provide them just for you. Below is a short guideline in designing a professional agenda template
Clear and Simple Layout. Make sure that it is free from too many annoying and irrelevant things to make it clutter-free. When there is too much art going on the template, the readers will have to exert an effort in locating the information that they need to follow.
Abbreviated Information. When you put information in your agenda template, you need not give a detailed explanation, save it for the meeting. If you want to guide the participants about the items, provide a short line or two about them.
Use Business Standard Fonts. Since a meeting agenda is a form of a business document, you will need to use a classical font, such as the Times Roman, Arial, Calibri, Helvetica, or Verdana. Avoid using funky fonts because it can be distracting to the readers. Keep the font size between 10 to 12 points.
Agenda Templates in Excel: How to Edit This
Microsoft Excel is a spreadsheet application that is widely used to monitor a wide array of business items. Did you know that you can use excel to edit the items listed on your meeting's agenda? Just like any other formats of agenda templates, excel agenda templates should contain key information, such as the date, location, names of attendees, time, title, items, and tasks. One of the greatest benefits of using excel agenda templates is that you can conveniently calculate the number of minutes of the meeting using an appropriate formula. What's even great is that you can easily input and edit the information in the spreadsheet.
In this section, we will guide you through the step-by-step process of editing an agenda template in excel:
Changing the Text. Double-click on the cell that contains the text you want to edit. Once you have selected the text you want to change, you can either use CTRL+A on the text or highlight the text using your mouse and type over the information you wish to input on the cell.
Modifying the Cell Color. If you wish to change the color of the cell, bring the cursor over the cell and click it to select. Right-click the mouse and select "Format Cell". Click the "Pattern" tab and select the hue or color you want to incorporate on the cell. Click "OK" to apply the color on the cell selection.
Adjusting the Font. You will need to select the cell where the text you want to modify is located. Right click and select "Format Cell". Click the "Fonts" tab and then choose the font style, size, type, and color to adjust. Click "OK" to apply the changes you wish to make.
Save. Press CTRL+S to save the changes you made or click the "Save As" on the File Menu and key in the name of the new agenda document.
Agenda Templates in Word: How to Create One
There are a number of ways in which you can create an agenda template in Word. What's great with a Microsoft Word agenda template is that it allows you to easily customize and create a meeting agenda with a professional look. Since we have already discussed the different ways on how you can modify your Excel agenda template, it is now time to learn the process of creating an agenda template in Word. Below is a list of simple steps to follow:
Access Microsoft Office Online. Creating an agenda template in Word is not as complex as it sounds. There is an array of agenda templates that are already available on Microsoft Office.
Choose the Right Format, Layout, and Design. When there are so many templates to choose from, the tasking of choosing will eventually become overwhelming. Keep in mind that right agenda template should be geared toward its purpose. Make sure that its layout and design would not cause any distraction and confusion to the attendees.
Download. Hover the cursor on the title of the template and click on it. Make certain that you have agreed with their user license agreement before downloading the template. If you are using the Internet Explorer, you may be required to install an Active X plug-in to avoid technical problems when downloading the template.
Modify. After downloading, open the free template in Word. You can use the provided instructions on uploading your company logo or letterhead and formatting the text on your agenda template. You can also choose to add images or graphics relevant to the meeting agenda. Just like in Excel agenda templates, make sure to use the business standard fonts and font size. You can make necessary modifications as long as you see it fitting for the agenda.
Meeting Agenda Template Examples
An agenda is most likely the most important tool used to achieve a successful and productive meeting. It is usually sent out to the attendees in advance to help them prepare well ahead of time. Without an agenda, it will guarantee you a chaotic, meaningless, and unproductive meeting that is a total waste of everyone's time. Having an agenda for your meeting serves the following purposes:
Brings purpose to the meeting
Prepares and guides everyone through the key items to be discussed
Keeps everyone focused on the goals
Eliminates excuses
Downloading a professional meeting agenda template can provide you with a solid idea on how to write an agenda that serves your meeting's purpose. Below are some example templates which are available for free download. Use them as your reference.
Meeting Agenda Template Example
health.gov
National Sales Meeting
regonline.com
Project Team Meeting Agenda
nyu.edu
Church Meeting Agenda
parkbaptist.church
Company Meeting Agenda
onr.org.uk
Business Agenda Template Examples
Running a business can involve a lot of complex tasks and responsibilities. That's why it is crucial to hold a meeting every now and then to monitor your company's Return of Investment (ROI) or monetary losses. If you are tasked to spearhead the meeting, then having an effective business agenda is key to preparation, organization, and accomplishment of your objectives.
If you are too busy to craft your own business agenda, we have provided template examples which you can use as your reference in drafting your own business agenda.
Business Agenda Template
arkleg.state.ar.us
Club Business Meeting Agenda
4h.ucanr.edu
General Bussiness Agenda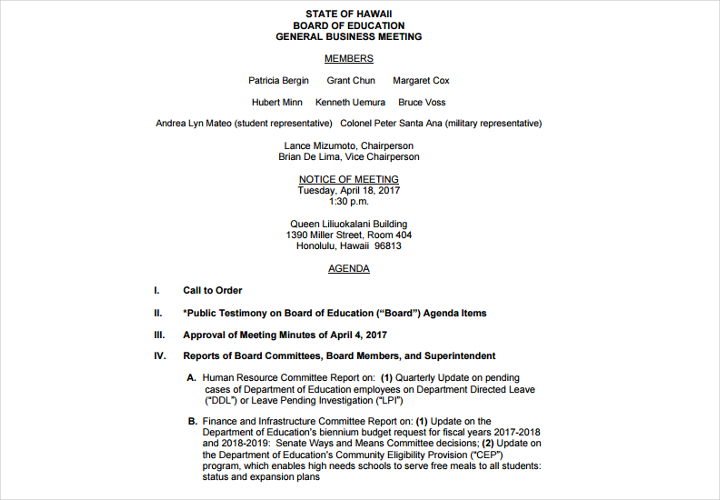 boe.hawaii.gov
Management Agenda Example Templates
For every management meeting, there will always be a person who will be appointed to lead the meeting. The purpose of having a management meeting is to assess and evaluate the overall operation of the company, identify and address issues that require improvement, and allocating resources to achieve the company's goals and missions.
As explained in the previous sections, a good and productive meeting starts with having a clear and well-defined agenda. Take a look at the collection management agenda example templates and use them as your guidance.
Management Agenda Example
pimg.mhcc.org.au
Management Committee Meeting Agenda
nht.org.au
President's Management Agenda
s3.amazonaws.com
Management Board Meeting
fdot.gov
Case Management Draft
floridajobs.org
Account Management Training Agenda
klozers.com
Event Management Workshop
jsalis.securespsites.com
Research Agenda Example Templates
Oftentimes, a company has a research and development team that is usually task to conduct and perform a thorough study on a pending project. You can use the research agenda to list down topics pertinent to your project goals. Using the correct agenda scheme, it will be easier to take action to further the development of your agenda.
If you are looking for an effective reference material to guide you in writing a research agenda, check out the following example templates found below.
Research Agenda Example
arteducators.org
ITE Research Agenda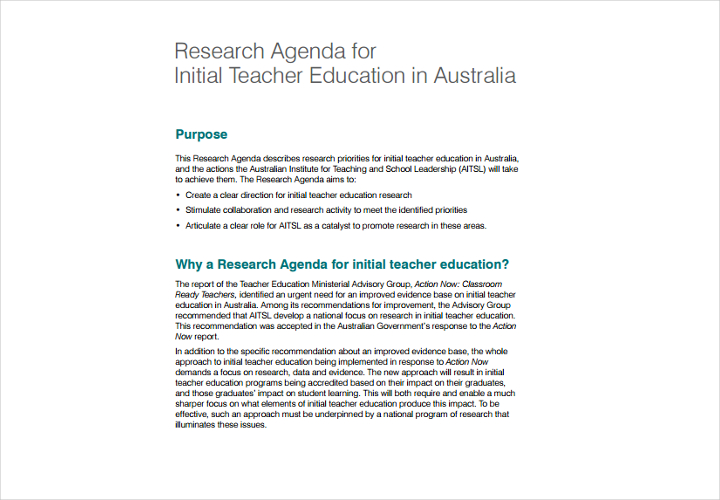 aitsl.edu.au
Strategic Research Agenda
kikirpa.be
Research Meeting Agenda
hero-health.org
Education Research Agenda
fape.org.ph
Event Agenda Example Templates
Oftentimes, managing and organizing an event can be an overwhelming and daunting task, especially if you have a long checklist to accomplish and meetings to attend. As an event manager, you have to set well-defined goals, list the names of the people involved, as well as the resources needed for the event. That's why you'll need to come up with an action plan in the form of an event agenda to keep you on the track and monitor its progress and development.
To help you develop the perfect event agenda, take a look at the example templates provided below and use them as your reference in writing and designing your own agenda.
Event Agenda Example
ncsc.gov.uk
Launch Event Agenda
urbact.eu
Community Event Agenda
communityinitiatives.com
District Event Agenda
firstinmichigan.org/
Event Agenda Sample
gov.pe.ca
Sales Agenda Example Templates
A sales meeting is usually organized for the purpose of communication and motivation among the sales team. It usually covers a wide array of topics, such as sales development and progress, employee issues, project updates and upcoming business ventures.
Since there are a lot of items you need to discuss in a sales meeting, writing an agenda to guide you through the discussion will ensure the productiveness and success of the meeting. Make sure to check the following sales agenda example templates because they can be downloaded for free. Use them as your reference.
Sales Agenda Example
sites.path.org
Team Sales Meeting Agenda
paulcharles.com
Sales Seminar Agenda
freddiemac.com
Sales Meeting Agenda
scrippsnetworksadsales.com
Development Agenda Example Templates
A development agenda is a great tool that you can use when creating reports for businesses, sales, finance, or investments. From the sound of it, creating a development agenda seems like a tedious process. However, you can choose to use our development agenda example templates which are provided below. What's even great is that they are available for free download and can be used as your reference when drafting your own.
Development Agenda
fsmgov.org
Development Meeting Agenda
tas.gov.au
Development Retreat Agenda
med.uth.edu
Health Development Agenda
asean.org
Interview Agenda Example Templates
An interview agenda template serves as an effective guideline to the interviewer. It basically guides the interviewer how they should present themselves to the interviewee and collect vital information by asking questions in an orderly manner.
If you are looking for great references that will guide you in making the best interview agenda, you may want to look through our collection of interview agenda example templates that are provided below.
Interview Agenda
healthwest.org.au
One Page Interview Agenda
thomasbyrne.com
Informational Interview Agenda
simmons.edu
Post Tender Interview Agenda
leeds.ac.uk
Group Interview Agenda
employee.heartland.edu
Project Agenda Example Templates
If you are heading a new project, it is important to keep the communication lines open between you and the people involved. Holding regular meetings to keep the whole team in the loop is crucial to project health. One of the primary reasons why you'll need an agenda for your meeting is to properly provide the project status, list down issues and concerns that need to be addressed and monitor the progress of the project.
Here are a few example templates that you can use as references when drafting your own project agenda. Using these templates should guide you through the process of writing one for your company.
Project Agenda Example
hccfl.edu
Project Review Meeting Agenda
cathexisconsulting.ca
Project Team Status Meeting Agenda
www2.cdc.gov
Project Progress Meeting Agenda
hccfl.edu
Work Agenda Example Templates
Perhaps a good work agenda can be your most potent solution to your time management problem. Using a work agenda is a great tracking tool to list down all your assignment and tasks, including their respective due dates. It can also help prioritize which tasks need to be completed first. Additionally, sticking to your work agenda will definitely eliminate procrastination.
Stay on top of everything by using our professional work agenda templates. Feel free to download and use them as your reference guide.
Work Agenda Example
www12.senado.leg.br
Work Meeting Agenda Template
studywell.library.qut.edu.au
Work Session Agenda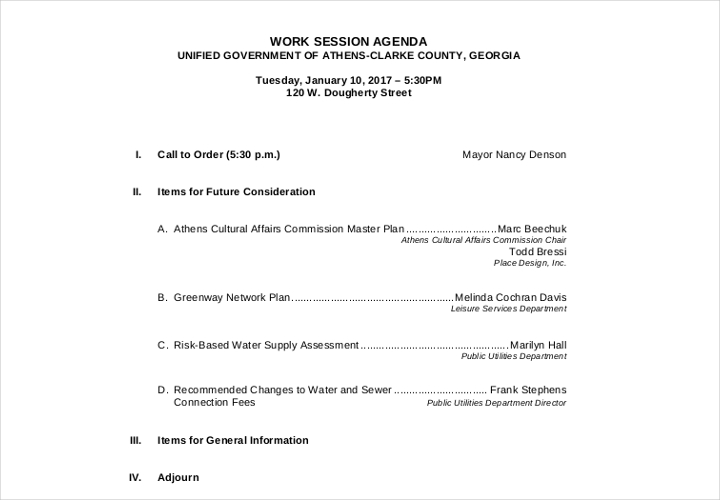 athensclarkecounty.com
Work Team Meeting Agenda
southtexascollege.edu
Pre Construction Work Agenda
udot.utah.gov
Audit Agenda Example Templates
An audit agenda is basically an effective document that guides an auditor through the process of auditing of any business entities. It is commonly used to properly address and record any specific and vital circumstances and transactions.
If you are looking for the most convenient guide on how to draft your own audit agenda, we have provided a selection of example templates that you can download for free and use them in creating this form of agenda.
Audit Agenda Example
ceruleanllc.com
Internal Audit Agenda
labqualityconfab.com
Pre-Audit Meeting Agenda
bcmsa.ca
Sample Audit Agenda
cisco.com
Travel Agenda Example Templates
Using a travel agenda is a great way to provide a detailed outline of your travel plans. Using the templates that are provided below, you can conveniently list down important items significant to your travel, such as the schedule of your flight, accommodation, transportation, meetings and other important activities.
Our templates are available for free download so that you can use them accordingly for your travel necessities.
Travel Agenda Example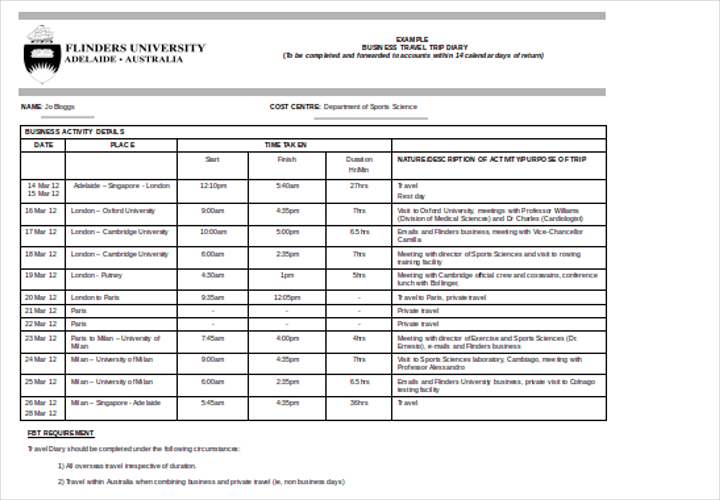 flinders.edu.au
Weekly Agenda Example Templates
Even the most motivated person can sometimes experience spells of time management issues due to procrastination. A day of procrastination can have a huge effect on your weekly productivity level. While it is okay to keep track of your daily activities, most people find it annoying to browse through the long list of tasks and assignments to be accomplished in a week. A better way to go is by having a weekly agenda to get things done quickly and more efficiently. You may want to check our collection of downloadable weekly agenda example templates and edit them to match your set of weekly tasks and assignments.
Weekly Agenda Example
littlemiamischools.com
Sample Weekly Agenda Template
mansfieldersperspective.com
Student Weekly Meeting Agenda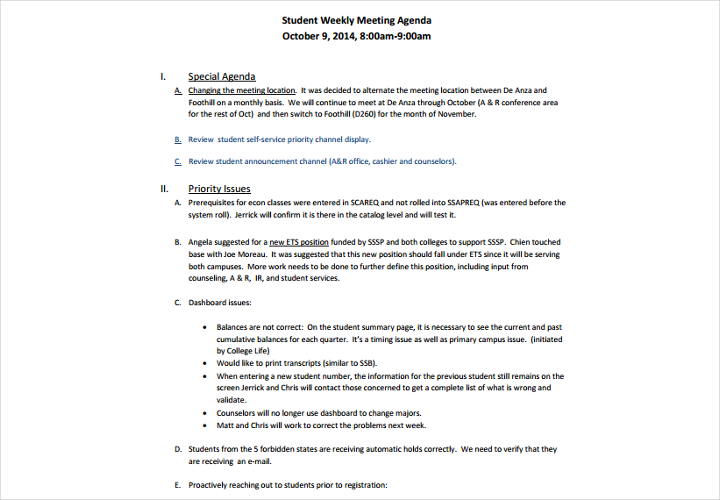 ets.fhda.edu
Printable Weekly Agenda
ldcsb.on.ca
School Weekly Agenda
mams.ccs.k12.nc.us
Daily Agenda Example Templates
No matter how much well-organized we are, there are instances when our daily life routine can take a toll on us. And because there are so many things that occupied in our minds, we sometimes forget the important things that we need to achieve for the day. That is why we need something that will keep us on the track, and a daily agenda template is a great way to remind and monitor the important to-do tasks.
Provided below are a few daily agenda example templates which are available for free download.
Daily Agenda Example
lifeandminds.ca
Daily Agenda Sample
assessment.com
Daily Personal Agenda
lifeandminds.ca
Daily Agenda in PDF
ofzenandcomputing.com
Daily Residential Camp Agenda
arlingtonsoccer.com
School Agenda Example Templates
The use of a school agenda template is an effective tool to keep the institution to function systematic and conventionally. Aside from that, it keeps the teachers and students on the same page so that they can easily collaborate with each other in reaching the same objectives.
If you are looking for the best school agenda templates, we have provided a collection of examples that are found below. It is free for download so that you can use it as your guidance in listing various school activities that are essential for learning.
School Agenda Example
eesforschools.org
School Symposium Agenda
everactive.org
School Visit Agenda
eab.state.wi.us
School Agenda Template
t2.lanl.gov
School Council Agenda
education.vic.gov.au
Safety Agenda Example Templates
Safety should always be considered as one of the vital concerns in every company. As a business owner, it is your priority not to put the health of your employees at risk. A great tool to use when you want to organize a safety meeting with the whole is through using a safety agenda template that details important items to be addressed or reviewed.
Below is a collection of safety agenda example templates that you can download and use as guide in writing and designing for your business.
Safety Agenda Example
roads.nebraska.gov
Safety Meeting Agenda
sontheimeroffshore.com
Safety Committee Agenda
pottsville.k12.pa.us
Safety Committee Agenda Example
bctf.ca
Conclusion
It's amazing to know that in big companies, there is a prevalent lack of agenda and meetings are being conducted head-on in a free-for-all, disorganized atmosphere. The purpose of an agenda is aimed as a tool to organize the meeting in such a way that it becomes a highly productive and efficient exercise. By reading this complete guide to making an agenda, you can make meetings run more smoothly and concentrate on solving each problem with the help of the team in a collective manner.
More in Agenda Templates