Agenda Templates
25+ Simple Agenda Templates – PDF, DOC
An agenda is really important when one has to conduct a program- be it a meeting or conference or an event. An Event Agenda Template or a business one has the fundamental function to jot down the main activities of the program, step by step, as these would followed in the program. A simple agenda just states the actions and time allotted for them.
Free Example of Agenda Template
Free Meeting Agenda Template
Simple Agenda Templates
Agendas are essential parts of any kind of meeting. They can help you to identify things that need to be discussed in the meeting. The agendas are provided before the start of the meeting to let the participants involved in the meeting understand and have a brief knowledge of what the meeting is all about. You can check out Simple Agenda Templates for ideas to create an agenda. And if you are preparing a meeting agenda, take note of the following points:
The date and time of the meeting

The objective(s) of the meeting

Detail(s) of the person who is calling for the meeting

The participant(s) of the meeting

Action(s) taken from the previous meeting agenda

List of agenda(s)

Other detail(s) relevant to your business agenda
Daily Agenda Template
Event Agenda Template
Weekly Agenda Template
Business Agenda Template
Sample Meeting Agenda Template
Free Simple Meeting Agenda Template
Meeting Minute Agenda Template
Simple Meeting Agenda Template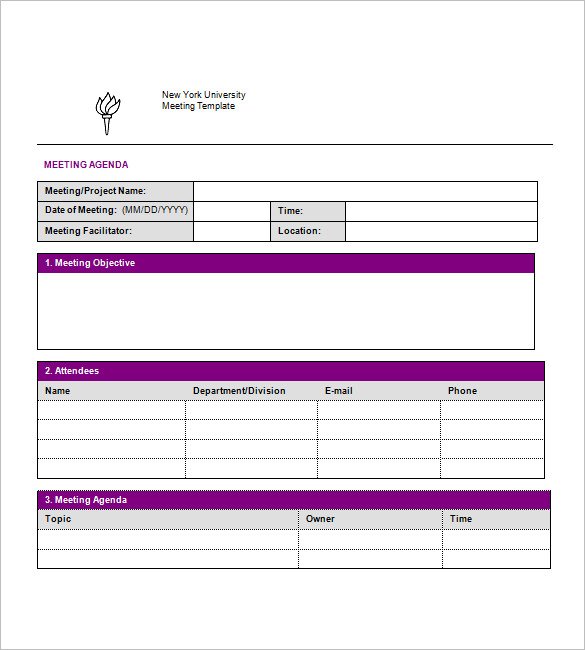 nyu.edu
If you are thinking of designing a simple yet efficient agenda, this Meeting Agenda Template would be the perfect choice. It is uncomplicated but comprises of all the important segments that should be included in an agenda.You may also see agenda templates in ppt.
Simple Business Meeting Agenda Template
csefel.vanderbilt.edu
There is no limit to creativity even in the corporate world. You can manage to keep your corporate Business Meeting Agenda Templates document perfectly managed without losing the creative touch with the help of simple agenda templates. Templates will make it possible for you to make your meeting agenda attractive for you.
Simple Meeting Minutes Agenda Sample
ccsf.edu
If you want to be precise in time management of your corporate meeting schedule agenda, then you need to download Agenda Minutes Templates. This will be a perfect opportunity for you to manage every single minute of your day with proper time management.
Simple Conference Agenda Templates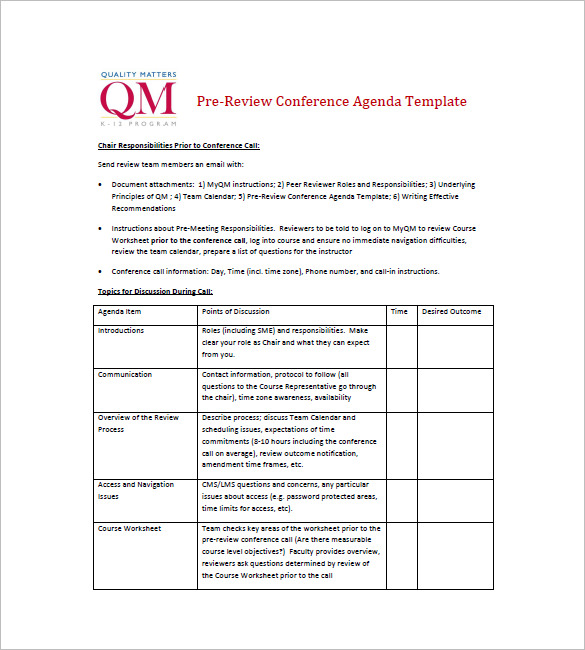 qualitymatters.org
If you have multiple conferences coming up in your schedule then developing proper agenda will be a good decision for you. You can make this task easier with the help of Best Conference Agenda Templates. Templates will allow you to get better and quicker results.
Free Simple Agenda Template Download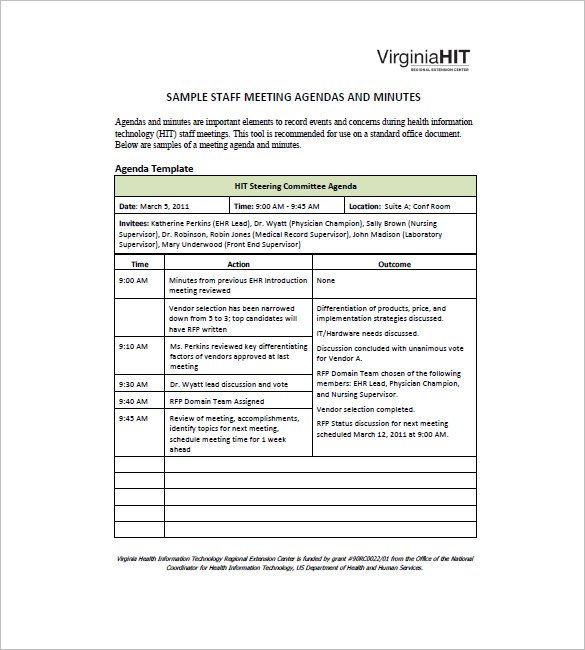 vhitrec.org
If you want to develop an accurate agenda for your corporate schedule, then you need to start using the professionally designed simple agenda templates in excel. Templates will give your agenda document proper styling and formatting. Most importantly, you can download the professionally designed templates for free.
Simple Daily Agenda Template
ofzenandcomputing.com
Keeping track of your appointments and day to day activities can be simplified with this Sample Daily Agenda Planner Templates. It is free of cost yet is quite an efficient one with all necessary segments that will help you plan your day properly.
Sample Agenda Example
usgs.gov
If you are not sure how to design a simple agenda, you can take some cue from this sample template. With all the crucial elements of an agenda in place, you just need to customize this as per your needs and use it. You may also see project agenda templates.
Simple Tentative Program Agenda Template
ric.nrc-gateway.gov
Planning an Agenda Template for a program is no mean task. Designing a tentative one is equally taxing. However, with this simple tentative program agenda template with the essential segments, you can easily design a tentative agenda in matter of a few minutes.
Basic Schedule Agenda in PDF
loinc.org
As the name indicates, this agenda template in PDF format is a perfect pick when you are thinking of designing a basic and simple agenda. It gives you an idea of all the important elements that need to be included in it. You may also see annual agenda templates.
Simple Timetable Agenda Template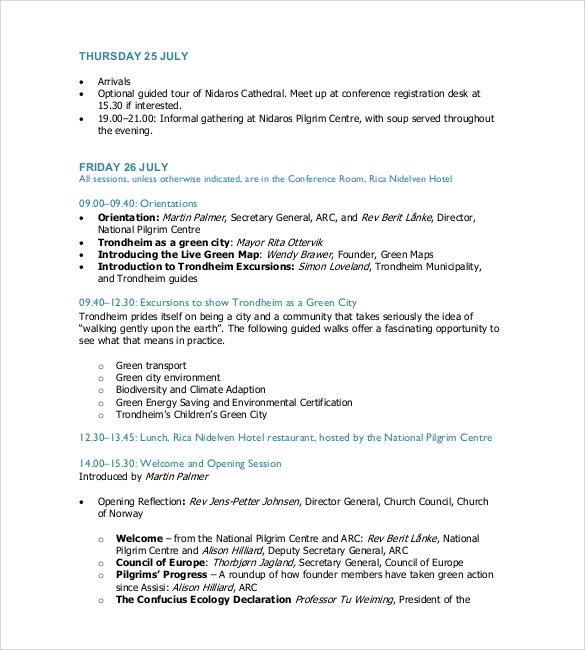 arkitektur.no
Want to design a proper timetable agenda for a program or a meeting? Here is a simple timetable agenda template that will give you a clear idea of the format to be followed and the segments to be included when designing such a timetable.
Itinerary Schedule Agenda Sample
healthpolicyfellows.org
Designing an itinerary for an event or a program is no child's play. However, with this itinerary agenda template you can quickly design a perfect itinerary. Thanks to all the important sections in place, you just need to add in the relevant information to it. You may also see Retreat agenda Templates.
Simple School Committee Agenda Format
belchertown.org
The main function of a Committee Agenda Templates is to make people aware of all the actions to be taken in the program -so that there is no chance of unmindfully missing out on one or two of them.
Simple Group Meeting Agenda Template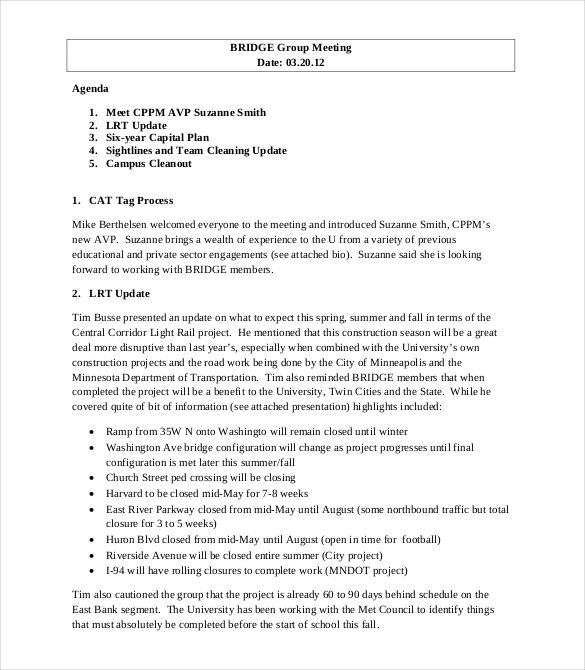 facm.umn.edu
When planning a group meeting, a well defined agenda is sure to add to its efficiency. This Best Planning Meeting Agenda Template can be used to simplify the task of designing such an agenda. It can be easily downloaded and customized as per your needs.
Example of Board Meeting Agenda Template
strive.com
Not sure how to design an agenda for the impending board meeting of your organization? This example template is what you need. It gives you an idea of the format for the agenda and the sections that should be included in it, thus simplifying your task.
Simple Free Easy Agenda Example
lincolnshire.gov.uk
When you want to design a simple and efficient agenda but are totally clueless as to how to go about it, you can use this simple agenda template for the purpose. This is free of cost but comprises of all the important segments that should be included in a simple agenda. You may also see sample work agenda templates.
Sample Agenda Format for Staff Meeting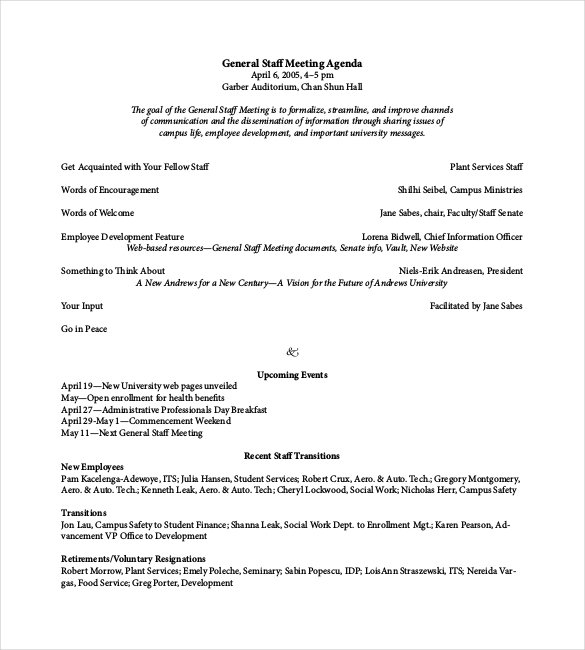 andrews.edu
If you are not sure how to design an agenda for the impending staff meeting, take a look at this sample agenda template. Designed by experts, this gives you a clear idea of the format to be followed and the elements that you should include in it. You may also see review agenda templates.
Example for Agenda Template
wewear.org
Not sure how to design an agenda? This Agenda Format Template is what you need. With a perfect format and all the essential sections in place, you just need to customize this as per your requirements and then enter the details.
Simple Agenda Layout Template
syracuse.ny.us
Following a perfect layout is extremely crucial when designing an agenda as this is what makes it easy to read. If you are not sure how to do this, go ahead and check out this simple agenda layout template. It will give you a clear idea of the layout you should follow when designing the agenda. You may also see visit agenda templates.
Simple Fillable Agenda Form Template
mdstudentcouncils.org
For the times when you are in a hurry and do not have enough time to design a full scale agenda, this fillable agenda form is what will come to your rescue. Various varieties of such templates are available including Annual Agenda Templates, thus ensuring that your work gets done in a jiffy. You may also see team agenda templates.
Why do you Need Simple Agenda Templates?
Almost everyone prefers using advanced functionalities in their calculations and management processes. Sample Agenda Template development is also a matter of management which means that you need to use advanced features in it as well. If you create your corporate agenda without professional assistance then it will be really a very hard task for you to manage everything efficiently.
Additionally, you will require investing more time in your task and there will be no guarantee of result and efficiency as well because it is not always necessary that you know all about simple agenda templates. So, you need to just go with readymade Agenda Templates which will be perfect for all your needs.
When do You Need Simple Agenda Templates?
If you want to keep everything under your control, while you design your simple agenda document then you need to prefer downloading simple Effective agenda templates. Templates will reduce the time expenditure requirement but it will increase the level of efficiency in your task. You will get assured better results with so many choices available for you.
There is no end to the collection when it comes to the online Formal Agenda Templates store which means you will never feel the lack of choices for any of your requirements. You can browse the collection of free to download templates on the internet and you can download the most suitable template for your requirement quite easily.
Benefits of Simple Agenda Templates
If you like to develop a perfect agenda document for your business schedule then you need to use simple agenda templates for this purpose. Templates will allow you to save a lot of time because you will never need to do any effort on appearance and features of the readymade templates. You can also see Monthly Agenda Templates
You can simply download the template and then you can start putting your data in the fields. You will just need to include your data in the template. And then, your perfect and most accurate business meeting and schedule agenda is ready to use.
How do you Plan a Meeting Using Meeting Agenda?
A meeting is held so that a group of people can come together and discuss issues and problems to find solutions for these. However, many a times the meetings can end without any problem being resolved, resulting in waste of precious time. This is why using meeting agenda is considered to be a good idea. Here is how the Sample Work Agenda Templates can be used to design an agenda to plan a meeting.
Listing all the important topics that need to be discussed. This will give the participants an idea of what they need to focus on.
Allotting time for each topic to ensure that every issue gets equal time and importance and people do not waste time.
Identifying the minute taker and important speakers, so that not everyone tries to chip in to be heard.
When you download the free of cost Sample Agenda Templates then you will be able to keep everything under your control. You will get the freedom of all different kind of choices and you will never feel like you are limiting yourself in the matter of creativity. You can get perfect creativity and innovative aspects in readymade templates which will make you prefer these even more. The simple task of downloading the template is all that you need to do.
If you have any DMCA issues on this post, please contact us!