Checklist Templates
6+ Complete Baby Registry Checklists
A complete baby registry checklist is one of the exciting tools that you can utilize for preparation and planning for your baby's future necessities. The sample checklist provides all lists possible to use by your baby after birth. It aids all parents to assure that everything is complete and set before the coming out of their baby. You can also see Onboarding Checklist Templates.
This is very useful if you really don't know what to buy at first and if you don't have enough time to buy for using a registry online will help you to browse for your baby's needs without burden. You can also see Checklist Templates.
Complete Baby Registry Checklist Template
Sample Baby Registry Checklist Template
Complete Ultimate Baby Registry Checklist
alphamom.com
Sample Complete Baby Registry Checklist
landofnod.com
kohls Complete Little Baby Registry Checklist
corporate.kohls.com
Complete Baby Registry Checklist in Excel
Things that are considered valuable and should be readily available are the toiletries for bathing, clothing and nursery especially after birth. These should be completed before the day of delivery so as to avoid rush and worry. Then you may continue to check for the stuffs that you're expecting your baby will use in the time through a guiding checklist known as Complete baby registry checklist. You can have it in the form of excel format.
Complete Baby Registry Checklist in PDF
assets.babycenter.com
Are you ready and prepared for the coming of your baby? Ahead of time we plan and buy for the set of things that your baby will be used on the day of delivery towards his adjustment for the different life stages. As a mother, you make sure that every little thing should be there and available anytime it will be used, to help you check if the things for your baby are complete then download a complete baby registry checklist in pdf format.
Complete Registry Checklist for Baby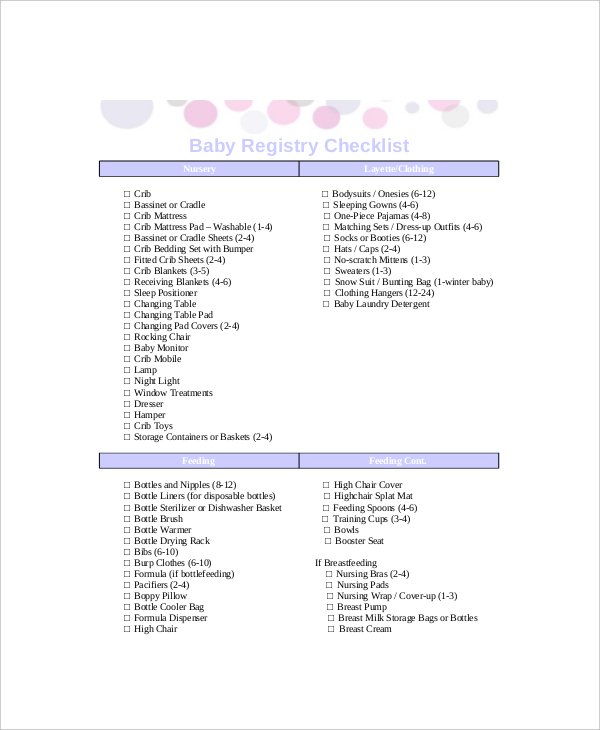 giftypedia.com
> Benefits of Complete Baby Registry Checklist
The suggested items list for a baby registry will be provided by this checklist where the users will just have to gain the list of gifts they want to profit in the registry. Babies item are commonly seen in this checklist as they are always used for definite time and number of new mothers is increasing. You can also see Wedding Checklist Templates.
> Features of Complete Baby Registry Checklist
You can see on theses menu sheet the typical things and gifts that can be given to a baby when an online shopper wants to purchase a certain items. They can the whole retail store of baby items with online service where the items they purchased can be delivered or be picked up from a store. You can also see Inventory Checklist Templates.
> Tips
Be sure that the items you wanted are in your checklist with the right quantity and brand as this checklist only records what are the things you have selected to avoid any troubles of replacing the items online. You can also see Training Checklist Templates.
If you want to have the full content of the whole document, it can be accessed in Microsoft word, excel and pdf file. There will be no lacking items or space in the sheet provided by this checklist as this will cater all your need for buying baby items online.
More in Checklist Templates