Checklist Templates
FREE 26+ Onboarding Checklist Templates in MS Word | Excel | PDF | Google Docs | Pages
An onboarding sample checklist template is a very important document that is usually used by the HR department of a company while hiring new employees. It helps both parties during the orientation process and after beginning work. It also makes it easier for the new employee to learn about the new job and the expected goals.
Table of Content
You should include the date they are supposed to start working and everything they need to know about your company or business. Simple checklist templates available online will be of great help to you as they help you save time and effort of creating a new checklist from scratch.
26+ Onboarding Checklist Templates
Sample Onboarding Checklist Template
New Employee Onboarding Checklist Template
HR Onboarding Checklist Template
HR New Employee Onboarding Checklist Template
Employee Onboarding Checklist Template
IT Onboarding Checklist Template
Developer Onboarding Checklist Template
Freelancer Onboarding Checklist Template
Advertising Agency Client Onboarding Checklist Template
Simple On boarding Checklist Template
The key to successful onboarding is proper preparation. Make your efforts a lot easier and secure success through the use of this above-mentioned checklist template in Word. Having this template at your disposal will make sure that you do not neglect any activity or task that may be vital to the overall process of the organization. You will be pleased to know that this is an easy to use and fully customizable product, two qualities that contribute to the template's overall quality.
Simple Restaurant Employee Onboarding Checklist Template
A newly hired employee should be aware of the policies and expectations of the company on the entire duration of his/her contract. The above template is a restaurant employee onboarding checklist, that will be of great help to you if you own a restaurant and are waiting for the new employees to onboard and start their jobs.
Onboarding Checklist Template
Make onboarding a breeze with the help of the above-mentioned onboarding checklist layout template. This document comes complete with business standard fonts. Check out board templates for more details. It can be easily modified and customize this template to suit your needs and preferences. Simply replace the text in square brackets with your own details.
New Employee Checklist Template
It is essential to build a professional relationship between employer and employee immediately on the employee's first day at work. A new employee checklist template that is a must-have to help managers and HR to make sure they are covering all the necessary steps to prepare the new employee is here! Easy to edit and customize, it is available in many file formats for you to download anytime, anywhere with ease.
New Hire Checklist Template
Get this new hire checklist template and make experts out of the freshly hired employees. This sample template can be easily edited and personalized as per your ideas and the industry you work in. This way, you will get to share your checklist with those people who you need to do so with. Another advantage of this template is that it is not just limited to downloads on the computer, but you can also download and edit them as you wish on any electronic device effortlessly.
Training Checklist Template
Make your next training seamless and flowing properly with this training checklist template that is mentioned above and it can be instantly downloaded anytime and anywhere. Replace the text in the square brackets with the details you need to add in the checklist and then you can either hare the printed document or you can also share it digitally via email or any social media sites.
Blank Checklist Template
Try and check out the new employee orientation checklist templates for more. The employer should make the new employee feel warmly welcomed and comfortable in the new environment. This is how the rapport of the employee and the company increases. Easily customize with your details and information. It can be shared digitally on any electronic device with ease. Try it out now!
Checklist Template
Never miss any step or procedure with this amazing and easy to use sample checklist template. This simple but effective checklist utilizes business standard fonts. All you would have to do is download the template, replace the text in the square brackets given with your details and information you want to add, edit and personalize the template as you wish and be done in minutes.
Onboarding Checklist Excel Format Template Download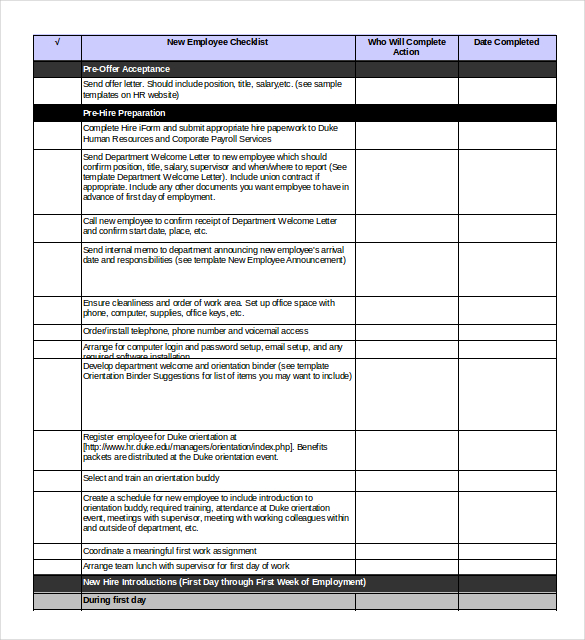 hr.duke.edu
New Vendor Onboarding Checklist PDF Format Template Download

loweslink.com
IT Services Onboarding Checklist Excel Format Template Download

kb.mcgill.ca
Download Onboarding Checklist PDF Format Template

umn.edu
Onboarding Checklist DOC Format Template Download

ucalgary.ca
Managers Onboarding Checklist Free PDF Format Template Download

pdx.edu
Onboarding Checklist Free PDF Format Template Download

bu.edu
OnBoarding Checklist Excel Format Template

uae.smetoolkit.org
Onboarding Checklist Free PDF Format Template Download

danerling.com
Property Onboarding Checklist PDF Format Template Free Download

marketing.pinnaclefamily.com
Creating an Onboarding Checklist:
The five phases of the onboarding process, according to LinkedIn, are the following: prehire, an employee's first day on the job, orientation, training, and performance.
On another note, Glassdoor data revealed that employee retention would increase by 82% if a company offers effective onboarding.
However, a separate study by Gallup revealed that only 12% of the employees consider that their organization provides a great onboarding process to new employees.
Step 1: Background Check
Have a plan as the onboarding checklist should start as soon as the employee accepts the offer given to him/her. These would be the simple tasks given to them that they have to fulfill on the first working day. An employee background check usually checks if the employee has any criminal records on his/her name, no matter which kind of a crime it is. It is very important to have an employee background check for every new person you hire.
Step 2: Schedule and Job Basics
Have a schedule ready for the first day for the employee so that they know how a day goes by at work for them. This way, they can get used to the schedule eventually. Give them a base on what they will be doing. Give them a tour of the office so that they have a better understanding of what all is there in the office. Check new employee checklist templates as they help in keeping check of all the new hires who have joined your organization. Run them through the basics like dress code, company policies, etc. Employee handbooks would be of great help to them.
Step 3: Job Description and Duties
Also, give them a base about the kind of jobs they have gotten into. Mostly most of them will now their job descriptions, but you should always just run them through so that they have an idea of what they will do. Mention their duties in detail, so that they know what they have to do. Make them fill any forms they need to and make sure you get their signatures for these forms. Describe in detail their positions, their teammates, etc.
Step 4: New Hire Training
Training is the most important part of the new hires. They need to know the work they are supposed to do, so be sure that you are ready for them with their training needs. Answer any of the questions they ask you as they would be excited to work in your company. Give them a job orientation, where they get to introduce themselves to their colleagues and get familiarized with the workplace. Arrange their trainers, equipment, space, etc. whatever needed for their training.
Step 5: Review
Give them a brief of everything – the company policies, equipment, upcoming schedules, work hours, etc. Check their payrolls, whether or not they or on par with the training etc. Review your company checklist and make all the necessary changes wherever necessary. this makes it easier for you to make sure the new employees settle down sooner and get productive.
Final Thoughts:
Make sure you have regular checks of how your new hires are doing. Check termination checklist templates for more. You can do a check after a week, month, 6 months and a year, so that you can evaluate these employees to check their work status. This would make it easier for you to know if they need more training and whether or not the training helped them. Make them meet the necessary higher employees in the company that they need to know, which means team leads, managers, etc.
You should also include the work schedule and the responsibilities that are to be assigned to the new employees in the basic checklist without fail. take a look at catering checklist templates that are available online, in case you need more details on how to create the right checklist for your company.