Itinerary Templates
4+ Sample Wedding Weekend Itinerary Templates – DOC, PDF
Are you planning for a full wedding weekend? A wedding weekend is always more fun than a mere Wedding day celebration with so many events- such as Friday bachelor's party, Saturday breakfast followed by exciting activities and lunch, afternoon ceremonies, wedding dinner and so on. In such a situation its best to extend a wedding weekend itinerary for all your guests so that they can stay informed about all the Event Itinerary Templates throughout the weekends and attend accordingly. If you have no idea on how to create a proper wedding weekend itinerary, you can take to a Wedding weekend itinerary template.
Example Wedding Itinerary Template Download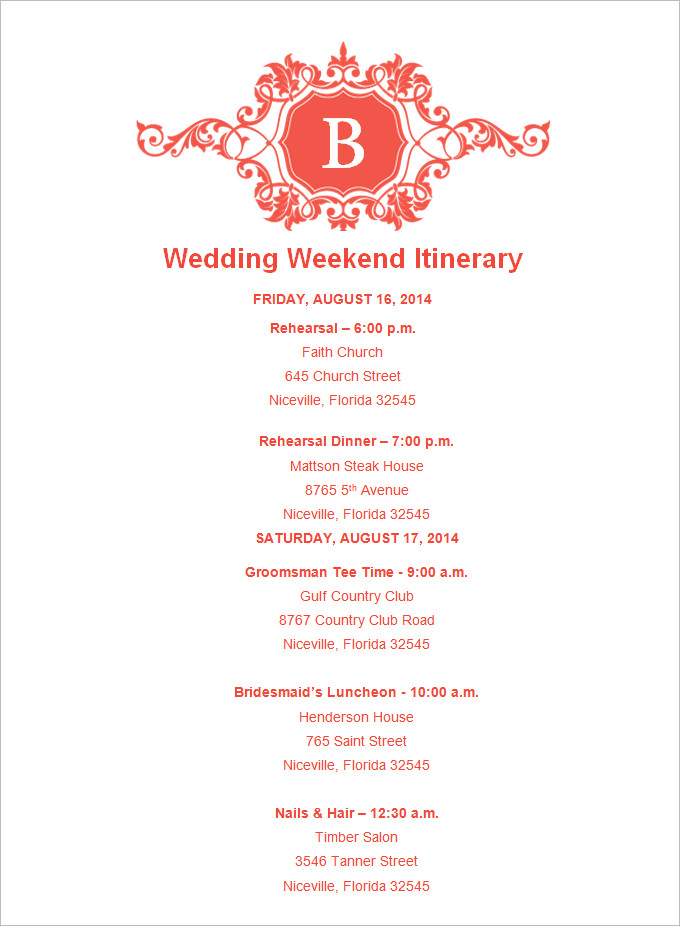 Your wedding will run more seamlessly if you have set a schedule for all the important events of the day. This customisable and downloadable Wedding itinerary will help you do just that. It gives you the option of writing down all the events in a page; is elegant and simple at the same time.
Sample Wedding Iitinerary Template Download

Inform your hotel and out of town guests guests about the wedding ceremonies by using this particular wedding timeline template. This Wedding Weekend Itinerary is another good-looking option which you could put to work. This is an easy-to-download template and you can easily edit and insert text elements.
Wedding Weekend Itinerary Template Pdf Download

coldmoonfarm.com
Wedding Weekend Itinerary Template Pdf

fastprintz.com
Wedding Itinerary Template Free Download

bridetodo.com
For wedding gigs which are spread over for more than just a couple of days, and there are going to be more than one wedding celebratory function, you're definitely going to need a elaborately designed itinerary sample such as the one shown here. It is is free, downloadable, artistic, simple and editable.
What is a Wedding Weekend Itinerary Template?
Well, such a template provides a readymade structure of a standard wedding weekend itinerary so that you don't have to face the hassle of creating a complete itinerary from scratch. There are online sites to offer you a Wedding weekend itinerary Template Example and you will also find related templates for wedding menu or marriage invitation card template.
Your Benefits:
These templates are great time savers and also save a great deal of energy for you.
You will find Free Wedding weekend itinerary Template
You can easily customize your wedding menu template or other such samples We have collected some sample Wedding Weekend Itinerary templates, hope these templates will help you.