Itinerary Templates
23+ Travel Planner Templates
See the beauty the world has to offer. Experience the serenity nature could provide. Live the life you love. Travel the world, anytime, anywhere. But here's a piece of advice, plan everything out first. Some say spontaneous trips are the best ones, but wouldn't it be better if you have a travel planner? Planning your trips will save you from the troubles of not knowing where to go next or what hotel would provide the best accommodation. In this article, we have provided you with ways on how to create a travel sample planner.
Table of Content
5 Steps to Create a Travel Planner
Step 1: Pick a destination.
You travel to go somewhere, which is why the first step in creating a travel basic planner is to decide where you want to go. By picking a destination, you will have a clear idea on what you wish to accomplish and it will give your basic plans a sense of direction.
Step 2: Set a budget.
If travelling was for free, you need not to set a budget, but sadly, it isn't. So for your trip to go well, you need to set aside a particular amount of money. Allocating a financial budget for your trip enables you to know your limits so that you won't end up short on cash. Researching about airfares, transportation fees, room rates, and the like will also help you foresee expenditures.
Step 3: Specify the length of your trip.
Before you make a list of the things you want to experience during your travel, you first need to decide how long will you want to stay on a specific place. Also, ask yourself if your sample budget permits you to stay that long. It is important that you specify the length of your tour so that you can plot your schedule without difficulty.
Step 4: Make a list.
Now that you know how long your trip will last, here comes the fun part ?— listing down your plans. Think about the landmarks you want to see, the tourist spots you want to visit, the activities you want to experience, the food you want to eat, basically everything you want to do. While making your sample list though, you need to keep in mind the time and simple budget which was allocated for your getaway.
Step 5: Plot your schedule.
After making a simple list of your plans, start plotting your simple schedule. You can make use of a ready-made schedule template for a trouble-free schedule plotting or you can make your own timetable. Write down the dates first, followed by the activities you plan to do in every hour of that day. Remember to keep your basic schedule realistic, you don't want to be in a hurry while you're on a vacation, right?
23+ Travel Planner Templates
1. Sample Summer Travel Planner Template
2. Free Basic Travel Planner Template
3. Free Business Travel Itinerary Planner Template
Going on a business trip? Simple Plan it out in advance by utilizing this business travel itinerary planner template. You just have to fill in the template with essential details like your transportation, hotel accommodation, meeting schedules, etc. This template also provides you a checklist of the things you need to do. Download this template for free!
4. Simple Travel Itinerary Planner Template
5. Standard Travel Planner Design Template
6. Digital Travel Planner Design Template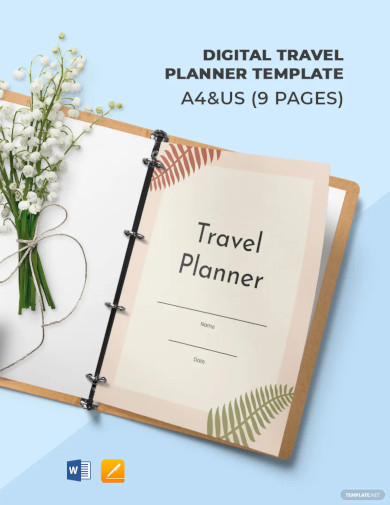 7. Daily Travel Planner Template
8. Printable Weekend Travel Planner Template
9. Monthly Travel Planner Template
10. Mini Travel Planner Template
11. Business Travel Planner Template
12. Family Travel Planner Template
13. Holiday Travel Planner Template
14. Printable Vacation Itinerary Planner Template
Sample Plan a fun-filled vacation for yourself or for other people with this vacation itinerary creative planner template. This template features a subtle design which does not defeat the purpose of your itinerary. It is available in Google Docs, MS Word, and Pages file formats which are compatible with any of your devices. Download now and it's yours to keep forever!
15. Travel Itinerary Template
Never experience a dull moment during your getaway by planning it ahead of time. This ready-made travel itinerary template will help you map out your travel schedule effortlessly. The template has enough space for you to fill in with necessary details for your trip. It is modifiable and printable in A4 and US sample letter sizes.
16. Business Travel Itinerary Template
Organizing a business trip may not be as exciting as organizing a holiday getaway, but this business travel itinerary template makes business trip planning a whole lot easier for you. It allows you to schedule your tasks effectively. This premium template is fully customizable and downloadable in Google Docs, MS Word Format, and Pages file formats. You can also see more on Travel Itinerary in Google docs.
17. Holiday Itinerary Template
Travelling is probably the best thing to do during holidays; but before you get too thrilled for your upcoming holiday vacation, carefully printable plan it out first. Download this holiday itinerary template to assist you in planning your journey from destination to destination. The template is modifiable to best suit your preferences. You can also see more on Holiday Planners.
18. Daily Route Planner Template
Know and organize your travel route before you take to the road. This daily route planner template allows you to record the routes you are going to take so you won't have to stop in the middle of nowhere during your trip. This template is available in MS Word and Pages file formats. Get yours now!
19. Vacation Planner Schedule Template
Map out a professional schedule for your vacation with this vacation schedule template. With this template, you can also sample note down tourist sites and landmarks you are going to visit. It is available in numerous file formats such as MS Excel, MS Word, Numbers, and Pages.
20. Free Sample Travel Itinerary Template
A fun-packed journey is a well-planned journey. Use this travel itinerary template for a hassle-free travel planning experience. You can customize it in any way you want and download it in several file formats such as MS Word, Pages, and Editable PDF. Plus, it's free! Download immediately! You can also see more on Travel Agency Plans.
21. Free Travel Itinerary Calendar Template
Looking for a template that will make your holiday trip planning much easier? Then this travel itinerary template is for you. The template can be modified depending on your personal specifications. You can instantly download this file in numerous file formats like Google Docs, MS Word, Pages, and Editable PDF. You can also see more on Planning Calendars.
22. Free Blank Travel Itinerary Template
This free blank travel itinerary template allows you to simple note down your travel details such as departure information, car rental, and lodging. This template is free to download. Get yours now and start planning your tour, may it be around the world or around the country. You can also see more on Vacation Planners in Word.
23. Sample Road Trip Planning in PDF Format
Organize your trip smoothly with this trip planner outline template. This five-paged PDF file provides you not just a planner but also a basic checklist and helpful tips for your journey from starting point to end point. Download now! You can also see more on Template.net Site.
More in Itinerary Templates