Itinerary Templates
FREE 8+ Road Trip Itinerary Templates in Google Docs | MS Word | Pages | PDF
Your almost broken-down car or truck with the windows rolled down and the music turned up. That wild, unbridled laughter from your friend as you sheepishly go over the speed limit, watching the scenery change and stopping for pancakes at some small-town diner, just because. These are what road trips are made of. Want to go driving through long stretches of highway, bound nowhere fast? Make it your most unforgettable drive yet by creating a road trip itinerary.
Table of Content
5 Steps to Create a Road Trip Itinerary
Step 1: Collect trip information.
Where are you headed? You can still be spontaneous even if you choose specific destinations. And while it's really tempting to just drive and leave without a plan, you'll feel more at ease if you have made hotel bookings and write down the stops you want to take as well as reservations you've made.
Step 2: Plan but don't be rigid.
You need to have a plan but you don't have to follow your itinerary to a T. Don't outline a rigid schedule. Otherwise, you'll lose the feeling of excitement that comes with road trips. Most people have a time limit on the road. Plan so that you'll have enough time for driving in a day and the rest is up to you.
Step 3: Set destinations, not expectations.
Your schedule is bound to have extra room on a road trip, so you can still manage to go to towns and cities without the slightest idea of what you'll find. Surprises that come with the stops you make and the people you meet along the way can't possibly be a let down any more than a broken car is.
Step 4: List the documents you need.
When you're on the road and plan to travel from state to state, you'll want your papers ready. You'll need your passport and driver's license with you because you don't know when you'll need them. If there's anything you've paid for in advance, it's better to have printed receipts or paperwork for them as well as identification cards.
Step 5: Know when to pull the brakes.
Having too much expectations about people, places and things really destroys what could be a fulfilling relationship or experience thus far. There are also times when you need to deal with what you're faced with and you need to know when to call it quits. Because just when you think you can go further, you may already be out of steam, literally and figuratively.
8+ Road Trip Itinerary Templates
1. Road Trip Itinerary Template
Road trips are often a promise of fun, adventure and stories to boot. Take a break from the daily grind and plan your road trip well using an itinerary so that you can have the adventure you've been waiting for. Download this Road Trip Itinerary Template in all versions of Google Docs, MS Word and Pages.
2. Trip Itinerary Template
Going somewhere? Make sure you're prepared for the trip you've planning by creating an itinerary. If you don't have one, you can take advantage of this simple yet easy-to-follow Trip Itinerary Template which you can customize according to the needs of your road trip. What are you waiting for? Do it now!
3. Vacation Itinerary Template
Finally, you're going on a vacation and you're planning to spend it traveling and relaxing as you should. Make that well-earned holiday worth every minute by following an itinerary. Make use of this vacation itinerary sample which comes in an organized design, made only for you. Print this template in its flexible formats.
4. Best Road Trip Itinerary template
Want to take to the road and have one of the most memorable trips of your life? Don't worry. With this Best Road Trip Itinerary Template, it's more than possible. Pack your bags and feel more secure with your upcoming trip by using this printable document. Customize as you see fit!
 5. Free Road Trip Itinerary Template
Traveling helps you recharge and get some of that lost zest for life back. Therefore, it's only right to make the most of it from start to finish by using an itinerary. Get this Road Trip Itinerary Template in Google Docs, Pages and PDF format so that you don't miss out on the most important parts of your trip.
6. Free Sample Itinerary Template
You've got your vehicle ready and your backpack is full of the things you need for the long, not-so-winding road. Go claim that adventure and travel the road with this sample itinerary template. Customize the content to fit the trip you have in mind. But first, download this template!
7. Free Sample Travel Itinerary Template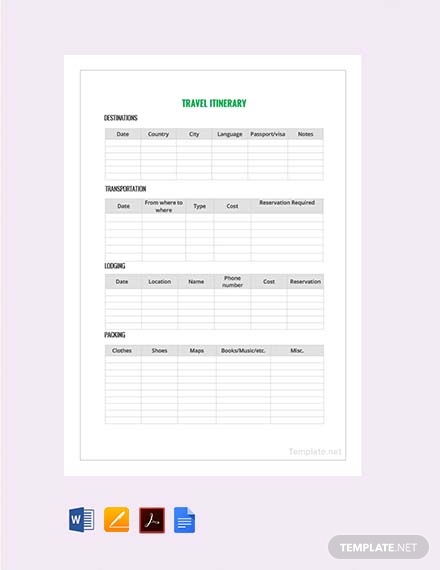 Have visions of wide horizons and sunsets across wide open skies? You're probably thinking your vacation time can't come soon enough. If you're headed for the road, don't forget to take an itinerary with you. Better yet, just download this Sample Travel Itinerary Template in its flexible formats and modify the content as you deem necessary.
8. Free Travel Itinerary Template
Think you can grind out the long miles on the road? With the help of a travel itinerary, you'll be able to do just that and more. Go ahead and download this Travel Itinerary Template in multiple formats. Edit the template and here's to hoping you always find yourself at the right place and time on that long, wild drive.
9. Sample Itinerary Template
Schedule your daily driving on the trip with an itinerary. Not done creating one yet? Download this Sample Itinerary Template to make it a smooth ride and avoid fatal crashes. Also, there's nothing quite better than watching the world wake up while driving on two wheels, then ending the day parking to watch the setting of the sun. 
More in Itinerary Templates