Itinerary Templates
8+ Trip Planner Templates
All trips have promises of adventure and amazing, unforgettable moments. Said no one ever. Whether you have visions of a hiking trip down some long-forgotten Appalachian trail or lazy days driving a scooter around Mykonos, a trip can turn into a series of unfortunate events if not properly planned. All that money saved up just to be in the wrong city. All that time wasted just asking people for directions because you didn't research. Make sure your trip is everything you hoped for and more by creating a trip planner.
Table of Content
Steps to Keep a Trip Planner
Step 1: Choose a destination.
Naturally, the first part of your plan is your destination. Where to? Even if you want a fairly spontaneous trip, you should still choose an actual travel location. Wherever you end up heading to should be a final choice since yous till have to book tickets, hotel accommodation and other reservations.
Step 2: Make a list.
What do you have in mind for the trip? Are you hoping for campfires, surfing, a festival or some gathering of enthusiasts in one place? It's important to plan your trip activities so think about what you want to experience. Check what the place has to offer in terms of sights and entertainment, then make a list.
Step 3: Pick your travel dates.
This will be decided by a number of factors but mainly your schedule. How much time are you allowed to take off from work? Aside from limitation of time off from work, what else is holding you back? Are you planning to go off-season to get better deals? Choosing your travel dates would make your plan more organized.
Step 4: Have a flexible itinerary.
Creating a travel plan doesn't mean you need to follow it religiously. Allow yourself some travel downtime by being flexible with your trip itinerary. Leave the alarm. Don't get pressured. Make the stops you didn't plan. You'll discover more with a little spontaneity. This is how adventures are made.
Step 5: Prepare a budget.
It also boils down on having enough money wherever you want to go. You can't just wish for a 3-day stay at Ibiza and fly there with not enough euros to spare. Even cheaper destinations need to be budgeted, so make sure you have enough money to really enjoy your travel.
8+ Trip Planner Templates
1. Vacation Planner Template
We can all use a vacation after stressful days of work, school or whatever full-time responsibilities we have. But even leisure and that much-needed break need planning. Go ahead and use this Vacation Planner Template in all versions of Google Docs, MS Word, Pages, MS Excel, Numbers and Google Sheets.
2. Itinerary Planner Template
Thinking of taking a break from the daily grind? You're not alone. Vacation time doesn't come very often. And when it does, it better be worth every second, especially if you're on a trip. Plan your travel efficiently by making use of this Itinerary Planner Template. Download the file in its multiple formats and print.
3. Vacation Itinerary Planner Template
You can't always go on holiday. When the opportunity comes, it better be worth every second, which is nearly impossible without a plan. With this professionally-designed vacation itinerary sample, you'll be more than ready to take a trip and make it worthwhile. Edit and customize as necessary.
4. Free Blank Travel Itinerary Template
Planning on going for a long ride to out of state? Dreaming of the sandy shores down the East Coast? Wherever your destination is, you can never go wrong with a travel itinerary. Plan that itinerary now by downloading this Free Blank Travel Itinerary Template.
5. Free Business Travel Itinerary Planner Template
Even when a trip is purely for business, you still have to plan it well. Make sure to commit to your scheduled appointments and errands without missing out on a little personal sightseeing. Doubt you can do it? We've got your back. Get this sample business travel itinerary in any of your preferred formats. Download for free!
6. Free Business Trip Planner Template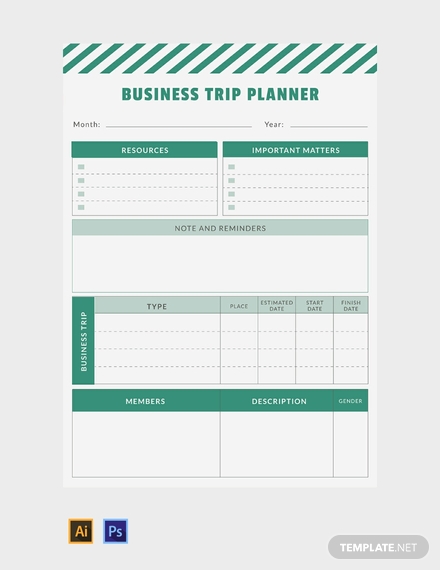 Off to a business trip soon? You probably can't wait to see the sights if only you would have enough time. Meet the people you're supposed to meet and get ready to be free of the pressure that comes with business trips by downloading this Business Trip Planner Template. Feel free to print from a mobile or computer device.
7. Trip Itinerary Planning Document Sample
Road trips. Campings. Mountain climbing. Vast lands and friendly locals. These are just a few of the things that a memorable trip can promise. Plan the best trip of 2019 by downloading this Trip Itinerary Planning Document Sample. Modify the content of the template to suit your travel planning needs. Customize as you see fit!
8. Travel Plan Itinerary Sample
Looking for a document that can outline the specifics of your future travel plans? Your search ends here. This Travel Plan Itinerary Sample comes with a well-designed content, perfect for your trip's stops and other needs. All you have to do is download the template in PDF file format and you're all set.
9. Trip Planner Template
Have visions of the highlands and beautiful sunsets that take your breath away? We know you're excited to take that trip and make travel plans. So plan, you should. Need help? Get this trip planner template which is easy to customize. Use it as a guide to your travel planning process.
More in Itinerary Templates
| | |
| --- | --- |
| Wedding Planner Checklist - 12+ Free Word, PDF, PSD Documents ... | 10+ Event Planner Resume Templates - DOC, PDF Free ... |
| 30+ Daily Planner Templates - PDF, DOC | 13+ Daily Planner Templates - Free Sample, Example, Format Free ... |
| 13+ Monthly Budget Planner Templates - AI, PSD, Google docs ... | 31+ Menu Planner Templates - Free Sample, Example Format ... |
| 13+ Wedding Planner Templates – PDF, Word Format Download ... | 20+ Wedding Planner Brochure Templates - PSD, AI, Docs, Pages ... |