Itinerary Templates
15+ Printable Itinerary Templates in Google Docs | Word | Pages | PDF | XLS
Who does not like traveling? But to travel to different parts of the world, you cannot just pack your bags and move out. You need to do certain planning and make an estimate about everything that you're going to do. Itineraries are a travel document that records a route or a journey of a traveler. It is a proper schedule of events which includes the destinations to be visited at specific times and means of transportation as well. Travel itineraries are generally used by travel agencies and travelers. You can use our ready-made itinerary templates and plan a business trip or a road trip real soon.
Table of Content
5 Steps to Create a Perfect Itinerary
Step 1: Product/Package Name
While making a travel itinerary, keep in mind to describe what your travel package is all about. Make sure you explain in short terms or adjectives. To make your itinerary more interesting, you can use interesting product names which will also separate your itinerary from others.
Step 2: Customer Reviews
While making your itinerary make sure you provide with the customer reviews of the packages or products or the services that you give to tourists or travelers. About half of the buyers seek for such reviews of the products you are going to show.
Step 3: Add Photos and Videos
Adding photos and videos is the most crucial part of an itinerary. Represent the holiday trips or packages that you provide to the customers through beautiful high-quality pictures or videos. Mention the descriptions on your pictures to help the visitors know the real beauty of it along with the name of the place.
Step 4: Give Important Information
Your itinerary must also provide fun facts and specifics of the various destinations. By making the customers or the travelers aware of the unknown new facts, it will attract them more. It is also important to provide them with essential information like where they can buy certain things, where to exchange cash or where to get gas, etc.
Step 5: Offer Any Extra Details
In case you want to add any extra information in your itinerary, you can add some extra activities like what they can see or visit, for example, museums, aquariums, beaches, etc. Add links or videos of these extra optional activities.
15+ Printable Itinerary Templates
1. Itinerary Planner Template
Are you planning to go on a trip? What you need is a well-organized plan. And our creators have taken care of it, as we bring to you, a ready-made itinerary planner template. May it be a domestic or international flight, this itinerary template in Word can be helpful when planning for upcoming trips. Become more organized with where to head to, where to eat, and activities. Plan your trip ahead so all you'll have to do at your destination is to enjoy. Don't wait any longer, download it now!
2. Trip Itinerary Template
Want your traveling to become hassle-free? It is possible only when there's an itinerary in hand. To make your trips easier, download our trip itinerary template in Google Docs format and make the most out of your travels by keeping essential trip details in one place. Important specifics like flight times, locations, confirmation numbers, car rentals, accommodations, and more can be included in this template. Customize this file as you please to better suit your purpose. When traveling all by yourself or with a co-worker, a trip itinerary template is an effective solution for seamless trips. So, download now!
3. Weekend Itinerary Template
Start your weekend getaway right with our reliable and well-presented weekend itinerary template in Pages. Release yourself from stress by finally doing that weekend getaway with your friends or families. You can get this template onto various devices from desktops computers to laptops and even phones as well as edit them in various file formats with less hassle. Why download it you ask? Don't just look at your screen, download now and effectively use this template today!
4. Cruise Itinerary Template
Want to enjoy your holiday on a cruise ship? Plan your luxurious cruise ship travel through our ready-made cruise itinerary template in Word format. Find out where to go and what activities you can do on your cruise trip easily. Apart from its simple, yet effective content that you can either use as it is or just personalize it, this template can also be edited and viewed on your various devices. What are you waiting for? Kickstart your dream cruise travel by downloading this template now!
5. Birthday Itinerary Template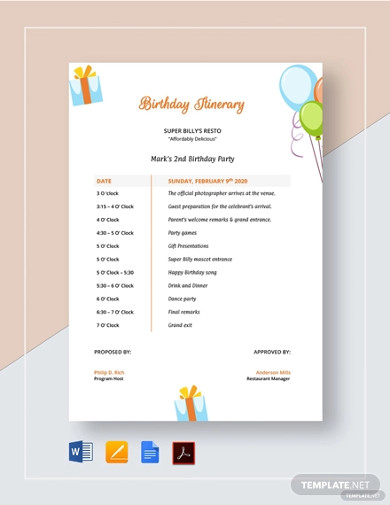 If you want your birthday party to go flawlessly and to bust boredom throughout the program, then our birthday itinerary template is your real game plan. By utilizing this file, you'll have a chance to maximize the time for the event and the fee for the venue won't be wasted. This professionally-designed template in PDF format can be modified and customized to suit your details and ideas. Access this file on any device and then expect a user-friendly experience. Plan and streamline your party by downloading this template today!
6. Free Trip Itinerary Template
Are you thinking about enjoying your holidays and go on a long trip? Don't let it go wasted and prepare an itinerary right now with the help of our trip itinerary template. By using this template you will be able to organize a proper schedule without any issues. This will also permit you to edit anything with its free editing features. You can download it in any device and it is printable as well. Why miss this golden opportunity? Get this template now and start making your trip itinerary instantly!
7. Free Travel Itinerary Template
Why waste your holidays? You should plan a trip and for an amazing trip experience, you're going to need a travel itinerary. Check out this travel itinerary template which will help you in making a perfect itinerary for your trip so that there are no issues during your trips and it goes flawlessly. This template has a built-in table that will aid you to fill in the required credentials and just make the required editing. Don't wait, download it now!
8. Free Vacation Itinerary Template
Need a break from your hectic schedule? Why not go for a vacation to some beaches or someplace peaceful? Plan your vacation by utilizing our vacation itinerary sample. This ready-made template will allow you to plan your vacation schedule and set a timeframe accordingly. Why waste your time in making an itinerary from scratch when you have this editable and printable template right here? Download it instantly and enjoy your vacations to the fullest.
9. Printable Trip Itinerary Form
ship.edu
Are you wondering about how can you make your future trips perfect and more well-organized? Then we suggest you prepare a travel itinerary right away. Get your hands on this ready-to-use printable trip itinerary template and you can make your itinerary without any hassle. This template consists of an itinerary form that you can just fill up with your personal information and whatever the requirement is and you can save it in any device or even share it virtually or just take out a print from any printer. So what's the wait for? Download now!
10. Independent Travel Itinerary Form
cpp.edu
If you are looking for a particular document that will help you in making an itinerary form, then we are here with a suitable template for you. Take a look at our independent travel itinerary form template. It has all the content which an itinerary form needs for an independent traveler. And the best thing is that you get all of this professionally written content ready-made along with the editing feature. Where else would you get such all in one template? Click that download option now! You can also check out our itinerary templates in Excel if you need some more varieties in Excel format.
11. Printable Itinerary Example
delmar.edu
Are you afraid that you might lose all your planning and decisions made for your trip? Not anymore. If you keep a printed copy with you. Utilize this printable itinerary template and you would be able to keep a printed copy of your itinerary beside you all the time. This template provides a basic travel itinerary which is required for an amazing travel experience. You can just edit the content by adding the information which you need in your itinerary and print it out. Download it now and see for yourself.
12. Hike Itinerary Form Template
wta.org
Planning to go for hiking this vacation? You are going to need organized and detailed planning before that. Why make a whole new one when you can just take help from our hike itinerary template. This particular template will help you in as many ways possible. You can just fill in the details in this blank itinerary template according to your wishes and save it or just take out a print. Don't let go of this opportunity and grab it now!
13. Program Printable Itinerary Template
studyabroad.asu.edu
14. Printable Itinerary Template in XLS
ctif.org
15. Printable Itinerary Report Template
columbia.edu
16. Travel Printable Itinerary Template
ilocosnorte.gov
More in Itinerary Templates