Paper Templates
8+ Best Paper Car Templates & Designs!
For a boy child's birthday, free paper car template make up for a theme based birthday party. You can either have multiple coloured cars to single colour of the car and printed on the paper as template. You can make a calendar of the PSD download paper car template as your idea and send across. They look cute and boys get delighted to see car theme based party. you can also see Paper Butterfly Templates.
Paper Car Truck Template Papercraft EPS Illustrator- $4

If you are looking to make a paper truck, this sample template here is just the thing you need. You are getting step by step directions here on how to create a paper truck digitally which can be printed out later.
White Car Template Paper Toy

The template here comes with individual paper cut-outs for the parts of the paper car so that it's easier for you to cut it and fold it accordingly for your DIY paper car project.
Toy 3D Car Paper Template – $4

This is a cute toy 3D car paper template in pages where you have a bright red car waiting for you. Your kids would love to use the postcard and simply adore the smiling sun & the happy cloud.
Free Printable Paper Car Template Model

If you are looking for ideas on how to make a car with paper, this simple template here this meant to help you with its paper car cut out with directions on how to fold it for the car
How To Make A Paper Car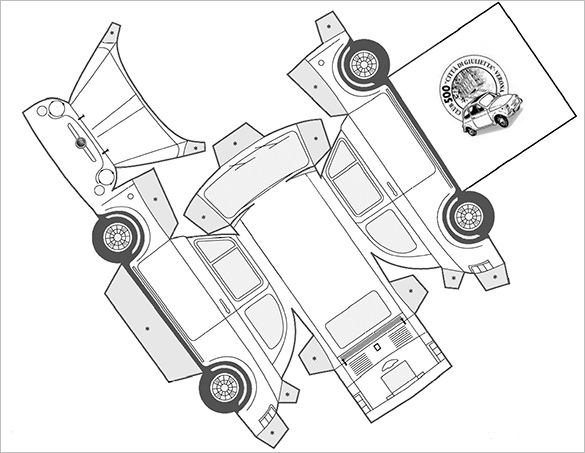 You are getting a readymade paper cut out for a big car with this basic template. The pre-structured cut out can be folded easily to give shape to the car. It's easy to work on.
Muscle Paper Car Illustration Vector EPS – $4

You are getting a beautiful and smart illustration of a smart car done with blue lines on a notebook paper. The car looks classy and ready to be cut out.
Paper Car Craft Template for Kids
Utility Truck Paper Car Template Download
How to Make a Paper Car : Tutorial
You can add details such as name, email-id, contact number and other necessary details. Invitations layout can also be sent across using the idea of car templates in word into any flyer or poster that you send.