Resume
10+ Receptionist Resume Examples
Receptionists are among the junior employees of companies, organization, and private businesses. They are the first faces that customers and visitors see before interacting with anybody else. With many organizations opening up opportunities for receptionists, you may grab such a possibility and join a reputable organization. And for that, you need an effective and impressive Resume Samples that will capture the attention of the interviewer at once. You can see the following templates to get an idea about how you should craft your resume.
Receptionist Resume Template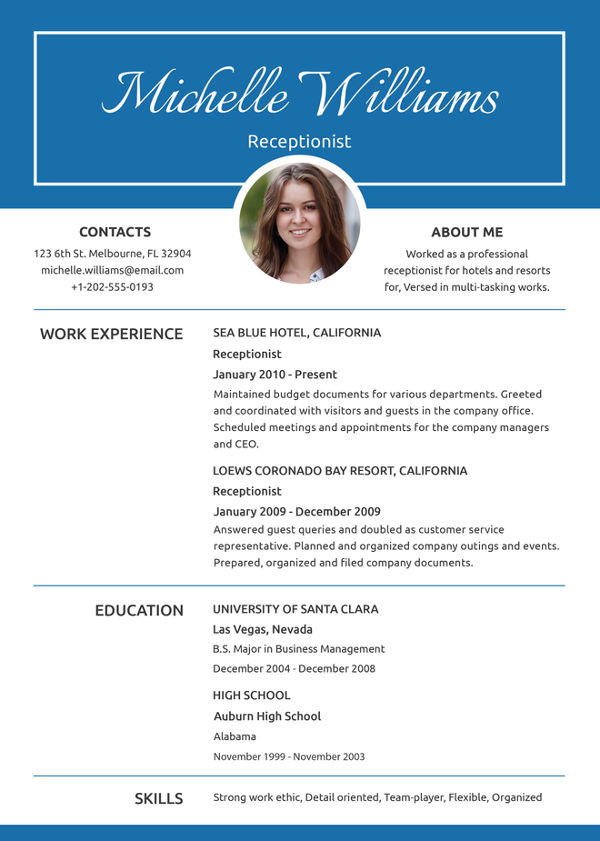 Medical Receptionist Resume in PDF
dayjob.com
This resume has primarily used tables and short bullets to highlight the candidate's medical qualifications and experiences perfectly. Some columns indicate important abilities and skills. You can use this basic resume template if you intend to get into the healthcare industry.
Dentist Receptionist Resume Sample
livecareer.com
To apply for the post of a receptionist in any of the reputed healthcare centers of dental clinics, you need to undergo an interview process. Use this template and get an excellent advantage in an interview process over your competitors. You may also see Resume Examples.
1. Why Should You Go Through The Receptionist Resume Examples Available Online?
A person who is looking for a job as a receptionist should be aware of an ideal resume by going through the different Receptionist Resume Template examples that will enable him to easily secure a job in the healthy and competitive employment sector.
The central concept of the resume should be to take you to the next step of the interview. You should use the right format, template, and statements in your resume. Go through the above-mentioned free resume templates to craft your compelling receptionist resume.
Office Receptionist Resume Template
coverlettersandresume.com
A resume for office receptionist position is an important job position, and for that, your resume needs to be honest. You can use our Office Receptionist Resume Template and print it after making the necessary customizations. You may also see Engineering Resume Templates.
Sample Executive Receptionist Resume
resumebaking.com
An executive receptionist is someone who works for chief officers of organizations. The responsibilities of an executive receptionist include handling administrative tasks for executives, arranging and scheduling interviews and many other such duties. You will get the appropriate format in the above template. Use it to craft an impressive creative resume.
Legal Receptionist Resume in Word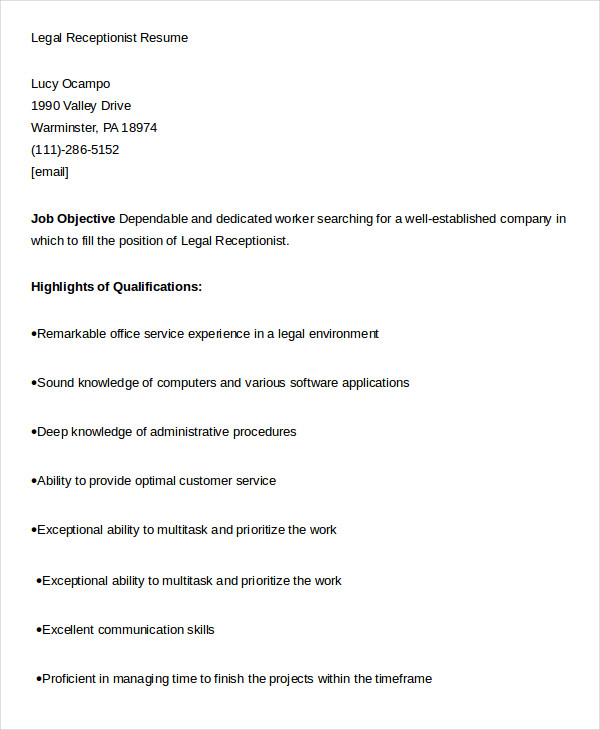 resumebaking.com
Receptionists for a legal firm perform a variety of clerical tasks and they may also assist the attorneys in paperwork. They are accountable for creating a professional resume and hospitable environment for clients as they need to greet visitors in the waiting area. You can draft an effective resume using the above template.
Hotel Receptionist Resume Template
coverlettersandresume.com
Front Desk Receptionist Resume Template
coverlettersandresume.com
Salon Receptionist Resume Template
livecareer.com
Veterinary Receptionist Resume Download
livecareer.com
Law Firm Receptionist Resume Sample
livecareer.com
2. What You Should Ignore In Your Receptionist Resume
It is easy for people to guess names, email contacts, and phone numbers. That means an employer who is looking for suitable candidates for the position of a receptionist will ignore you, or worse may reject you for being fake. Be real. If you don't have references, you can always leave the space blank. You may also see Construction Resume Templates.
In fact, writing the reference list is almost always unnecessary. Be honest in your approach; there is no need for you to mention things just for the sake of impressing the recruiters. The above-mentioned templates will give you the fundamental idea of how you should craft an ideal resume format templates.
There is no specific guide available that can tell you how you should craft your receptionist resume. From the moment the first person wrote the first simple resume, until today, people have put forward different ideas of what should go into a resume. The best thing that you can do is, follow a set pattern that you believe suits you and prepare your resume.
More in Resume