Resume
10+ Restaurant Manager Resume Templates
The designation of a restaurant manager is an important post in any restaurant. The professional has to look after the staff, their recruitment, training, targets and so on. Also, he has to oversee the catering part and client management as well. If you too are looking forward to drafting your restaurant manager resume, it's good to check out the resume templates designed for restaurant manager resumes. These are easy to work on and come up with a readymade framework on how a standard restaurant manager resume should be.
Fast Food Restaurant Manager Resume Template
Do not miss out on this impressively designed "Fast Food Restaurant Manager Resume" template that lets you create an impactful resume. Using this, you can enter details relating to your job and educational qualifications in the necessary spaces provided in this ready-made template. You can also instantly download this file in various compatible file formats.
Food Manager Resume Template
Have you been eyeing that food manager role in the company of your choosing? If yes, allow our "Food Manager Resume" template to help you create a resume that is powerful. You can conveniently list your experience, relevant skills, photo, and contact information by opening this resume document in various file formats.
Fresh Food Manager Resume Template
Present your previous job experiences along with your academic qualifications in an organized manner with the help of our "Fresh Food Manager Resume" template in any file formats such as MS Word, Google Docs, Pages, etc. This resume example is simple in its design and allows the information to be strategically organized.
What to Include in a Restaurant Manager Resume?
Are you a restaurant manager looking for a guide on how to format your restaurant manager resume? Well, your resume must include the professional experience you have gathered at various stages in chronological order. Then, you have to include a separate section on the different roles and responsibilities you have handled as the restaurant manager. You may also see Cashier Resume template.
Your educational qualification is very important and should be mentioned after the professional aspects. Also, if you hold any memberships with any esteemed organization related to your job, and have received many awards, mention those too. Finally, there should be the contact details of the applicant as no resume is complete without that.
Food Service Manager Resume Template
Fast Food Assistant Manager Resume Template
Restaurant General Manager Resume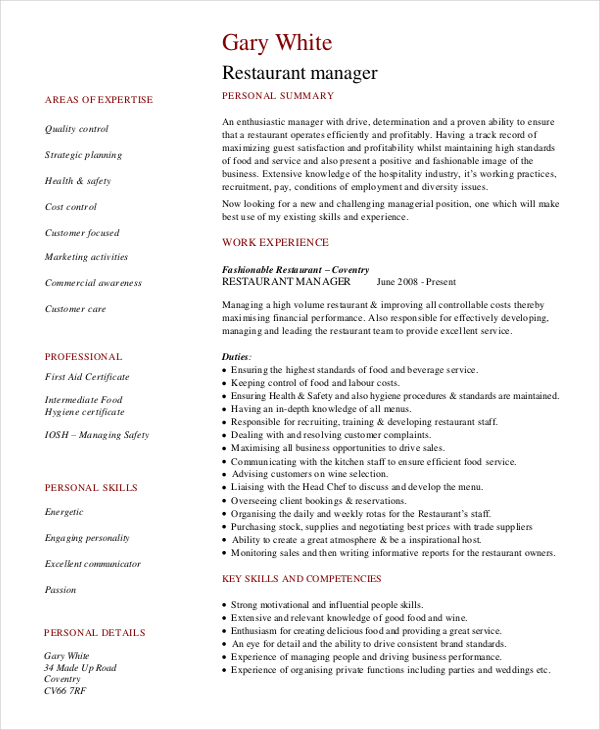 dayjob.com
This restaurant manager resume template would be good for general managers with mid-range experience. The template is divided into two columns- the left side is for expertise, skills & personal details while the right side hosts profile, work experience, and academic qualification. You may also see Executive Resume Template.
What are the Best Tips for a Restaurant Manager Resume?
The best restaurant manager resume must highlight your key skills and core competencies in the most impressive manner. It would be great if you can include sections like – "areas of expertise", "professional skills", "personal skills"- that would be able to highlight your potential as a manager in various ways. You may also see Supervisor Resume Templates.
Mention your skills in all the different sections of management that you have worked such as catering, recruitment & training and so on. If you have not gathered much of experience in the professional field, stress primarily on the different skills (like easy communication, good negotiation, leadership abilities) that uphold your worth as an efficient restaurant manager.
Assistant Restaurant Manager Resume
lewistonsilo.com
If you are a young assistant restaurant manager who needs his resume to mostly focus on the different responsibilities he has handled as an efficient assistant, this template would be great for you.
Restaurant Shift Manager Resume
aalankrita.com
If you are looking for an effective restaurant manager resume template that will enable you to list your vast work experience in chronological order – along with the different duties you have handled at different sections, look no further.
Restaurant Manager Resume Sample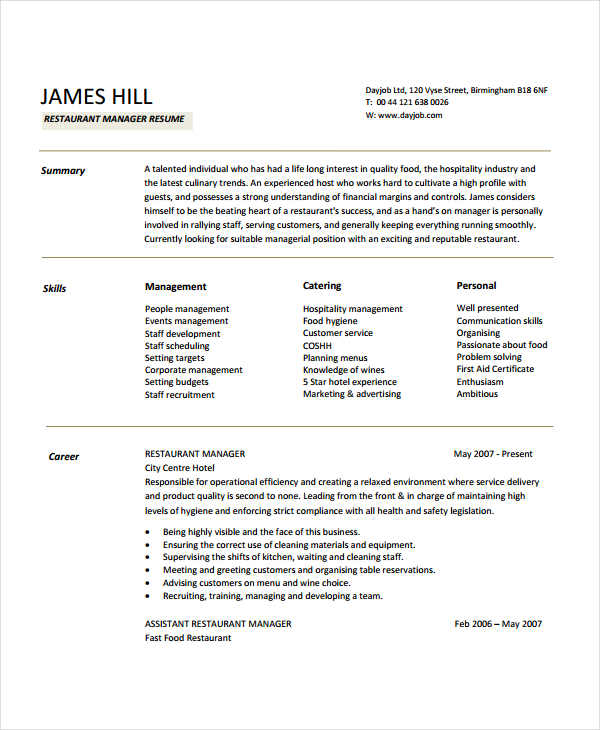 dayjob.com
The overall restaurant manager resume template comes with a soothing neat and clean approach with all the major sections of the resume divided into clear sections with proper spacing and easily legible fonts.
General Restaurant Manager Resume
ii.fsu.edu
If you hold an illustrious career bejeweled with honors and awards as well as conference presentations, this template here allows you enough space to list all- added to your professional experience, educational qualification, and personal details.
Restaurant Manager Business Plan Resume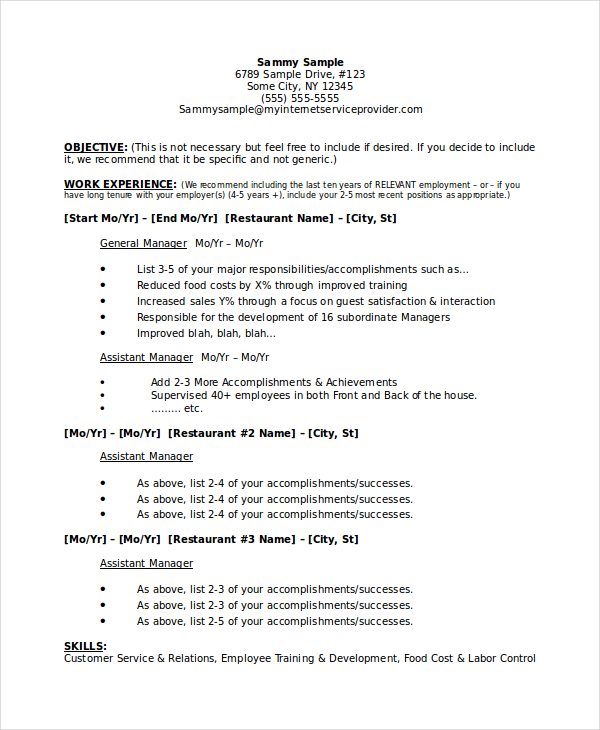 fastbusinessplans.com
What are the Mistakes to Avoid in Restaurant Manager Resume?
Typo, spelling, and grammatical mistakes are the most common errors in a restaurant manager's resume. Such mistakes, though apparently harmless, yet can mean a lot when the competition is really fierce. Thus, you must make sure to double-check your resume properly before sending it. You may also see Chef Resume Template.
Do not use general words but rather focus on strong words – instead of saying "great leadership skills", say "has been an inspiring leader for 50 staff". Do not mention any irrelevant hobby in the resume. Rather, put emphasis on hobbies related to your job, such as, "interested in learning different languages". Finally, an inactive email ID in contact details is a big put-off.
Summing up:
If you are looking for ideas on how to structure your restaurant manager resume, these simple resume templates here would be of great help. Whether you are a seasoned general manager of a restaurant or a new assistant manager or a shifting manager, these templates cover resumes for all. All the resume templates here are easily modifiable.
More in Resume