In any recruitment process, an applicant is faced with the needed documents and other necessary requirements as demanded by the hiring business entity. For someone who just graduated from the university, you might ask, "how am I going to deal with this?" When applying, always take note that there are two documents you need to procure, namely a cover letter and a resume.
A resume can be divided into various resume types. What you have to do is to choose the suitable resume type and incorporate your information on the resume. You can use the following simple business resume templates and write a resume headline which summarizes all the attributes that you have that fits you to the job position.
Free Business Resume Template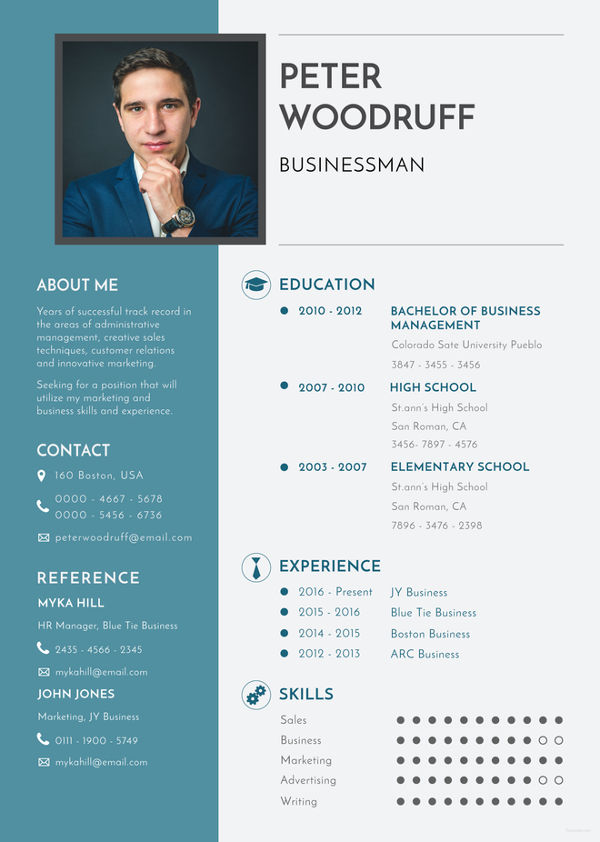 Professional Business Resumes
Professional Business Format
Professional Business Example
Professional Business Cover Letter
International Business Resumes
Business Development Manager
International Business Consultant
International Business Sample
1. Resume–A Definition
A resume is a document showing details about an applicant's educational attainment, work experience, and skills and abilities. This is created by the applicant as a required document for the standard recruitment process. A business entity obliges applicants to submit a basic business resume for the HR personnel to know if the applicant meets the needed qualifications for the job vacancy.
2. Resume vs. Curriculum Vitae
Although a resume and a curriculum vitae are similar in terms of presenting an applicant's work details, these application documents have a few differences, as follows:
Length – A resume is created shorter than a curriculum vitae. Executive Resumes should at least cover only one to two pages, unlike an Executive Curriculum Vitae that is created with two to three pages at the least.
Information – Although both documents incorporate work experience and skills information, a resume displays only a summary of that work history along with the applicant's personal and educational background; whereas, a curriculum vitae focuses more on the work experience which is explained in detail along with achievements, seminars, and skills.
Purpose – A resume is required by an entity with the purpose of seeing briefly an individual's background; while a curriculum vitae defines an applicant's expertise and experience due to in-depth detail of the work experience being presented.
Business Analyst Resumes
Senior Business Analyst Resume
Healthcare Business Analyst Resume
Process Analyst Resume
Business Development Resumes
New Business Development and Marketing Executive Resume
Business Resume Template Types
To know the business resume that applies to you, here are sets of information regarding the business resumes in Word provided on this website in simple resume Template formats, as follows:
Fresh Graduate Business Resume Templates:
Business Graduate Resume – This template is formatted for fresh business graduates to follow at the start of their job applications. Some graduate resumes apply to postgraduate studies graduates.
Business School Resume – The format of this template is designed for the application of an individual into business school. Postgraduate studies often demand school requirements different from the regular college universities.
Business Administration Resume – This applies to graduates of business administration applying for administrative related job positions. Business administration jobs, like the office administrator position, entails the necessary business management skills as indicated on this template type.
Professional Business Resume Templates:
International Business Resume – International jobs vary in the resume format standards due to the fact that laws and practices differ between states. Examples of international jobs provided on the templates are Development Manager Template and Consultant Template.
Business Analyst Resume – Business analyst such as data process analyst and healthcare analyst are some of the analyst positions presented on this business resume template type. As specified in one template, a business analyst must be able to identify solutions and tactics needed for business decisions.
Business Development Resume – Developing a business entails more than just the growth of the business entity. The templates under this category like the Development Representative Template and the Development and Marketing Executive Template show detailed formats on how a business development resume is crafted.
Business Manager Resume – Managers supervise the business operations of an entity by creating decisions that drive the company to success. This resume template format contains template formats for a retail store, analyst and project managers.
Business Consultant Resume – Consultants have different jobs when it comes to business entities as they aid the business and its employees to grow. In this regard, this template presents a format as to how senior and management consultants must make their resumes for consulting firms.
Business Development Representative
Retail Business Owner
Business Administration Resume
Business Administration Graduate
Business Manager Resumes
Business Analyst Manager
Basic Resume Formats
Basic resumes, especially for business related job positions like business analyst resumes, follow one of the following basic resume formats:
Chronological Resume Format – This is the most commonly used resume format which allows you present, in chronological list order, an applicant's educational background, work experience, and skills. Another term for a chronological resume format is reverse chronological resume because the most recent information of the applicant is listed first instead of the past ones.
Functional Resume Format – This resume format is different from the chronological format in terms of the information this resume format prioritizes on. The skills and the experience of an applicant are indicated first without the stressing the dates of past employment.
Targeted Resume Format – This resume format conforms to the job position an applicant is applying for. This means that the information on the resume such as the work experience and the skills are screened to fit the required qualifications of the job vacancy.
Combination Resume Format – This is a resume format coming from combining other resume format types such as chronological, functional, and targeted resume formats. This format lets you list work experience, explain in detail your skills, and align the resume information to the standards set for the job position.
Business Consultant Resumes
Senior Business Consultant
Management Consultant
Business Graduate Resumes
Graduate Student Resume
Business School Resumes
Business School Format
Tips to Effective Business Resume Writing
There is one smart goal when it comes to applying for a job and that is to get hired for the job. In order to get the attention of hiring employers and get shortlisted among applicants, the following are tips you can follow for effective business resume writing:
Limit Resume Length – Stick to the standard one to two pages length on resumes. This is to ensure that your resume will be read even after a 25-second scan. Limiting the pages will make you focus on the writing the most important qualities you have on your resume.
Quantify Achievements – Business resume examples mostly show resumes with numerical or percentage descriptions on their resume profile or summary. Indicating your accomplishments and specifying them accurately at the top of the resume will inform them of the good attributes you have.
Align Resume Information – Information on the resume, as shown on the sample business resume templates, should be catered the business industry you apply for. In this regard, you are to create separate resumes for different industries in order to conform perfectly to their respective needs.
Submitting a well-written business resume will increase the chances of you getting hired for the position your applying for. Make sure that you use these simple business resume templates in order for you to know if you are making your resume effectively.