For simpler and faster documentation, whether for personal or business use, you can check out our wide range of ready-made good Notes Templates. When you don't have enough time and want to write the most important details, these templates can do the job for you. We have incorporated the necessary information into each template which you can use as-is or modify to fit your specifics better. Whether you will use it for meeting, class, or interview, you need not worry as our premium templates are versatile and 100% customizable. Quickly downloadable and printable in any file formats such as Microsoft Word, Apple Pages, Google Sheets, Numbers, Excel, PDF, and Google Docs. We help turn your tedious tasks into time-saving ones. Make documentation more comfortable and faster when you download and effectively use any of our Ready-Made Notes Templates!
How To Create A Note?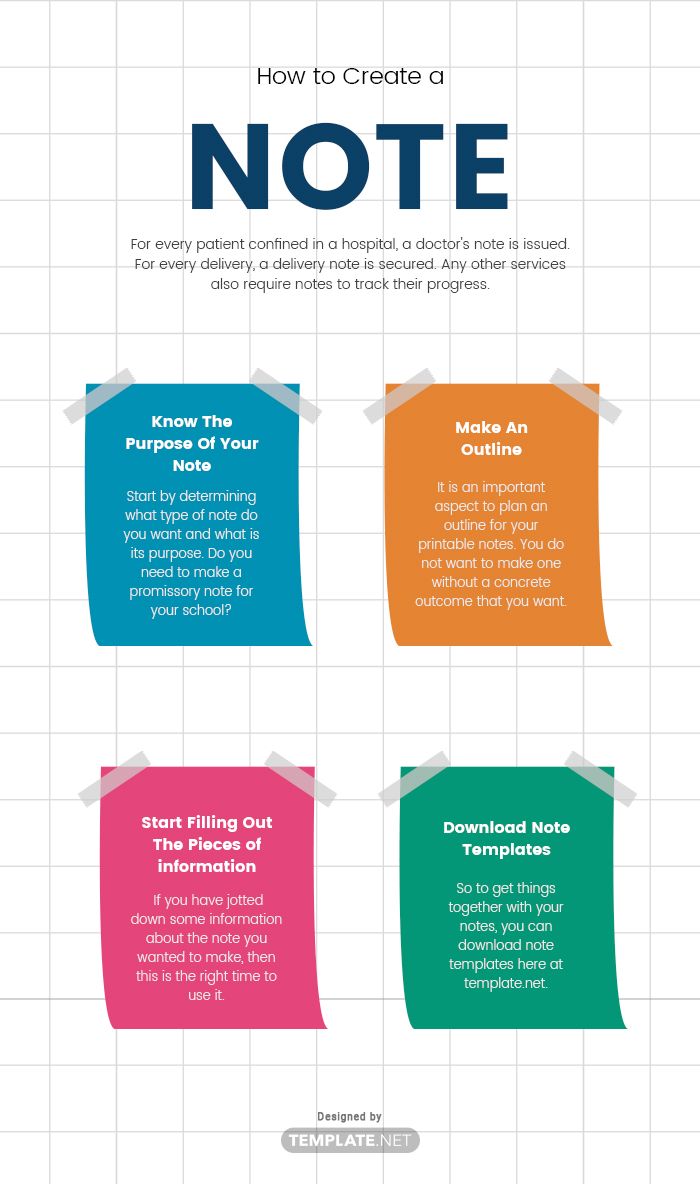 A note is a brief record of facts, topics, and thoughts that have been jot down as proof of the said factors. It can be done online or through manual writing in a paper. It is usually used by a doctor, company, school, delivery, restaurant, and more.
For every patient confined in a hospital, a doctor's note is issued. For every delivery, a delivery note is secured. Any other services also require notes to track their progress. So, how can I write a note myself? Well, we have the answer to your question. Here is a helpful guideline in creating a multipurpose note.
1. Know The Purpose Of Your Note
Start by determining what type of note do you want and what is its purpose. Do you need to make a promissory note for your school? Are you making a thank you note for your supervisors? Or are you issuing a release note for your patient? If you determine the purpose of your note, proceed to the next steps.
2. Make An Outline
It is an important aspect to plan an outline for your printable notes. You do not want to make one without a concrete outcome that you want. If you need a note for the official documentation for your company, you can consider whether you will use Cornell format for your notes or not. If you are making specific notes like for the medical field, the SOAP note is a standard format to use. But if you wanted it to be personalized, you need not follow a specific format for as long as it passes the standard for any notes you will make. Then, know the digestible sections you need to write in your notes. Make sure to arrange them orderly and accordingly.
3. Start Filling Out The Pieces of information
It is an essential part of your notes. If you have jotted down some information about the note you wanted to make, then this is the right time to use it. Usually, a note is composed of the header with the note title, company name, company logo, and contact information. Then, the body of the note wherein you will start reporting about the facts of the said type of note. You can include the names of the people involved. Then for the footer, the signatory section is optional.
4. Download Note Templates
So to get things together with your notes, you can download note templates here at template.net. Why start from scratch if you can formulate your note with high-quality, 100% customizable, and easily editable template that you can quickly download here at template.net. From math notes templates, doctor note templates, delivery note templates, we have everything you wanted. Besides, our templates are printable in any file format you want! Experience the convenience at its finest.
General FAQs
What do you Mean by A-notes?

By definition, an A-note often called a promissory note, is a written promise to pay a specific amount of money at a future date. In other words, a note is a loan contract between the maker and the payee. Some notes are also payable on demand of the maker.

How Can I Make Google take Notes?

In order to make notes in Google you need to follow these steps:

Download the Google Notes app from the Google Play store on your Android smartphone, or visit your drive.google.com/keep.
Create a note in the Android app.
Title your note.
Color your note by tapping the artist's paint palette icon on the top right.
Share your notes.
Save links to read later.


What are the Five R's of Note-taking?

Here is an easy way to remember the most important points of note-taking:

Record: During the lecture, write all meaningful information legibly.
Reduce: After the lecture, write a summary of the ideas and facts using keywords as cue words.
Recite: To study properly, you must recite all the information in your own words without looking at our notes or the text.
Reflect: Think about your own opinions and ideas as you read over your notes. Raise questions, then try to answer them creatively.
Review: Before reading or studying new material, take ten minutes to quickly review your older notes.


What are the Advantages of Taking Notes?

Learning how to take better study notes in class or at work helps improve recall and understanding of what you are learning because:

It Ensures you are actively listening to what the teacher or boss is saying
It requires you to think about what you are noting down
It helps you make connections between topics
It serves as quality review material for after class
Using different note-taking strategies is important, especially as you progress through school or projects at work and transition to college or university.

What are the Different Types of Note-taking Methods?

The different ways to effectively take notes are:

THE CORNELL METHOD: The Cornell note-taking method helps organize class notes into easily digestible summaries.
THE MAPPING METHOD: The Mapping note-taking method is a more visual way to organize your class notes. This technique is useful when learning about relationships between topics.
THE OUTLINING METHOD: The Outlining note-taking method uses headings and bullet points to organize topics. This method is most useful when learning about topics that include a lot of detail.
THE CHARTING METHOD: Charting note-taking method uses columns to organize information. This method is useful for lessons that cover a lot of facts or relationships between topics.
THE SENTENCE METHOD: The Sentence note-taking method is simply writing down each topic as a jot note sentence.
Read More
Earn 20% commission on every sale from your Share
Bloggers: Publish/Mention Template.net products on your website, blog, Social Media or Via Email & Earn affiliate commission of 20% for every sale