Timesheet invoice template is a blend of an invoice as well as timesheet template in which it records day and time spent on a particular project in addition to the name and the description of the project which is then used to calculate the amount the client will have to pay for the officers who have worked on the project as per their hours spent. You can see also volunteer timesheet templates. This template timecard incorporates all possible situations in their particulars column. The user can customize it by adding or deleting columns and rows according to their need. Enjoy the sample examples of these timesheet templates for free in numerous formats.
Temporary Worker Timesheet Invoice Template in PDF
asterleyclarke.co.uk
Wide Array of Templates at Your Disposal
A timesheet invoice is a combination of a timesheet and an invoice. This is generally used during a project. It not only records the number of hours worked on the project but also attaches the invoice for money payable by the client for the amount of work done. Thus, a timesheet invoice template is a ready to use tool that comes with a generalised structure of the sheet. They are available in Word, Excel and PDF formats. Also, the timesheet invoice template available with us is designed by experts. you can see also sheet templates.
School Timesheet Invoice Template Download in PDF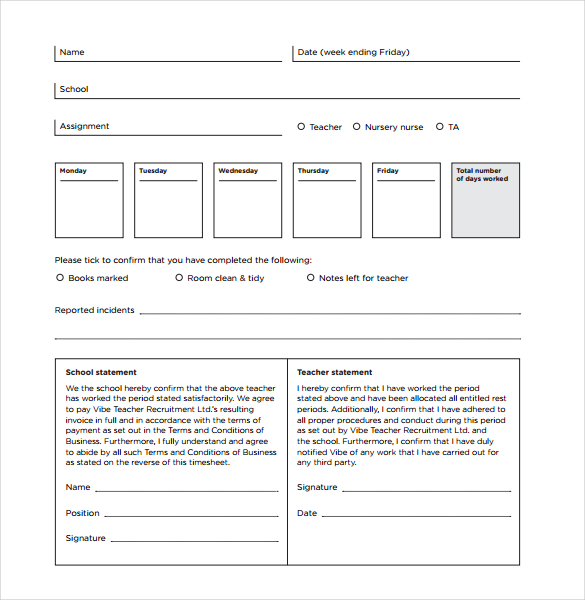 vibeteaching.co.uk
Employee Timesheet Invoice Template in PDF
link2recruit.com
Templates Fulfilling a Wide Variety of Purposes
Invoice timesheets have become very popular over the recent years with the surge of the IT industry. Most of the companies that hire freelance workers generally ask these employees to raise an invoice cum timesheet in order to claim their payments. Invoice timesheets seem very useful and flexible because they have a very well-defined and clear statement of the time for which the employee has worked and the payment that he or she is eligible for depending on the pre-defined rates of the work. Invoice timesheets have a great utility in these regards. They contain a very few columns and have a little to no amount of complexity in their structure. Invoice timesheets are strictly designed in order to make the calculation of the payment in terms of time easier and better and have no intentions of serving any other time bound purposes. For this reason, they are also a lot less complicated than all the other type of timesheets available out there and those who are only concerned with their work and the payment that they get in return of it obviously prefer the invoice timesheets then. Some invoice timesheets also have a provision to add the quantity of the work that has been carried out in the given amount of time, which only makes them clearer and more well-defined in every sense. Invoice timesheets are therefore extremely popular with the modern day working class.
Contractor Timesheet Invoice Template
nmmedicaid.acs-inc.com
Timesheet Invoice Template Free Download in PDF
commsresources.com
Personal Timesheet Invoice Template in PDF
faculty.uncsa.edu
Timesheet Invoice Template Download in PDF Format
agilityhrgroup.com
Templates Can Be Easily Created In A Seamless Manner
The creation of invoice timesheets is very easy and it may in fact be one of the easiest timesheets in terms of designing it. Invoice timesheets hardly contain two to three rows and most of the templates available on this website already have these provisions so you are all set to use them once you download them in any of the three formats – word file, PDF file or excel sheet. Once you have done this, all you are required to take care of is filling the proper information in the proper columns. That's the ease you can achieve with invoice timesheets. You can see also hourly invoice templates.
Various Dos and Don'ts Which Need Your Attention
Invoice timesheets have a very well defined format and have a minimum number of rows and columns to meet the purpose which itself happens to be nothing but getting a very clear statement of the payment in regards with the hours that have been expended on working. For this reason it is suggested that no edits be made with the design of the invoice timesheet at all. Such templates are useful as they help save a lot of crucial time and also money, as they are available for free. You can see also term sheet templates.