Statement Templates
10+ Financial Statement Templates
Financial Statements are prepared with the purpose of presenting the actual financial position of a business, a company or any other entity. Being a business owner, you hire an accountant for the same. Being an auditor, you check them and make a report on them. Even a household can make a financial statement template to ascertain their financial position. To facilitate these needs, here are some templates and examples to help you out.
Table of Content
5 Steps to Write a Financial Statement
Step 1: Understanding The Relevant Law And Statute
The rules, laws, and statutes differ according to the form of your organization. There is a different act for partnership firms, LLPs and companies. After understanding which will be applicable to your organization you need to figure out a financial reporting framework that you will adopt and your financial statements will be made in accordance with it.
Step 2: Understanding the Documents
You need to ensure the safe custody of all the source documents i.e. bills, payment receipts, invoices, etc which are used to make entries in the books of accounts. Whichever accounting software you use, these documents will be a must. You also need to ensure the safe custody of any business agreements, contracts, loan-related documents, etc.
Step 3: Recording the Transactions and Events
All the transactions and events that occur in an organization on a day-to-day basis must be recorded correctly and classified properly. From source documents, they must be recorded in the system. Accounting software that is used has made the work much easier. All you need to do is enter the transactions correctly.
Step 4: Adjustments To The Accounts
Recording the transactions is not enough. All the accounts are checked at the year-end. The creditors' and debtors' balances are matched. Bank reconciliation is to be prepared. Proper adjustments are required to be made to the nominal accounts, personal accounts, fixed assets, etc. after the adjustments closing entries are passed.
Step 5: Elements of the Financial Statements
A general set of the financial statement includes a profit & loss account, a balance sheet, a cash flow statement and other notes to accounts. Financial statements should be prepared with a view to ensuring that all the transactions are recorded, they have actually occurred during the year, and presentation is made fairly and correctly.
Here are some templates and examples which will help you make the financial statements.
10+ Financial Statement Templates
1. Basic Financial Statement Template
This is a basic financial statement template for the preparation of financial statements. It contains a balance sheet, profit & loss account, and cash flow statement. Whether your business is small or large, you can use this template. It is available for instant download. It supports all file formats. Its suggestive headings and content will also be helpful.
2. Free Financial Statement Template
If you want to present your company's financial results in a summarized way only in the form of the balance sheet, this template is for you. The financial report template contains the format of a balance sheet only to present two year's results. There are also some common financial ratios given to see the company's position.
3. Free Personal Financial Statement Template
You need to have an idea of financial position of not only your business but your personal finances as well. This sample financial report template is made for the purpose of preparing a personal financial statement. The format is simple with incomes on one side and expenses on the other. It is a print-ready template.
4. Blank Personal Financial Statement Template
hrdc.org
This is a free printable financial statement template to write down your financial information in a systematic way. You may need such form for submitting it for a loan or to any government authority. The format is detailed. On the first page is the balance sheet and income and expense statement and on the second page are the details of the assets owned
5. Simple Financial Statement Example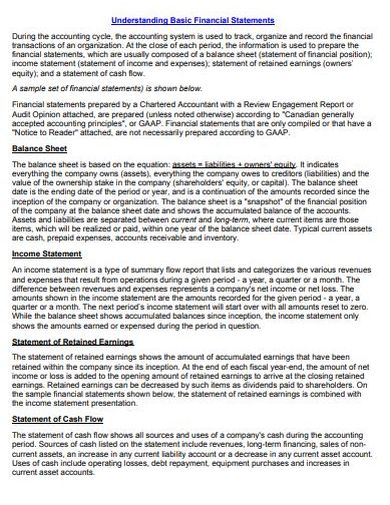 bouffordca.com
If you have a small business and want to get sample financial statements made for the very first time, you can get an idea from this example. You need to have an idea of how a financial statement is made and what does it involve. The first page is all about the understanding of the financial statement.
6. Professional Financial Statement Template
nt.gov.au
Not only accountants and business owners but auditors also need a format for income statement and report. This editable template contains a financial statement and an auditor's report. There is a profit & loss statement and balance sheet only. Cash Flow statement can also be attached by the auditor if required.
7. Sample Financial Statement Example
samhsa.gov
In case you obtain a government grant and are required to file a reporting statement, you can refer to this format if there is no specified format provided by the grantee. This income template is a simple black and white editable format. You can make the required changes as per the need for the grant.
8. Modern Financial Statement Template
.georgesriver.nsw.gov.au
This is another format for use of an auditor. It is a colorful and editable format. It contains the format for auditor's report, committee report and a general set of financial statement analysis. It is a blank format so you can insert anything relevant to your business. This is a free and print-ready template.
9. Free Financial Statement Example
contentres.com
This format is made for collecting the financial information for a credit application. You can use this format for making a personal finance statement in Word and ascertain your net worth. All you have to do is to fill up the information. All the assets' and liabilities' can be recorded in separate notes provided to have a clear picture.
10. Standard Financial Statement Template
patientsafetyinstitute.ca
This template is another sample for auditors including independent financial statements, auditor's report, and notes to accounts. It is a professional template. It is not editable or printable; It is just for the reference. An auditor needs to understand the entity the accounts of which he is auditing and make his report according to the relevant statute.
11. Corporate Financial Statement Format
ey.com
In case the company has a subsidiary or an associate company or a joint venture, a consolidated financial sample statement is prepared. In order to get an idea of how a consolidated financial statement is made, you can refer to this example. They do not differ very much but the compliance with the rules and law increases a bit.
More in Statement Templates