Backgrounds
Top 24+ Rocking iPhone Backgrounds – Customize Your Device more Colorful
Here is a list of the most popular and most attractive wallpapers to choose from, wallpapers that will certainly make you fall in love with the display of your iPhone, all over again.
Doodle jump

For all those people who love doodling, this background instantly takes you back to your school days. The background is in light shades and it fits the phone perfectly.
Hanging

This funny and cute looking iphone wallpaper makes it look as if the icons on your phone are hanging on a clothes line to dry. This wallpaper has a great resolution which is hard to find in iphone wallpapers.
Fresh touch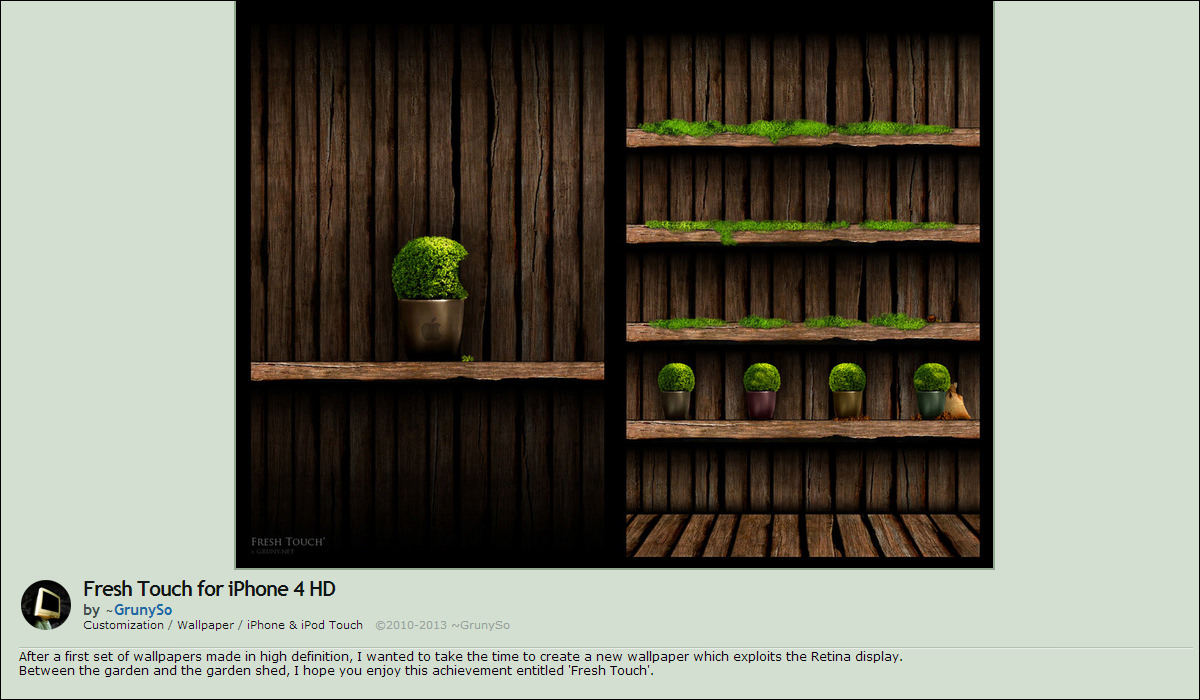 The creators even managed to create wallpaper for people who love gardening. Download this wallpaper and transform your phone into a garden shed. Just remember not to water the plants here!
Liege

This theme is for moms, office people and for every person who absolutely loves sticky notes. This wallpaper transfers your phones icons to sticky notes. Unlike real sticky notes, these can't be pulled out.
Kitsch

This wallpaper is perfect for the ladies. A very pretty and girly wallpaper, it comes in pink. The wallpaper is designed in such a way that the icons look like they have been framed and put up on a wall.
Tron

This cool wallpaper adds a neon border around the icons. Download the wallpaper to transform your phone into a sci-fi device. The background color is black and the resolution is just awesome.
Neon arrows

This cool background comes with various neon arrows spread all over the screen and pointing in different directions. It gives the appearance of live wallpaper but you get to save up on your battery.
Nano tubes

This is a great app for all those people who love science. This wallpaper is designed in microscopic tubes that fit well on the phone. This wallpaper has great resolution and is a great download.
Grid

This is a very unique and elegant theme which lets you use numbers to your icons. This beautiful theme adds class and elegance while you keep a check on the count of icons that you have downloaded.
Pacman

This is wallpaper for all the pacman fans out there. The wallpaper consists of a screen shot of the game making it look like you're playing the game. The icons look like obstacles with the pacman running around it.
Christmas

Give your phone a Christmassy touch, not only in December. This wallpaper lets you get into the mood for Christmas any time of the year. The background is red in color and it has white snowflakes scattered all around.
Splash

For the little kid in you. This wallpaper has paint splattered all over. It's bright, colorful, vibrant, and messy. But it looks great and has great screen resolution. The wallpaper adds fun to your phone simply.
The toolbox HD

This theme has been designed in a very pretty shade of red. The shelves are red in color and is perfect for those who don't mind such bright colors. The resolution is pretty good and it fits nicely too.
Shelf

This theme is perfect for those who like light colors. This theme is basically white and it gives a wintry look. It instantly clams you down. A very serene and beautifully designed wallpaper, this theme should be downloaded by everyone.
Rows

This minimalist and simple background has stripes of black and grey. A dark and deep background, it is best for those who do not like much color. The background does not interfere with the icons.
Torn
Watercolor shelf
Wet
I phone shelves
Couch
Pencil
If you have any DMCA issues on this post, please contact us!