Your Facebook profile is almost like the mirror of your own unique persona to the world and hence you always like to deck the profile with fitting backgrounds in tune with your distinct taste and interests. If you are looking for some Great Facebook background ideas, our list below is sure to impress you. We have got a stunning list that is free to download.
Missing You Facebook Layout Background
Are you missing someone and wish to convey it to that special person through your Facebook profile? Get the missing you Facebook layout and express your feelings in the most awesome manner. Your significant other is sure to fly on cloud 9 on checking your profile. Get it from here.
Christmas Holiday Ornametns Facebook Cover
Lights, flowers and fabulous bells are all the ornaments of Christmas festival. They add to the splendor and festivity of the holidays. Let your Facebook profile reflect the fervor of those days by a mind blowing cover. Download it here and spread happiness during the festive season.
Animal Print Hearts Facebook Backgorund
Bored of red or pink hearts? Try out Animal print hearts in sexy pink color and make it your Facebook background. Make your Facebook browsing fun with this trendy background that would certainly get you hooked to Facebook. Download it here.
Cool Animal Prints Animated Facebook Background
"Animal prints" is always a great style statement. Add animal prints animated Facebook background to your account. These backgrounds can be absolutely effective in adding more charm to your personality. Everyone who would visit your profile would be left with a pleasant image of you as a person.
Business Woman Cool Facebook Background
Are you a lady with a dynamic professional outlook and an able business woman? Do you aspire to be an influential personality in the world of entrepreneurship? Business woman is the best Facebook background for you that would depict such qualities that you possess.  Get it here and be ready for some great compliments.
Bat Boy Snazy Facebook Backgorund
A snazzy bat boy background would be loved by your teenager child. It would win the heart of anyone who wishes your profile with its cuteness. Youngsters can also download this background and attract more visitors to their profile. Your message folder would overflow with complimenting messages once you have this cool background.
Awesome Rainbow Abstract Swirls Facebook Background
Snowmen Business Facebook Background
HD Flames Facebook Background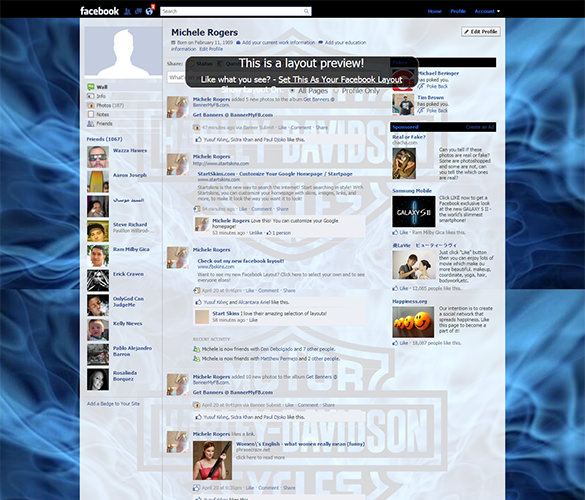 Funny Family Facebook Background
Pink Happy Holidays Facebook Layouts
Cool Chipwrecked Facebook Background