Documents
Notice
A notice is a legal notion that refers to the necessity to keep a party informed of the procedures that are impacting their rights, responsibilities, and duties. They are an instrument for conveying details about occasions in ways that reach a lot of people quickly and easily.
Table of Content
Notice Definition and Meaning
Notices are a type of formal communication that can be sent either to a single individual or a group of individuals.
It is similar to an article in the news that notifies such person or individuals of some significant occurrence. An invitation to a meeting, an announcement of any event, providing particular directions, making appeals, etc. can all fall under this category.
What Is a Notice?
A notice is a formal announcement that is written down or printed for a certain group of individuals. It is written in extremely exact terms, and any unnecessary elements have been omitted. Notices, in their most fundamental form, are an instrument for spreading information about any occasion or issue in a way that reaches a large number of people in a shorter amount of time.
10 Types of Notice
Employee Notice
It's possible that some of your workers won't act in the appropriate manner, which might create issues for your company. You might also consider writing an employee notice as a formal means of addressing the issue. When issuing a cautionary notice to an employee, you are required to write in a formal tone since doing so will demonstrate both your professionalism and the level of importance you attach to the matter.
Meeting Notice
Your participants will be more prepared for the meeting if they are aware of its purpose and are reminded of the date, time, and location of the gathering through the use of a meeting notice. It doesn't matter if you're hosting a school meeting, board meeting, office meeting, committee meeting, or any other kind of meeting—you need to make sure that the notice is brief. Since this is a reminder for the meeting, you should also add the fundamental information on the gathering.
Payment Notice
If someone is borrowing anything, a notice of payment is obligatory. It is a notice that is generally in the form of a letter that is sent to the borrower on a specific basis detailing the agreement, amount, and when it will be past due. It is a notice that is delivered to the borrower on a specific basis.
Rent Notice
A rent notice is often handed out to tenants whose payments are overdue. This acts as a friendly reminder to the renter that they have not yet paid the appropriate amount or the remaining balance according to the payment plan that was agreed upon. This legal notice is provided to the tenant who is in default by the landlord.
Termination Notice
You are required to provide a termination notice if you are ending a contract, employment, or any other relationship. Always keep in mind that you should speak in a businesslike manner. You are not needed to offer a reason, but if you can, it would be helpful if you could provide one.
Copyright Notice
A copyright notice notifies the public about the copyright protection of an artist's work under the law. Copyright protects every creative creation, such as movies, television programs, books, music, videos, artwork, and even trademarks. Publishing executives employ a copyright notice to prohibit unlawful copying of any work and inflict punishment on those who breach this legislation.
Warning Notice
A warning notice is an official document that details the infraction committed by an employee under the employee handbook or code of conduct of your firm. The Human Resources department keeps a database of employee improvement notes that include both verbal and written notices. By recording these notices, the employer can monitor whether or not the employee has made amends for the previous crimes or whether or not the person continues to commit wrongdoings, which can be grounds for termination.
Freelancer Notice
The majority of people who work as freelancers do so because it allows them to make money while also enhancing their abilities, as well as the flexibility to set their pricing and timetables. Freelancers often find that a freelancer notice is their most reliable companion. You may use it to send out announcements and keep your customers up to speed on the status of your work with this tool.
Work Notice
Some problems in the workplace need to be addressed and given a warning. Aside from that, there are a variety of announcements that fall within the purview of the department of human resources, which is responsible for their distribution. For this reason, you need to create a work notice that can be used for a variety of situations, especially when you are going to alert the other workers.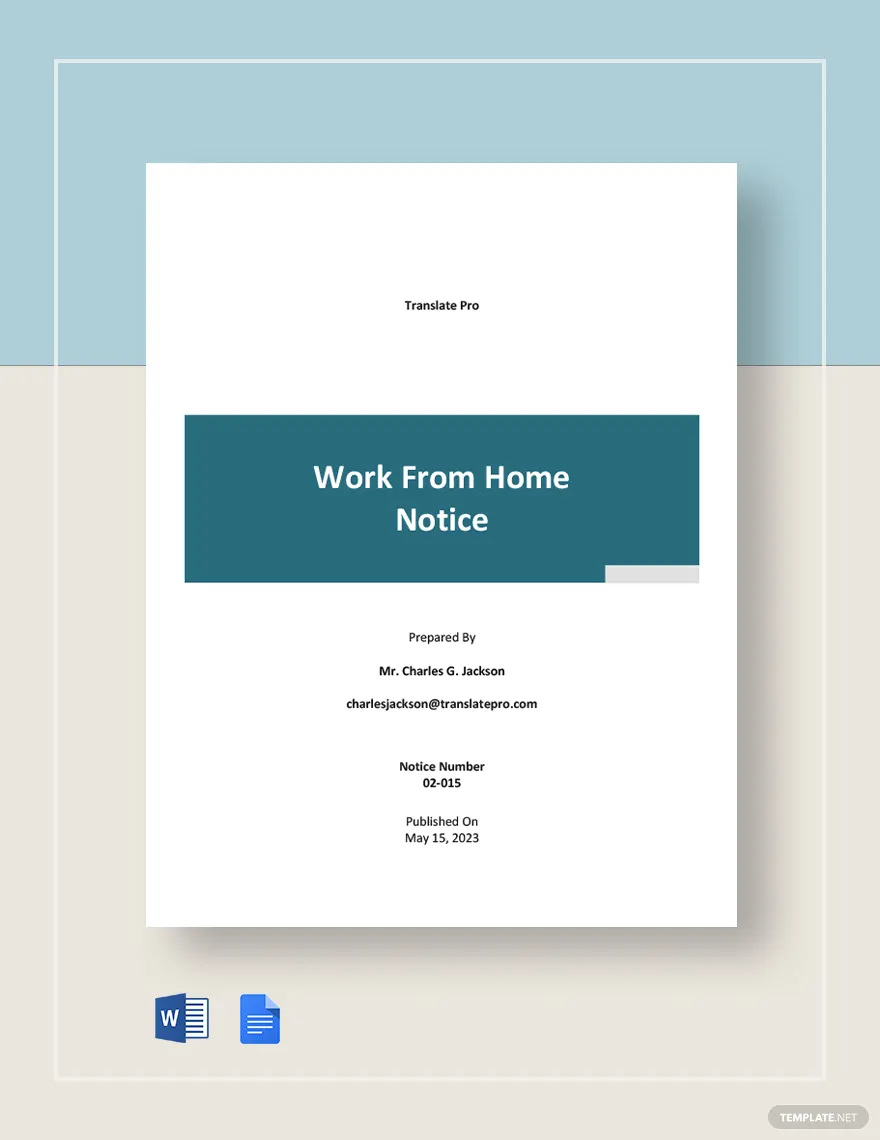 Restaurant Notice
The term "restaurant notice" is used to describe any letter that is instructive, mandatory, and communicative and is delivered by the HR department of a restaurant to a specific team or everyone. A notification letter of this kind is always helpful for commanding and communicating various data to the many folks who work at the restaurant. Not only does it count only the legal documents, but it also includes the official decisions, warning letters, and other similar documents.
Notice Uses, Purpose, Importance
The purpose of writing a notice is to draw the attention of a certain group of individuals to a particular piece of information. In most cases, they are affixed with pushpins in any communal location where the individuals who are affected may access them and read them. The following are the various applications that may be made of it, as well as the significance that it holds for everyone who employs it.
A Medium of Information
The term "notice" refers to a specific type of formal communication medium. It can be used to make an official announcement or display information, notification, or a warning about anything. Because it is a kind of corporate communication that is used to alert employees of a company about anything significant, notice writing plays an important part in the business world.
Encourages Communication
Notices also have a further, more subtle role, which is to urge parties to communicate effectively with one another. They provide the parties with the opportunity to raise issues in a formal setting and to elicit a response from the other party that the other party would have otherwise avoided or overlooked. Do not be afraid to issue notices, even though their content may be interpreted as being combative.
Serves As a Requirement
A significant number of contracts and certain terms mandate the provision of notices. They are written in such a way that the parties to a contract have an obligation to notify one another under particular conditions. These clauses are incredibly significant, even though they are frequently undervalued and underappreciated.
For The Effective Transition of Work
The act of giving notice ought to go in both directions. Employees are required to provide notice to the firm for the business to formulate an exit strategy. Companies also have the option to "give notice" to their staff members. For instance, when a person's employment is being abolished, the corporation may offer to compensate the employee for two weeks' worth of work in place of giving notice.
Telling Human Resources
the very last step in the procedure of handing in one's notice is to inform human resources. If the intention of providing notice is to pave the way for a transition, then it seems sensible to include the department of human resources in that transition. If you wait until the conclusion of a notice period to tell HR to start looking, you will fall behind schedule.
What's in a Notice? Parts?
Header
It refers to the ad's headline, which must be larger than the body and employ eye-catching colors.
Subtitle
This is responsible for presenting a lot clearer and more appealing image of the product or service that is currently being offered.
Benefits
In this area, every quality is evaluated and then recast as a benefit, in such a manner that it is demonstrated how individuals' lives might be enhanced as a result.
Image
The image that is required to be utilized in the advertisements has to accurately portray the features, without exaggerating any of the traits in any way.
Call to Action
This section of the notice is often placed at the very end of the advertisement, which is where you have the opportunity to impart a feeling of urgency.
Body
A component that stores all of the relevant information and makes it possible for an individual to comprehend all of the advantages it offers.
Logo
The picture that symbolizes the firm is a component of the company's visual identity, and it is this image.
Slogan
This is the textual representation of the logo, which condenses into a few words the vision that the firm has for how it wants the public to see it.
How to Design a Notice?
1. Choose a Notice Size.
2. Decide on the purpose of the notice document.
3. Select a Notice Template.
4. Make adjustments to the format and text of the notice template.
5. Finalize and download.
Notice vs. Order
A party is required to be aware of any legal proceedings that may impact their rights, responsibilities, or duties, and the term "notice" is the legal notion that describes this necessity.
A command, also known as an order, is a statement that is given by a person in a position of authority that directs someone to do something, as well as an instruction or directive that must be followed.
What's the Difference Between Notice, Memo, and Invitation?
A notice is a written or printed notification that is intended for a certain group of people.
A memorandum is an official note that is written to inform, direct, or advise members of an organization.
An invitation can be thought of as a request, a plea, or an attempt to persuade another individual to attend a certain event with you.
Notice Sizes
There is a wide variety of notice sizes, and the one that a person chooses will ultimately be determined by the size of paper or file that they require. The following is a list of the most typical notice sizes that were utilized in the production of this document:
Statement – 5.5 inches x 8.5 inches (14 cm x 21.6 cm)
Letter Wide – 

8.5 inches x 11 inches (21.6 cm x 28 cm)

A4 – 8.25 inches x 11.75 inches (21 cm x 30 cm)
Notice Ideas & Examples
It is often written down before being presented in a public location, making it available to anybody who wishes to see it. These many notice ideas and samples may be of great use to you if you are planning on writing a notice document, so have a look at them.
Notice Ideas and Examples

Eviction Notice Ideas and Examples
30 Day Notice Ideas and Examples
School Notice Ideas and Examples
University Notice Ideas and Examples
IT/Software Notice Ideas and Examples
Real Estate Notice Ideas and Examples
Work from Home Notice Ideas and Examples
Notice to Vacate Ideas and Examples
Past Due Notice Ideas and Examples
Separation Notice Ideas and Examples
FAQs
What should be included in a notice?
You are required to provide the name of the firm, name, and title of the sender, date of the notice, purpose of the notice, and addressee of the notice.
What is a notice writing format?
It includes the name of the organization, title "Notice", date, heading, and body.
Why do people send legal notices to others?
Legal notice avoids judicial action and resolves disputes by discussion, mediation, or arbitration.
What is an eviction notice?
An eviction notice is a notice to comply with your rental or lease agreement or quit the property.
Why do we need to authenticate notice?
It verifies a notice, order, summons, letter, or other official documents.
What is a notice in communication?
It's like a news story about an important occurrence.
What are the main elements of a notice?
The elements consist of signature, proper time, date and place, unconditional, agenda, conciseness, proper persons, and enclosure.
What does on notice mean at work?
It is the state of having been formally cautioned or advised about something.
What are the requirements of a valid notice?
The following are the prerequisites that need to be met before a notification may be considered valid: Composed, signed, and filed by the appropriate individual.
What are the resolutions of notice?
The phrase "Resolution Notice" refers to the notice that the common concerns have been resolved and provides additional guidance concerning the claims procedure.