Software is not something anybody can afford to neglect nowadays, so it is beneficial for any self-respecting company to have its own software plans. If you're in the market for high-quality templates, then we got just what you need in the form of our software plan templates. Our selection, which is exclusive to Template.net Pro, is guaranteed to satisfy and even impress. Not only will this allow for the growth of your software-related plans, but these plan templates are also 100% customizable, professionally-designed, and printable. Act quickly and buy our subscription plan today so that you can easily download the software plan template of your choice!
What is a Software Plan?
A software plan is a comprehensive legal document that is used to gather all of the relevant information required for the development and management of particular software. This is necessary for individuals or groups to see their conceptualized plans into fruition, especially in a field that is as diverse and complicated as software. The utilization of documents like this is more likely to lead towards success, as much as double the chances for many people.
How to Write a Software Plan?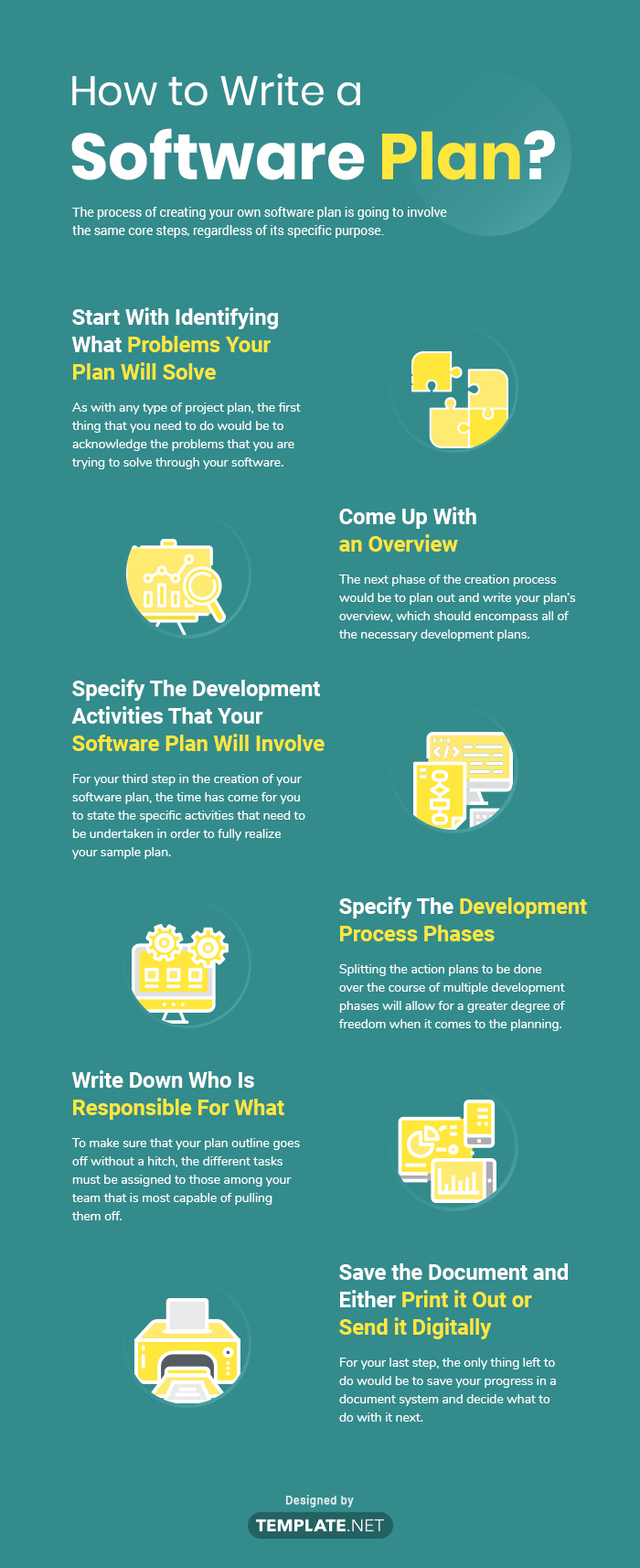 The process of creating your own software plan is going to involve the same core steps, regardless of its specific purpose. You could be looking for a software implementation plan, a software action plan, or even a software test plan, and the process will still be mostly similar. Having said that, take a look at the step by step instructions below. In following them, you can assure yourself a much easier and faster experience.
1. Start With Identifying What Problems Your Plan Will Solve
As with any type of project plan, the first thing that you need to do would be to acknowledge the problems that you are trying to solve through your software. In doing so, you provide yourself with a clear direction that would be otherwise difficult to acquire if there wasn't a specific problem or purpose in mind.
2. Come Up With an Overview
The next phase of the creation process would be to plan out and write your plan's overview, which should encompass all of the necessary development plans. This will go hand in hand with the direction that you provided yourself with in the first step, making this the logical next move you can take.
3. Specify The Development Activities That Your Software Plan Will Involve
For your third step in the creation of your software plan, the time has come for you to state the specific activities that need to be undertaken in order to fully realize your sample plan. List them down one at a time and leave no detail unspecified.
4. Specify The Development Process Phases
Splitting the action plans to be done over the course of multiple development phases will allow for a greater degree of freedom when it comes to the planning, creating, and testing of your software plan. Come up with the specifics and break it down slowly.
5. Write Down Who Is Responsible For What
To make sure that your plan outline goes off without a hitch, the different tasks must be assigned to those among your team that is most capable of pulling them off. In writing this down, you can be assured that accountability is shared amongst your staff and responsibility is properly delegated.
6. Save the Document and Either Print it Out or Send it Digitally
For your last step, the only thing left to do would be to save your progress in a document system and decide what to do with it next. You may choose to print it out and present the hard copy to others, but another option would be to send the plan digitally.
Read More
Earn 20% commission on every sale from your Share
Bloggers: Publish/Mention Template.net products on your website, blog, Social Media or Via Email & Earn affiliate commission of 20% for every sale