It is important to plan your daily activities or schedule for the day or week to keep you organized and avoid any confusion with your scheduled meetups or board meetings, if needed. Most people use different ways to take note of their schedule like writing notes or downloading scheduling apps to help notify them on their activities for the day.
Here, we share some agenda planner templates to help you choose the best planner and make your own. We also share a brief description for some templates to help inform you on where you can use these types of templates. You can also check our website for more sample planning agenda templates.
Daily Agenda Planner Templates
School Daily Agenda Planner
Best Daily Agenda Planner
Printable Daily Agenda Planner
Meeting Agenda Planner Templates
Financial Planner Meeting Agenda
Formal Meeting Agenda Template
Business Meeting Agenda Template
What Are Agenda Planners?
Agenda planners are lists or charts you can use to help you input and remember any information you may want to take in. Specifically, for agenda planners, you can use them to store or take note of your daily, weekly, or monthly activities and help you remember them. Agenda planners are also used to take note of events that will take place in an event or program as well.
Agenda planners are commonly used by different establishments, schools, and other businesses that may require a heavy load of activities daily. Planners will help you remember your tasks and the order of the events to take place in the program.
Why Do You Need Agenda Planners?
Because planners are important. They help keep you organized and help you remember specific activities or events that may take place daily or in a program. Planners are also being used to monitor progress if the activities stated are being followed correctly and on time as planners my also include time frames or a schedule for a specific activity. Planners also serve as your reminders for a specific activity or to help notify you of activities you need to fulfill.
How to Make an Agenda Planner
There are different methods on how you can make your own agenda planner to help keep you on track and remind you of your daily activities. Below are some steps on how you can make your own agenda planner:
Making a Calendar. You will have to create a work calendar with a blank area in each box for you to be able to place information.
Bullet Form Content. You will also have to place your tasks for the day in the blank areas for you to see on what your next task will be.
Check boxes. You can also place check boxes before each task for you to place a check mark once you're done with a specific task.
You can also check out our website for different advisory agenda templates and safety agenda templates.
Student Agenda Planner Templates
Student Council Meeting Agenda Planner
High School Student Planner
College Student Planner
Free Agenda Planner Templates
Research Agenda Planner Template
Annual Agenda Planner Template
Safety Agenda Planner Template
What an Agenda Planner Contains
It is critical for you to place the correct details in your agenda planner as it is your basis for your schedule and list of activities you need to do for the day. You will also have to be simple and concise on the different details you will be placing in as well. Below are some details which you need to place in your agenda planners to keep you informed:
Time frames. It is very important that you place the time frames for the different activities you will be doing within the day. Placing time frames will help you monitor the duration of your activities that you are currently on and will keep you organized within the day.
Date. It is essential for you to place the date of your activities so that you don't get confused on which activities or tasks you will be doing for the day. Placing dates will also help keep you organized and monitor the number of activities you will be doing in a certain period.
Tasks. This is the most critical detail you will have to place in your agenda planners. Placing tasks will help you keep track on what tasks you will be doing for the day, week, or month. You will have to be specific with the tasks that you will be doing like placing the subject of the activity and adding a short description about the activity you will be doing.
Pending or unfinished tasks. This is optional, but this also helps you keep track of the activities you missed or activities you will be doing for a certain period. Placing pending or unfinished tasks helps you monitor which activities you missed and will need to prioritize the next day and, at the same time, placing pending and unfinished tasks will also help you monitor your progress of your activities.
You can also check out our website for more templates and designs for projects you might want to do in the future. You can also check out our website for sample classroom agenda examples or sample sales agenda templates.
Wedding Planner Agenda Templates
Wedding Planner Meeting Agenda
Best Wedding Planner Agenda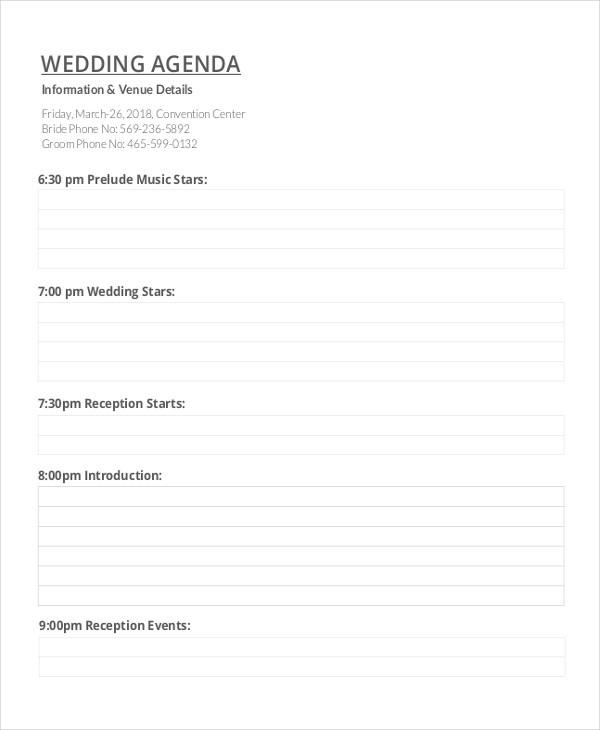 Event Planner Agenda Templates
Corporate Event Agenda
Special Event Agenda Template
Event Planning Agenda
Your DIY Agenda Planner
You can use the templates available in our website to create your own agenda planner out of raw materials which you can get from different arts and crafts stores near you, or use different materials at home. Creating your planner is easy—within a few minutes, you can already create your own agenda planner.
A simple DIY agenda planner can be made by using blank papers and a pen just as long as you do not forget to include the essential details your agenda planner should have. You can also check out our website if you need more templates to improve your agenda planner designs. You can also check out our website if you need agenda templates in Word or monthly agenda templates.