Agenda Templates
8+ Business Agenda Templates
It's always a detailed task to run a business. There are so many departments to manage and so many strategies to process everyday. In such a packed environment you can go wrong with a meeting or show or conference if you are not organized with your approach. Thus, you should abide by a conference agenda template & similar stuff.
Sample Annual Business Meeting Agenda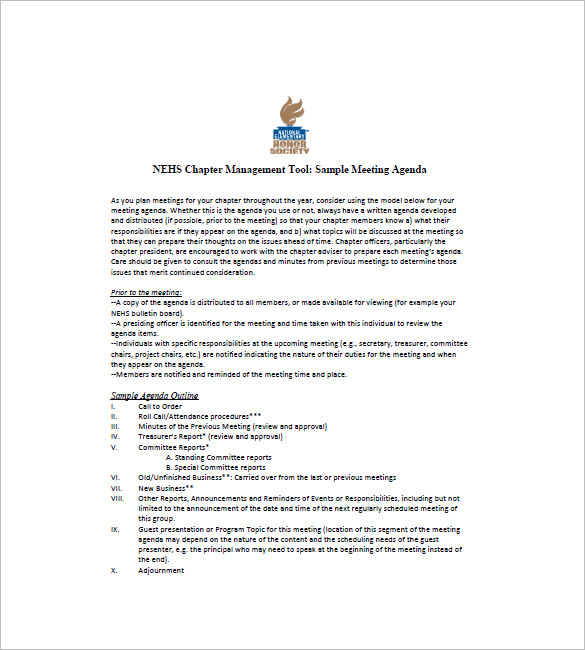 nehs.org | Containing a sample document of a business agenda, a Sample Annual Business Meeting Agenda is a much needful document that includes a great example of the same. The document includes the purpose and basis of the meeting, points prior to the meeting as well as the outline agenda points relating to the meeting. Thus it is a comprehensive document. One can download this from the link given below. It is available in PDF Format.
Business Meeting Agenda Format Download

sheeo.org | A business meeting agenda format download template, as the name suggests, is a downloadable template containing a format of business agenda. The heading of the agenda includes date, time and place of the meeting, while the body of the content comprehensively includes points like report of the treasurer, report of the treasurer and the committee reports – federal relations, nominations, etc. This is a free document that can be downloaded online.
Free Business Meeting Agenda PDF

4h.ucanr.edu | Free business meeting agenda PDF Template is another interesting format for a business agenda. Collecting all the comprehensive points of a business plan/project- the template includes reports by all the committees under that project head. Also points relating to new business, old business, adjournments, etc. are also included in this template. Avail this template online for free usage.
Example Business Meeting Agenda

haltonhills.ca | Example business meeting agenda template is an exemplar business agenda. The template includes all the details relating to a business agenda like the points that have to be part of a business agenda. This document helps one in listing down and forming a format of a business meeting agenda. One can do this through this template step by step; this template can be downloaded online for free.
Business Meeting Agenda Word Format
Business Meeting Agenda Template

hacc.edu
Business Travel Agenda Template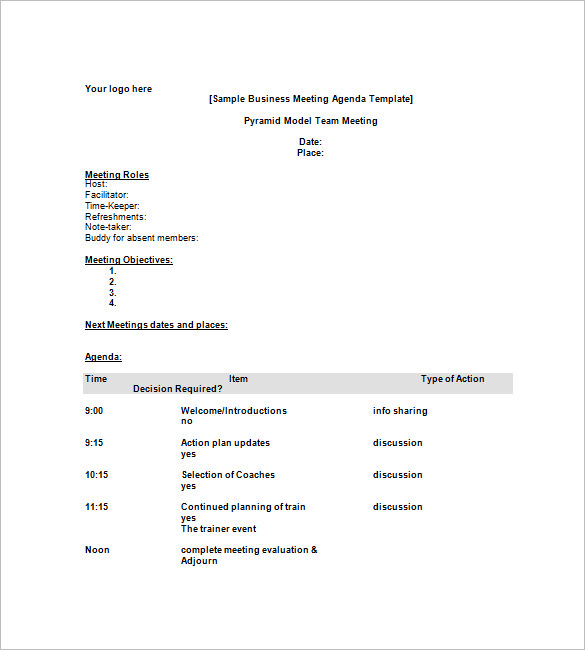 A agenda template will note down the typical activities to be performed at a business campaign or meet or show. This way you will have complete knowledge of the happenings and the time allotted for each so that you are always compliant with the desired proceedings.
> Why do We Need a Sample Business Agenda Template?
Dictionary describes as agenda as a list of items that has to be discussed or taken forward in a formal meeting, where in all the associates of that project are duly present. Sample business agenda templates are thus needful for organisations who are engaged in some team project in which they need to discuss key points of that project. An agenda includes all the key points. Thus, sample business agenda templates are needful for a smooth functioning of business processes.
> When do We Need a Sample Business Agenda Template?
Sample business agenda template is a collection of various templates that form a part of elite sample business agenda templates available online. Some of the documents include a format that can be filled by the user. While others can be edited and moulded according to our specific needs. These templates are thus a source of reference that a business organisation can refer for writing down a business agenda. One can choose the template that suits our needs from the list containing many more templates.
> What are the Benefits of Sample Agenda Templates?
Sample agenda templates are thus a great collection of templates that can be used by the user for creating a good-quality document. An agenda represents a company's on-going process. Thus it has to be good quality format, and the templates mentioned here are good quality templates. One can use these templates for free use, since they can be accessed for use by availing it easily without hassles. Also, they help one save time as well as energy in browsing the web for a satisfactory format. Thus, a businessman and his organisation need to find themselves a good quality document containing their business's agenda. These templates ease the process of creating an agenda that allows the business in creating a good-quality format. A business should follow the norms of professional standards. And this collection guarantees the user the same. If you have any DMCA issues on this post, please contact us!