Agenda Templates
10+ Business Meeting Agenda Templates – Free Sample, Example Format Download
To ensure the smooth running of the business, it is important to hold meetings with the various people who directly and indirectly influence it. In such meetings, there might be a lot of things that need to be discussed. So, to make sure that all the crucial topics are covered and that too within a predestined time frame, using a business meeting agenda template can help. Filling this up with the details and then sharing it with the people concerned will make for an effective meeting. You can also see School Agenda Templates.
Example Business Vendor Meeting Agenda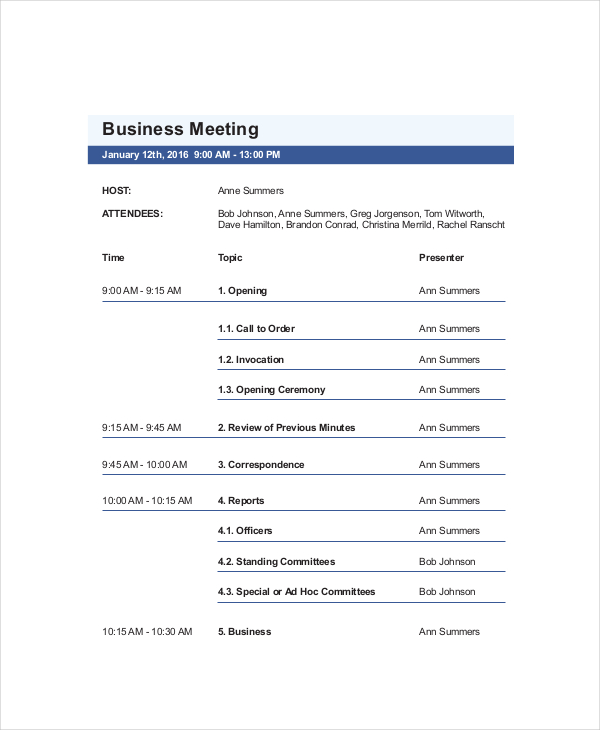 The vendors are the back bone of any business. Thus, ensuring their satisfaction time and again is important for its smooth functioning. Using a meeting agenda template to share the details with all the participants will give them an idea about the matters to be discussed in the meeting.
> Uses of Business Meeting Agenda Template
For discussing the client issues and getting their feedback
For holding meetings with the vendors to ensure their satisfaction with the company dealings
For business partners and shareholders to get together to plan new strategies
To enlighten the financers about the progress of the business
> Benefits of Business Meeting Agenda Template
It can be altered as per the requirement of the meeting or the need of the company
Sharing this with the participants gives them a picture about what the meeting is all about
This comes in handy to ensure that the meeting concludes well within the stipulated time limit and does not drag on
> How to Design a Business Meeting Agenda Template
Consult the people concerned as to the most important points to be discussed in the meeting and then decide on the topics to be entered into the agenda. Allocate a time frame for each topic and make sure to add in some extra time. There is no need to add any topics that do not concern all the participants as this would only lengthen the meeting.
We have a wide range of business meeting agenda templates to choose from. These can be customized quite easily and are ready to be printed. Available in both MS Word and PDF form, these templates are compatible with most operating systems. In case, you need us to make any changes to the existing designs, we are open to your suggestions. You can also see Agenda Planner Templates.