Agenda Templates
6+ Trip Agenda Templates
Managing a trip is a huge affair no doubt, especially if it's a long one. Thus, if you are trip manager, it's advised that you must follow a travel agenda template, so that you can always have a clear idea of the whole trip- right before your eyes. The agenda will jot down every important detail of the trip and itinerary.

Business Trip Agenda Template
npes.org | Whenever you decide to plan a trip for your business then the necessary thing for you to do is to plan a proper agenda for it. It is difficult to make an agenda when you don't have proper data and format for that. So, you can use trip agenda template for this purpose.
Trip Planner Template
experiencenz.com | You should make sure that you make your business planning properly and use of right trip agenda template is the best option because it will solve all your problems and will provide the answers to all your questions. There is no need of any kind of haste at all.
Tentative Field Trip Agenda
uwyo.edu | Creativity is the basic requirement of trip planning. When you are developing agenda for your trip then you should prefer using suitable trip agenda template. This will make your task easier and you can fulfill all your needs with it.
Field Trip Agenda Template
wku.edu
Road Trip Agenda Template
Family Trip Agenda Template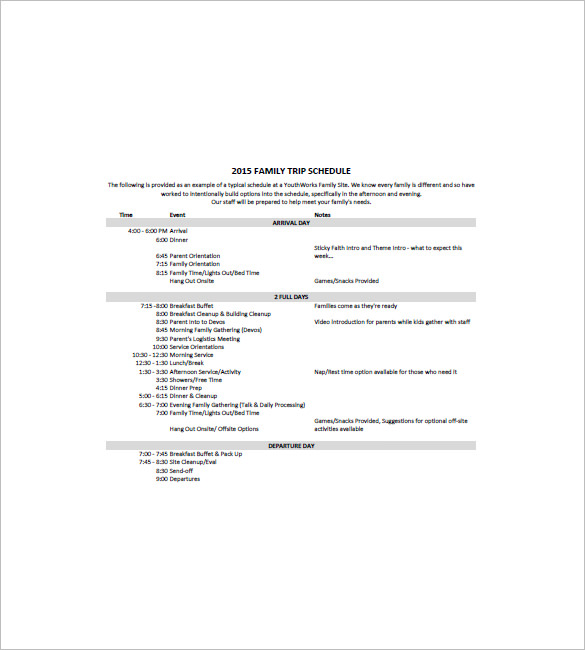 youthworks.com
Site Visit Agenda Template
psychologycouncil.org.au
The agenda template will offer a schedule on your flight, accommodation, time of check-in & checkout, time of arrival & departure at each airport within the trip. The agenda will also have details on sightseeing- what to visit & when.

Why do you need trip agenda template?
Templates are necessary because they fulfill the necessary requirement of good presentation in your trip agenda planning. You need to be sure that you have selected best trip agenda template for this purpose because there are so many options but not all of them will be suitable for your purpose. If you want to make sure that you accomplish your task of developing agenda for your business trip, then you should focus on its presentation and data management. Downloading readymade and professional template will do both the tasks for you and you don't need to worry about it at all. Everything will be done efficiently and quite easily.

When do you need trip agenda template?
There are so many events when the use of trip agenda template becomes necessary. One of the most important uses of template is higher level of efficiency in the presentation and management of your agenda planning. You will never miss any detail when you are using templates for this requirement. There is a lot of variety available in templates and if you will search templates for your purpose then you will find limitless options which will give you freedom to choose the best. There is no need to think about any other option because clearly, it is the best one that you have.

Benefits of trip agenda template
There are so many advantages that you can get when you are using readymade and professionally designed trip agenda template. First and the most important advantage is that you will get complete support of all kind. No feature will be restricted and you will get so many amazing features available for you to choose. You will get better opportunity of enhancing the plus points of your presentation with the help of advance features. Most importantly, you don't even need to think about file support issue. You will get template available in all formats. You can choose any format which is suitable for you and then your perfect and most effective business trip plan is ready for you to use. Using trip agenda template is a privilege that you are getting. And most importantly, you don't need to pay for it at all. You don't need to worry about making any investments and customization requirement will be less. You will get complete freedom of changing everything that you see and if you don't have time then your efforts will be saved with your template selection. If you have any DMCA issues on this post, please contact us!