Checklist Templates
11+ Internal Checklist Templates
Every organization has its internal procedures and processes that make it easy for them to manage the organization, its work, and its employees. To regularly go through the most important of these procedures, an internal checklist is used. These checklists essentially act as a preliminary internal control of the organization. An internal checklist can be used for better in-house financial auditing, quality management, or even an inventory audit. You may search the diverse internal checklist template given below to choose the ones that suit your needs.
Table of Content
11+ Internal Checklist Templates
1. Internal Checklist Template for Restaurant
While running a restaurant, you need to have a checklist to keep a quick tab on the activities going on in the restaurant. From financial dealings to inventory management, you should be aware of everything and should adopt best practices in these activities. This internal basic checklist template in Pages format helps you do that very same thing. It has a list of good suggestions that you can implement for your various restaurant activities.
2. Internal Controls Checklist Template
3. District Internal Control Reference Checklist Template
fcmat.org
If you are responsible for district administration, then you will find tremendous use of this internal checklist sample. It helps you evaluate your weaknesses and areas where internal controls need to be installed or strengthened. For every item, there is a dedicated space for mentioning any relevant comments. The questions are asked in detail to avoid unambiguity.
4. Internal Financial Controls Checklist Template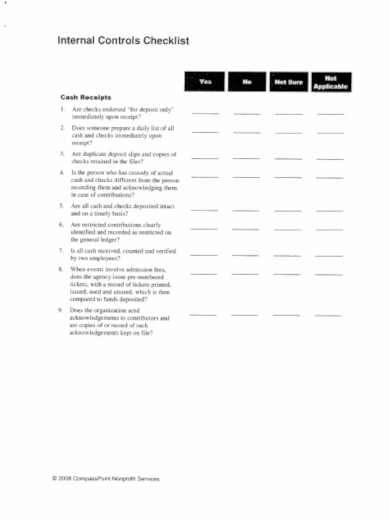 sfcontroller.org
This simple checklist has been designed specifically for comptrollers. The questions in this internal simple checklist template have been segregated in different sections like cash receipts, general area, fixed assets, payroll, etc. It is a simple list as you just have to tick the applicable answer. The questions are designed to make it easy to go through the list quickly.
5 Steps to Write an Internal Checklist
Step 1: Why the Checklist?
It is of utmost importance to mention the objectives of the internal checklist right at the start. This enables the user of the checklist to understand its significance and context. It would be even better if every section of the checklist has a brief description of the aim of the checklist.
Step 2: Design of the Checklist
The checklist design needs to fulfill a few important purposes such as ease of navigation, clear segregation of items, and ample space for answers. A table is one of the most preferred choices for writing a checklist. The table is inherently seen as an efficient way of organizing data. You can even make a numbered list.
Step 3: Answer Options
Most of the checklists have yes, no, and not applicable as their options. You may go for other ways of answering too. You may use a scale of 1 to 10 to represent a person's view in a better manner. You can also provide blank space to write a detailed answer instead of simply choosing between yes, no, and maybe.
Step 4: Guidelines and Notes
It is a good practice to provide separate guidelines with the internal checklist. These guidelines will help understand how to use the checklist effectively. Another important area is to have enough space to write down feedback, notes, and comments. While going through the checklist, you may find a few new areas of concern or you may think of new critical questions. You can quickly jot them down in the blank space.
Step 5: Sequence of Checklist Items
The items on the internal checklist need to be organized in such a manner that related items need to be in a single group. This makes the process easier and quicker. Another way can be to group all nearby items in one section of the checklist. This is useful when the checklist encompasses numerous departments and requires you to move around from department to department.
5. Model Checklist Template for Internal Controls
lawsociety.bc.ca
A law firm or a judicial organization will find the use of this internal controls checklist. This internal checklist example not only caters to financial matters but also talks of controls needed in the staffing policies and procedures. Since the checklist has been suggested by the lawyer community, it is worth using its content. Irrespective of the organization, this checklist has valuable checkpoints that can help bring process compliance.

6. Internal Quality Management Audit Checklist Template
silangwaterdistrict.com
Any organization that requires a quality management system can use this audit checklist template to make sure they comply with the ISO 9001:2015 quality management standards. The checklist is very detailed with a separate column that maps every audit question to a relevant ISO 9001:2015 clause. Apart from ticking the answers, there is space for audit evidence too.
7. Internal Checklist Template for Audit Committee
legionbcyukon.ca
If you belong to an audit committee, then you can use this checklist to assess the basic issues related to the management and policies of your organization's branch. The internal checklist format has yes and no as its answer options. It has a separate page to provide a summary of the audit. Internal control checklist template goes a long way in helping your people stick to the standard operating procedure with minimum oversight.

8. School Internal Audit Checklist Template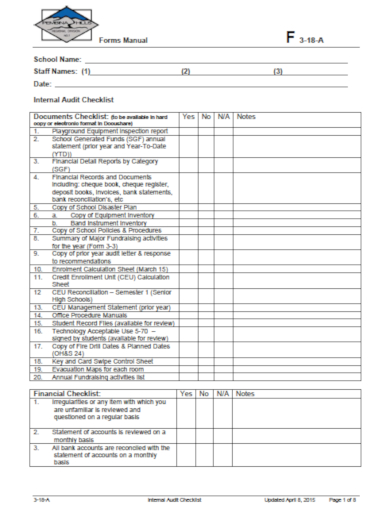 docushare.phrd.ab.ca
If you are running a school and need to conduct an internal audit, then you can make use of his comprehensive internal general checklist format. It has multiple checklists for various areas of school management. It includes financial checks, emergency preparedness checks, policy checks, etc. It is available for free in pdf format. Add your details in the field, and you're ready to use it.

9. Internal Client Checklist Template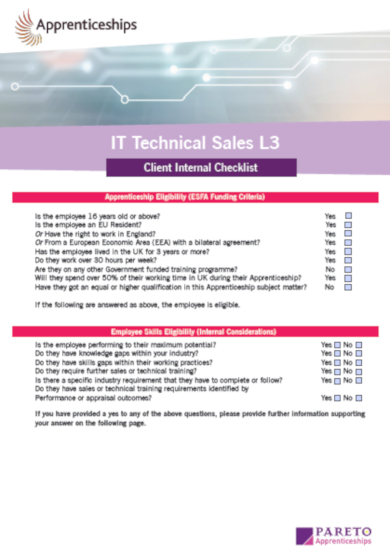 pareto.co.uk
If you provide training to technical sales teams, then his checklist is useful for you. The design language of this internal checklist sample template is highly exquisite. It is, at the same time, very professional. The images used provide it a very technical look in consonance with its niche area of technical sales. Use it as a process compliance checklist, use it for project management, or use it for employee management – the checklist is multipurpose.

10. Water Industry Internal Audit Checklist Template
sa.gov.au
If you wish to have a sophisticated yet elegant internal checklist template sample, then you should go for this freely available pdf document. The use of white color in title text on blue background gives it a unique touch. It has been created for the water companies to use while completing their annual internal audit. This checklist has been recommended for use by a government, which adds credibility to the content of the checklist.
11. Microfinance Institutions Internal Audit Checklist Template
crs.org
Microfinance institutions generally have branches in various areas and this internal basic checklist format can be used for the overall performance and management audit of these branches. There are 22 checklists in this PDF document that touches upon almost all aspects of management. It focuses on improving the internal audit capacities of the institutions in a wholesome way.
12. Internal Control Self-Assessment Checklist Template
ed.gov
An MS Word document is always easy to edit and use as per need. The novel part of this internal free checklist template is the use of colors to denote questions from different sections. Also, it uses a 5 to 1 scale for answering instead of the traditional yes and no. At the start, it briefly explains what each of the sections includes. Trust this template to help you with all your self-evaluation endeavors.

More in Checklist Templates