Whether you wish to create a business report, audit report, report form, monthly report, marketing report, internal audit report, or accounting report, your primary goal is to communicate to the management. If you want to make the most comprehensive and professionally made internal reports, then download our readily made internal report templates in Template.net Pro. These templates are instantly downloadable, editable, printable, and most importantly, highly customizable. These are all available in A4 and US letter sizes, as well as in all file formats, yours to keep forever. Download today and get the chance to communicate with your management effectively.
An internal report can be an audit report, accounting report, financial report, or other information obtained by an individual to communicate to another (e.g. management) within the business entity. These documents aim to assist in internal decision-making as well as improving the system of the company.
How to Create an Internal Report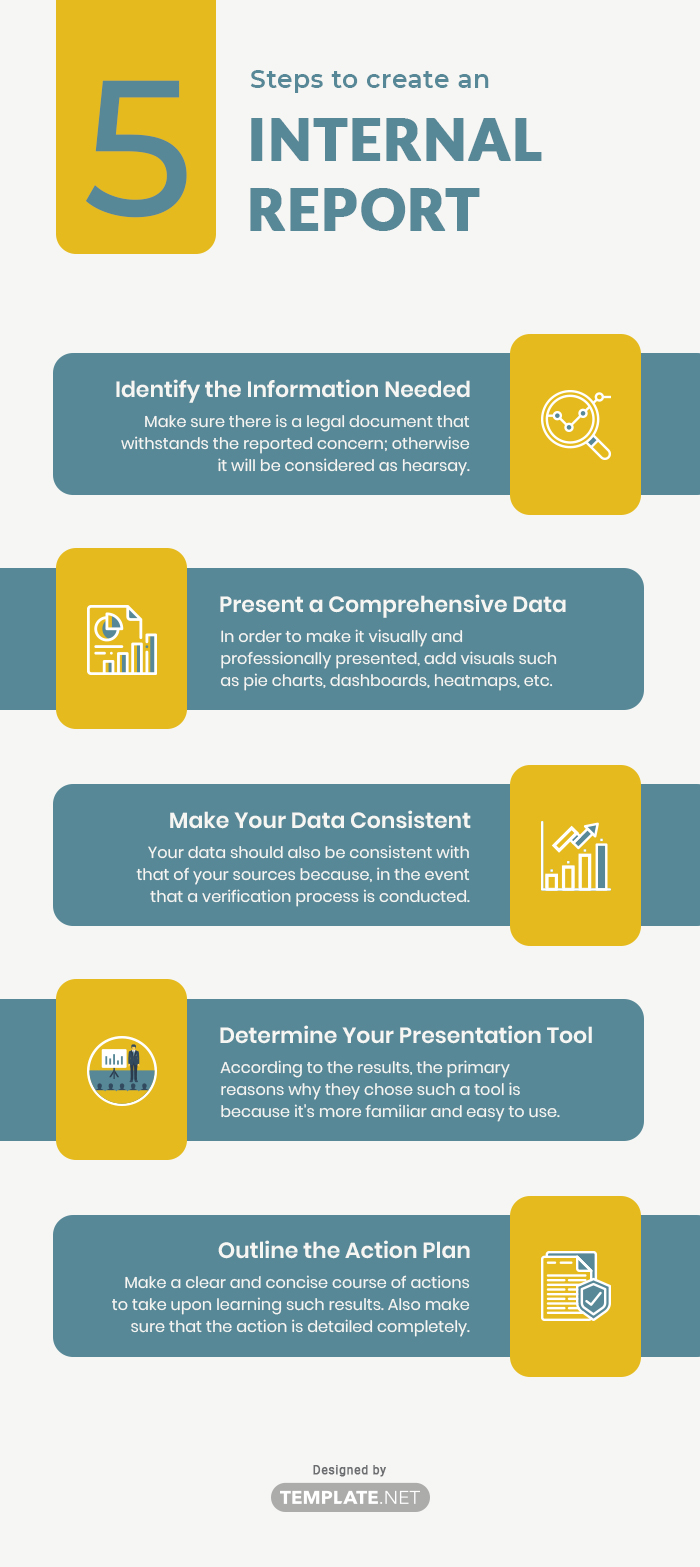 An internal report plays a vital role in the company's success, so it would be best to look into the steps on how to make it and read through the significant considerations mentioned below.
1. Identify the Information Needed
When making an internal report, it is important that we keep in mind that an internal report aims to improve management and its relationship with its employees. Therefore, it is very important that the information gathered came from a reliable source and make sure to verify everything you discovered. You should also keep in mind that sticking to more than one source makes more reliable information. Also, make sure there is a legal document that withstands the reported concern; otherwise it will be considered as hearsay.
2. Present a Comprehensive Data
After you were able to identify the information needed and was able to verify it, present it. In order to make it visually and professionally presented, use infographics. Examples of which are pie charts, dashboards, heatmaps, etc. In this way, you are able to create a detailed yet simple presentation because it's all compressed in a single slide. Reports presented in bar graphs for an instance can help the management easily understand and determine what needs to be done.
3. Make Your Data Consistent
Make sure the figures you present are accurate and consistent. Whenever you present your data, you are accountable for whatever outcome it brings. Your data should also be consistent with that of your sources because, in the event that a verification process is conducted, you have something or someone to back you up. You should also make sure that your data is observable, but not necessarily though, as long you can provide clear evidence for such. For a comprehensive presentation of your data, use a printable datasheet.
4. Determine Your Presentation Tool
There are 89% of people among their 269 email subscribers who preferred PowerPoint presentation. From the results alone, the primary reason why they chose such a tool is because it's more familiar and easy to use. There are 73% out of the 269 respondents whose factor of preference is familiarity and 59% is for its easiness. With that being said, among other presentation tools, you might want to use PowerPoint.
5. Outline the Action Plan
Make a clear and concise course of actions to take upon learning such results. In addition, make sure that the action is detailed completely. Look into some considerations before coming up to a certain decision; this includes simple budget (practicability, cashflow), degree (how often and how much does or will this impact), or the need—think about how badly this will help the company. Most importantly, think about its benefit for both the management and its constituents.
Read More
Earn 20% commission on every sale from your Share
Bloggers: Publish/Mention Template.net products on your website, blog, Social Media or Via Email & Earn affiliate commission of 20% for every sale